The long awaited 'Red Pack' for Assetto Corsa on Xbox One and PS4 finally has a release window, with developer Kunos dropping the news today on Twitter. The pack launched in 2016 for PC players and offers a very nice selection of Italy's finest racing machines. Alongside new cars, the track roster will also see a new premium addition.
Three new Ferrari models are coming to the game, with the 488 GT3 bringing some tin-top racing prowess to the table. However, it's the two other inclusions that are sure to interest fans as Formula 1 class vehicles arrive in Assetto Corsa. The SF15-T and the F138 will bring huge power and equally impressive downforce to Kunos' simulation.
These cars participated in the 2015 and 2013 F1 series respectively and will offer vastly different driving experiences as a result of the ever-changing Formula 1 regulations that govern the sport. These motorsport beasts are definitely welcome to the car list of AC.
Maserati brings some historical muscle to the table with the 250F and 250F T2. The car debuted in 1954 and raced for six years. These additions to Assetto will allow players to see how the car developed during it's lifespan, from original straight six to thunderous V12. Maserati's modern representation comes from the beautiful GranTurismo MC GT4.
Fans of the Lamborghini brand aren't left wanting either, as the pack is topped off with the Aventador SuperVeloce. Packing over 700 BHP and a 6.5 litre V12 this will provide a challenging drive on any circuit — including the Red Pack's standout addition.
The Red Bull Ring arrives in Assetto Corsa bringing some fast corners and crazy incline changes. Console players have been eager for this track since getting the fictional Black Cat County last year. For those who wanted a true-to-life circuit, the Austrian flagship provides a challenging track to throw the new cars around on.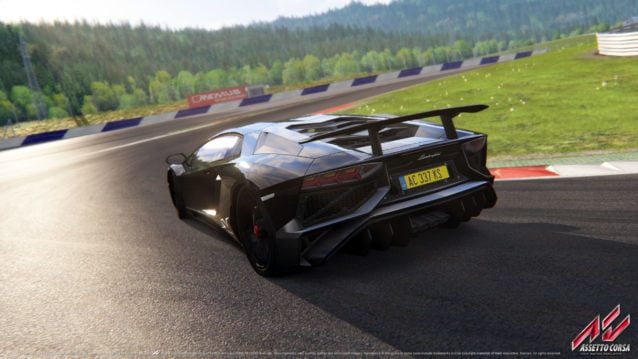 An exact release date is yet to be confirmed but we expect Kunos to reveal it soon enough. While not explicitly mentioned in the teaser, we should also expect the second Porsche pack, after the developer announced it would arrive alongside the Italian-themed pack last month.
Assetto Corsa is currently available on PlayStation 4, Xbox One, and PC platforms.
More Posts On...