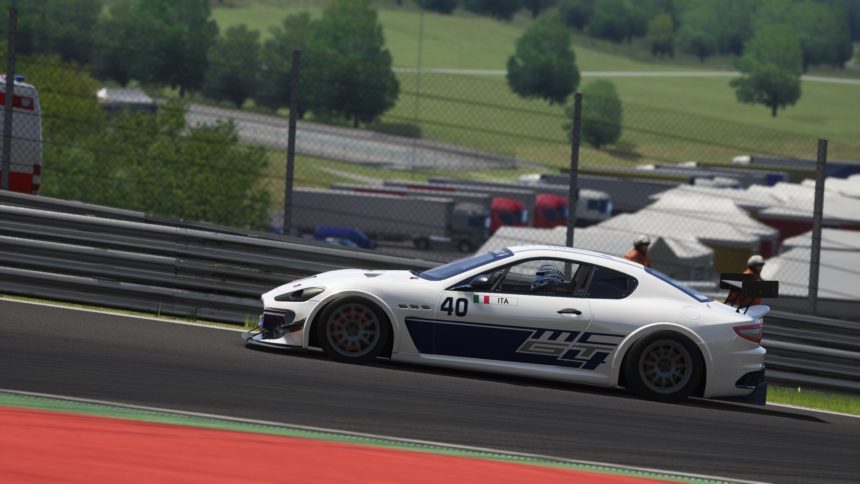 The day has finally come, the Red Pack is now available to PC players for Assetto Corsa. Named after Italy's national racing color, the pack pays tribute to Italian machinery and is dominated by a certain Italian automaker more synonymous with the color than any other: Ferrari.
Bringing seven new rides to the game, the pack is rife with racing machinery that emphasizes Italy's racing culture. One could argue that the star of the pack is the Maserati 250F, driven by five-time F1 world champion Juan Manuel Fangio – arriving in both Straight-6 and V12 engine configurations. The contents of the Red Pack are as follows:
Ferrari 488 GT3
Ferrari F138
Ferrari SF15-T
Lamborghini Aventador LP 750-4 SV
Maserati 250F 6 Cylinder
Maserati 250F 12 Cylinder
Maserati Gran Turismo MC GT4
Things don't end there concerning new wheels, the Maserati Levante is also included courtesy of the game's latest title update, version 1.7. Confirming the three that were previously outed during a developer stream. With the recent announcement that Porsche is coming to the game sometime after Assetto Corsa releases on the PS4 and Xbox One, it appears Kunos are setting up a showdown between the Levante and Porsche's Macan and/or Cayenne.
Ferrari's F138 and SF15-T further expand the game's open-wheel roster. In the case of Ferrari's 2015 F1 contender, the team at Kunos have gone the additional length to simulate the MGU-K, MGU-H, batteries, energy deployment and recovery limits, engine braking, active rear braking torque and more. All of the modern day techno-wizardry that makes today's F1 racers more space ship than racing car.
Also included in the Red Pack is a bit of an outcast, but one that still plays up to the title of the pack: the Red Bull Ring, the home of the Formula One Austrian Grand Prix. Originally built in 1969 as the Österreichring, the track hosted the F1 Grand Prix from 1970-1987 before being shortened and rebuilt due to growing safety concerns.
Returning to the F1 calendar after a ten-year hiatus, now as the A1 Ring, the venue would proceed to host several F1 events from 1997-2003, in addition to hosting DTM races and Austrian motorcycle events. In 2004 the track was met with another set of complications rendering it unusable for any motorsport category after the grandstands and pit buildings were demolished.
After the circuit was reconstructed by Red Bull in 2008, now known – and suitably so – as the Red Bull Ring, it became the home of the DTM championship beginning in 2011 and would make its third return to the F1 calendar in 2014. The track has been a staple on both series' racing calendars since.
As mentioned previously, the release of the Red Pack was meant with a title update to the game, version 1.7. Among the many changes brought with the update is an all-new algorithm for the AI that improves their racecraft. The full details of the new update are revealed below.
– Added Red Bull Ring track (Red Pack DLC)
– Added Ferrari SF15-T (Red Pack DLC)
– Added Ferrari F138 (Red Pack DLC)
– Added Ferrari 488 GT3 (Red Pack DLC)
– Added Lamborghini Aventador SC (Red Pack DLC)
– Added Maserati GranTurismo MC GT4 (Red Pack DLC)
– Added Maserati 250F 6 cylinder (Red Pack DLC)
– Added Maserati 250F 12 cylinder (Red Pack DLC)
– Added Maserati Levante S
– Performance Delta App: Added instant velocity difference bar
– Realtime App: Added road/ambient temperatures and grip
– Fixed system messages when ABS and TC are not available
– Added loading/saving system for fixed setup sessions
– Added audio device selector on Audio App. If saved device is not there, main device will be used
– Added volume ramp function to overcome issues with logitech headphone drivers
– Added Precision slider in Photo App
– Added missing icons on replay interface
– Added QUANTITY_MULT in system/cfg/skidmarks.ini
– Fixed RX-7 Tuned turbo sound behavior
– Fixed Alfa 155 mixing route for external sounds
– Fixed Ferrari F40 low-pass filter and some events volume
– Balanced exterior volume for all the cars
– New Bmw M3 e92 external sounds
– Added brake disc temperature simulation to (Ferrari 488 GT3, Maserati GranTurismo MC GT4,Maserati Levante)
– New Drivemotive Drifting School livery for BMW M3 e92 drift and S1 variants
– Tyre pressure now influences temperature spread and build up
– Added dynamic controller for EBB (electronic brake balance). Use file ctrl_ebb.ini for the controller.
– Added daylight function on "lights" script
– Added multiple turbo analogue instruments management
– Added server hints on RaceControl screen
– Added TC, ABS, Turbo keys to controller interface (both up and down)
– now TC and ABS can be cycled back through CTRL + SHIFT
– Added Flashing lights
– Showroom: Added video editing camera controls
– Showroom: Added car lights trigger as script "SHOWROOM""LOAD_LIGHTS" (previews are made without car lights)
– Showroom: Added support for extra animations (extra_animations.ini). Numkey_6
– Added blinking light system
– Fixed Volume App not saving bumper audio
– Added jump start
– Added penalty for "ESC to pits" during race
– Fixed some car/track combination resetting to pits at the start of HotLap sessions
– Improved remote cars movements over curbs
– AI is not making brake mistakes for cars that have ABS available
– Different level of engine brake are now selectable by the users on cars that offer the option (Ctrl+E)
– Added graphics smoothing for rigid bodies coming from physics
– Onboard brake bias now follows same limits in the FRONT_BIAS section in setup.ini
– Red lines and indications for gear change in the GUI are now considering damage rpms as well as limiters
– Laps completed indications in the GUI during races now refer to "leader completed laps" and not player completed laps
– Performance Delta app is now using spline position for calculation instead of distance calculated from car speed (less realistic but much more precise)
– New camera view at start, showing car instead of track
– New AI algorithms for race craft
– AI drivers are now much more variable in performance during a single lap and during a session
– "Lights on/off" is now a status of a car instead of a switch and gets replicated over the network properly
– Tyre radius is now also a function of tyre angular velocity
– Fixed self align torque going to negative values too early
– New Tyre Model V10 for selected cars
– Additional general bugfixing on car graphics and some improvements to lods across the entire vehicle content
– 3D improvements on the Nissan R34 Skyline
– 3D improvements on the Nissan 370Z Nismo
– 3D improvements on the Ferrari LaFerrari
– General bugfixes in several tracks
– New clouds textures
– Improved PPeffects
– Improved Weathers
– Fixed GUI not showing on Oculus with PP off and AA on
– Added the possibility to launch sim directly. Add section
[AUTOSPAWN]
ACTIVE=1
To race.ini then start AssettoCorsa.exe
– Added experimental Bandwidth Optimizer to acServer
The Red Pack is now available on Steam for $9.99 USD. If you've yet to play the game and you're currently on PC, Assetto Corsa and all three Dream Pack car expansions are currently available for the price of a single game.
There are but a few weeks left until console racers can experience the game for themselves, and when it finally releases they too can expect the Red Pack, albeit later this year. For even more on the Red Pack, including details on the improvements made to the tire model be sure to stop by the official Assetto Corsa forum.
Remember to stop by our Assetto Corsa sub-forum for more discussion and in-depth analysis.
More Posts On...
The original comments for this post are no longer available.