The one-off events are coming thick and fast in GT Sport, with Audi revealing its second this month. This new Audi e-tron Vision Gran Turismo Challenge is part of the brand's #RaceHome campaign, which it's running both to keep its professional drivers and its fans busy while much of the world is cooped up at home.
Like the Red Bull Beat the Pro event announced only a couple of days ago, this challenge is only available to users in Japan. That means that anyone with a Japanese PSN account can take part, but only those resident in Japan are eligible for the competition prizes.
This event is a simple time trial, which you can find in the Time Trial section of GT Sport. It'll run from May 1 through to May 15, and features, as a provided vehicle, the Audi e-tron Vision Gran Turismo. Audi's Vision GT is one of an extremely small number of VGT cars that actually made it to the real world, as Audi built one real example to give passenger rides for VIPs at Formula E events.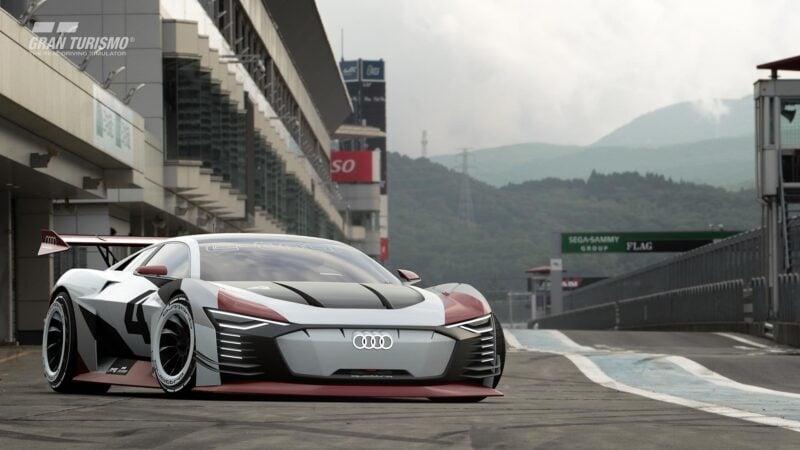 All you need to do is set the fastest time you can around Japan's Fuji Speedway. It's not clear in the event regulations whether this is the version with the Dunlop Chicane or not, though it seems likely that it will be as it doesn't bear the "Short" identifier.
When the event closes on May 15, Audi Sport Japan will award prizes to the top three finishers. Third place wins an Audi Sport teddy bear, standing at around eight inches tall. Second place will win a 1:18 scale model of the facelifted, second generation Audi R8 V10 supercar.
The prize for the top time overall is a circuit experience day, with coaching from a professional Audi Sport driver. If you don't hold a driving license, or are too young to, there'll be passenger rides with a pro driver instead.
In addition, all who participate will win an in-game Audi e-tron Vision Gran Turismo car — which they could use to design liveries for Audi's #RaceHome livery editor competition.
Featured image courtesy of graveltrap.
More Posts On...