2017 has shaped up rather nicely for sim racing enthusiasts abroad. With so many racing games now available, there's something suited to everyone's taste. Two franchises are of particular notoriety: Forza Motorsport and Gran Turismo.
Both franchises represent the best racing experience its platform has to offer, and while the competition has since caught up, there's no denying both are the measuring stick. It's rare for the two to release within the same calendar year, and rarer still to go head-to-head the same month. This is the exciting situation console racers face with the release of FM7 and GT Sport.
There's little doubt the two are being compared now more than any time prior. Both games have more in common than is apparent at first glance. Digital Foundry has stepped in to do its own comparison of the two, focusing on one aspect both games excel in: visuals.
While it's no secret Polyphony Digital is well-versed in visual wizardry, Turn 10 also dresses to impress. Digital Foundry took to its comparison of the two behemoth racers in something of an unorthodox manner.
Paired with a PS4 Pro, GT Sport made the most of its 1800p checkerboard mode for increased fidelity. On the other hand, Forza 7 saw its playtime relegated to a PC with max settings and 4K resolution. Why? A lack of Xbox One X code — an unfortunate setback but the disparities aren't as great as you may expect. DF points out that aside from improved anti-aliasing and shadows, the PC title is a reflection of what's expected for the One X.
There are obvious differences between the two console racers. Forza 7 offers a huge library of cars and tracks, many with variable weather conditions. The underlying presentation is one of high quality, but nothing genre-defining. That may sound like a slight but the fact is Turn 10's core focus has always revolved around a stable framerate. It has become a staple of the franchise and FM7 doesn't buck that trend.
Conversely, GT Sport has a narrower focus and the resulting presentation exceeds that of FM7. Ignoring the numbers game, the comparison gets interesting when examining the finer details.
The comparison begins with a look at the Mazda MX-5 in both games to size up modeling quality differences. What's immediately apparent is both games go above and beyond in regards to details. Where FM7 does very well, GT Sport exceeds expectations to the point of obsession. It's a surprise to no one familiar with Polyphony Digital's penchant for perfection.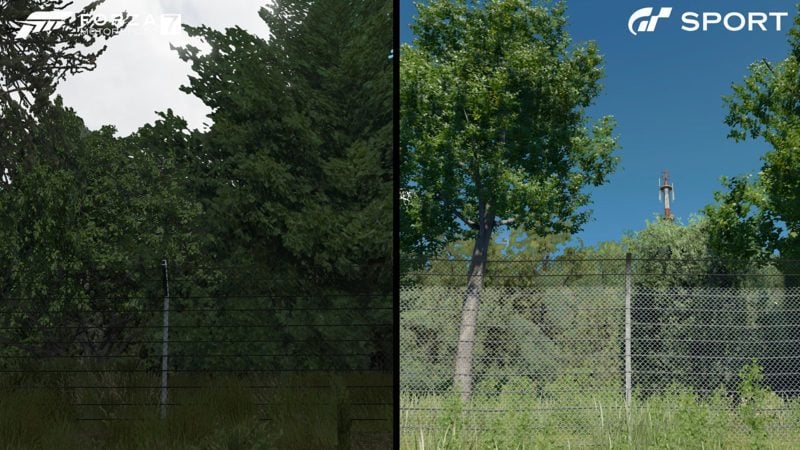 Trees are another factor in this comparison — a point of heated debate between the two games for some time. In Forza, trees are simplistic in nature composing of two planes fixed to the ground. Much like a sprite (a two-dimensional image) trees remain stationary and always face the player. This method lacks any meaningful interaction with light and appears less distracting.
GT Sport's approach to tackling this is a little more eye-appealing. It also uses flat planes that face the player, but is paired with complex tree trunks and branches. This method interacts with light and sits in the environment more realistically. While more advanced, it isn't without its own shortcomings.
At the end of the day what it boils down to is both studios are bordering on the obsessive. The major difference between the two lies within their design philosophies and priorities. That said, while both games look great in motion, we'd definitely give the nod to GT Sport's replays in terms of visual appeal — especially with HDR enabled.
Polyphony Digital is no stranger to pushing (if not exceeding) the boundaries of the PlayStation to a crippling degree. Turn 10 takes a more measured, perhaps cautious approach to ensure the game never drops from 60 fps. There's a lot more to Digital Foundry's comparison between the two, which you can read in full here.
One thing's for sure: we wouldn't call either game ugly! You can read our recent GT Sport review right here, while the Forza Motorsport 7 review is this way.
Featured image courtesy of sebmugi.
More Posts On...