We're sure many of you want a Vision GT. They're unique, out of this world, and truly one of a kind. Well, one California man made this dream come true when he snatched up the Bugatti Vision GT.
Hezy Shaked is the founder of the lifestyle fashion brand Tilley's, based in Irvine, California. Tilley's specializes in clothing for surfers, skaters, and motocross riders. So it only makes sense the owner enjoys some of the more extreme things in life.
This is precisely why he went for the most over-the-top car he could find.
Shaked purchased the Vision GT concept from a member of the Saudi Royal Family. Prince Badr Bin Saud bought the car in 2016 for a rumored sum of $5 million from Bugatti directly. It's assumed Shaked paid around $5.16 million for the chance to own the car from Bin Saud, but there's nothing official.
Out of all the people that could've bought the super rare Vision GT, Shaked seems like one who's worthy of it. He already owns a Ferrari LaFerrari, McLaren P1, and a Lamborghini Centenario. He's also the owner of the famed Bugatti Veyron Vitesse L'Or Rouge "Hellbug".
The Vision GT will definitely feel right at home with that garage line up.
The Bugatti Vision GT will also clock in as the most powerful vehicle in Shaked's collection. With 1,479hp from the quad-turbo 8.0-liter W-16, the car is anything but slow.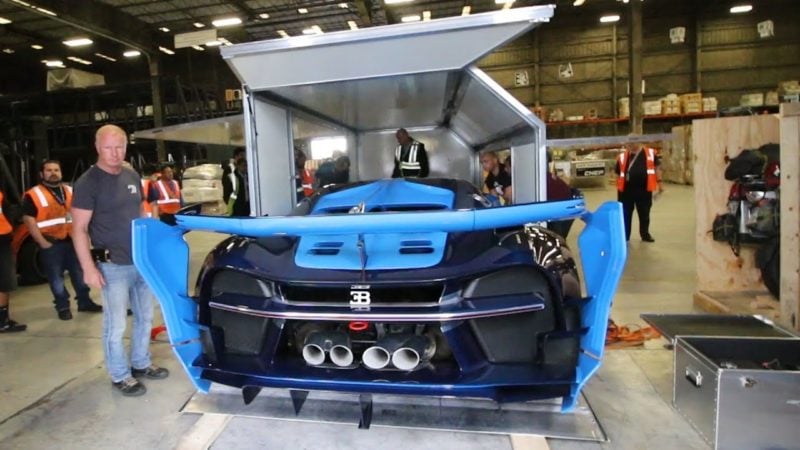 However, since the Vision GT is still a concept car it's unknown if Shaked can take it for a spin around Los Angeles. Considering the strict laws in California regarding cars we're guessing he can't. Although just being able to admire the beauty of the car isn't really a bad thing.
If Shaked is able to actually drive the VGT, he'll enjoy a car capable of hitting 60mph in 2.4 seconds. And if he's really daring — and finds enough space — he can take the car all the way to around 260mph. It's no Koenigsegg Agera or whatever the phantom Hennessey plans to do, but it's still pretty impressive.
Thankfully, you don't need to drop over $5 million to experience the awesomeness of the Vision GT. All you need to do is pop in the Gran Turismo Sport disc and have a go. While it might not be the same as cruising around in the multi-million dollar real thing, it'll still provide hours of entertainment.
For a recap of the delivery of the Bugatti Vision GT to the states, check out the video below.