The Fanatec Gran Turismo DD Pro, the official steering wheel peripheral of Gran Turismo 7, is now available to order through the Fanatec website.
It uses Direct Drive motor technology, which sees the steering wheel input shaft being driven by the motor itself rather than slaved by gears or belts to the motors. That means player input is more accurate and nuanced, while force feedback effects are more immediate and detailed.
This is the same technology, and in fact largely the same base unit, as the earlier CSL DD. However, where that wheel was only compatible with Xbox (and PC) devices, this supports PlayStation 4 and PlayStation 5.
In addition to the direct drive wheel base, the GT DD Pro sports a wheel rim designed in collaboration with Polyphony Digital. That means it not only sports all the interface controls required to navigate through PlayStation menus but it as easy to use to access all of the functions of Gran Turismo Sport and Gran Turismo 7 as it possibly can be.
Finally, the bundle also includes a two-pedal base, based on and compatible with the CSL Pedals, using Hall effect sensors.
There are four options for players to buy right now, with the basic bundle coming in at $699.95/€699.95.
If you want your GT DD Pro a little sooner than that, you can splash out an extra $150/€150 for the "express version", which will ship by air freight and land on your doorstep before Christmas. Racers who skip this option will have to wait until March 14 2022.
You can also order the bundle with the Boost Kit 180 power supply upgrade, which upgrades the motor torque output from 5Nm to 8Nm. This Pro 8Nm Bundle also sits at $849.95/€849.95, with no expedited delivery option.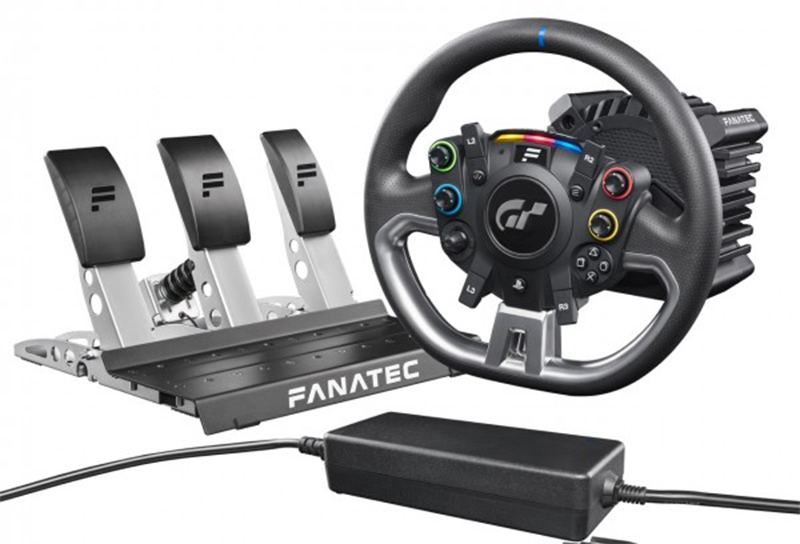 Finally, and most expensive of all, is the Pro Premium Bundle. Coming in at $969.85/€969.85, it includes the Boost Kit 180, and adds in the CSL Pedals Load Cell at what appears to be the special Black Friday price of $119.95/€119.95.
This kit allows you to swap out the brake pedal (or adapt it to become a clutch pedal) with a new item using load cell technology. Load cells convert pressure rather than pedal travel to electrical signals, allowing for a more natural braking feel.
Pre-orders are open across the board right now, with deliveries from March 14 2022 — just after Gran Turismo 7's launch — for all but the "Express Version" which should arrive before Christmas.
You can support GTPlanet ordering via any of the affiliate links in this post.
See more articles on Fanatec and Fanatec GT DD Pro.