After months of teasing, Porsche Pack 1 is now available to PC players for Assetto Corsa. A bombshell announcement made earlier this year, the inaugural car pack pays tribute to the German marque, promising to deliver "the best Porsche experience ever."
With the introduction of seven cars from Porsche, ranging from a hybrid hypercar to a 1,100+ horsepower Can-Am monster, there's bound to be something for everyone. While one may be hard-pressed to acknowledge any one of the included cars as the standout star, the 918 Spyder gets a special mention as the "Holy Trinity of Supercars" is now completed by its addition to the game's growing roster.
The contents of the first pack are detailed below.
911 Carrera S
935 Moby Dick
918 Spyder
Cayman GT4 Clubsport
718 Cayman S
917/30
911 Carrera RSR 3.0 1974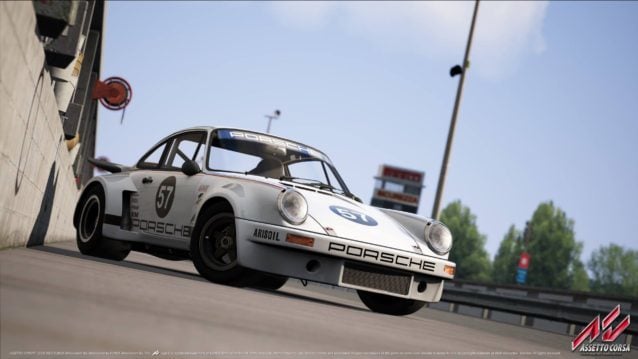 The list of new wheels continue with one further addition, the second-generation Panamera Turbo is also included at no additional charge courtesy of the game's latest title update, version 1.9. While it doesn't quite compete with the Maserati Levante originally introduced in the Red Pack, it furthers the diversity of the cars on offer in the game from the Stuttgart manufacturer.
Also available is the previously confirmed Season Pass, offering players a 28% discount off the standalone prices of the three packs. With yesterday's pleasant surprise of the contents within the next two packs – both set for release over the next two months – those so inclined can make the purchase knowing exactly what they're in for.
The list of everything new with today's content continues with one final addition to the game, also included at no additional charge: Historic Silverstone. Perfectly aligning with the older cars included in the first pack, the 1967 version of the "Home of British Motor Racing" saw battles between the likes of Graham Hill, Jack Brabham, Jim Clark, Jackie Stewart and Jackie Ickx.
As proven with previous additions to the game, the introduction of Porsche is met with a title update, the aforementioned version 1.9. Among the list of changes accompanying the 1.6 GB update are various improvements to the game's audio engine, including improved reverb, new dirt sound effects, and new brake squeal effects for some older cars.
The full details on the update can be found down below.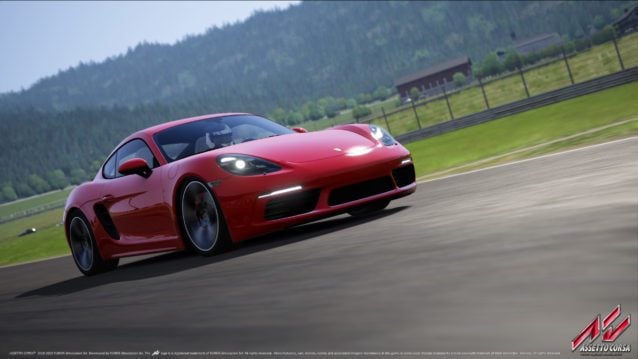 Porsche Pack 1 is now available on Steam for $6.99 USD, while Xbox One and PS4 players remain at the mercy of Sony and Microsoft's lengthy approval processes, and will have their opportunity to go to task with the cars in November.
Remember to stop by our Assetto Corsa sub-forum for more discussion on the inaugural Porsche Pack and in-depth analysis.
– New Porsche 991 Carrera S (Porsche Pack #1 DLC)
– New Porsche 918 Spyder (Porsche Pack #1 DLC)
– New Porsche 718 Cayman S (Porsche Pack #1 DLC)
– New Porsche 917/30 CanAm 1973 (Porsche Pack #1 DLC)
– New Porsche 911 Carrera RSR 3.0 1974 (Porsche Pack #1 DLC)
– New Porsche Cayman GT4 Clubsport (Porsche Pack #1 DLC)
– New Porsche 935/78 Moby Dick 1978 (Porsche Pack #1 DLC)
– New Porsche Panamera G2 Turbo
– New Silverstone 1967 historic track
– Added session time/laps on the top of the screen (laps are the leader ones)
– Now race is over when the car complete its lap and the leader has finished his last one
– Added dynamic ARB
– Fixed possible collision still active on race restart
– Added ERS recharge digital display
– Improved precision on all digital leds
– GT3 cars use tire model v10.
– Fixed TC sound distortion when triggered for the first time
– New camber grip variation formula (Thank You Nao!)
– Simplified DirectX 11 initialization
– Added official "Sparco" license to Assetto Corsa
– Added Ballast system through Ballast App (single player only)
– Added new F9 vertical layouts
– Added new driver + crew texture system
– Added new personal driver texture
– Fixed virtual mirrors rendered when not necessary
– Fixed Kers and ERS able to rev in neutral and reverse gear and overrev the engine
– Improved FFB App UI, so label is readable by VR users
– Added multiplayer splits
– Added Time Table leaderboard mode: this includes realtime splits and delta
– Added Fmod optimizations
– Added Anti-Wrecker protection
– Fixed AI "flapping" DRS in traffic
– Improved autoshifter
– Improved laptimes board by adding splits and tyre compound
– Fixed backfire animation freezing after session change
– Fixed leaderboard history in multiplayer
– Added voting spam protection
– horizon locked view removed from Bumper camera
– Delta App reviewed
– Fixed possible flickering in case of engine stall
– Added backfire animation to Zonda R
– python new functions and members
– getCarTyreCompound(carid)
– Tyre blister and grain are now tied to the "Wear" settings and not "Damage". Wear=0 will turn off graining and blistering simulation
– Fmod updated to 1.08.12
– Updated SDK for modders
– Removed reverb snapshot in the Fmod project
– General audio engine code cleaning and bug fixing
– Vastly improved Fmod resource usage
– Voice stealing is now properly managed by code, so the sound mods will follow the same behaviour of the original sound banks
– Fixed listener priority for cars in pits. They don't steal the priority anymore
– Amount of events instances are now properly limited in order to keep proper volume range and overall performace improvement
– Overall volume balance
– 7.1 surround should now work as expected (on all platforms)
– Fixed audio initialization pop when the session starts
– Stereo imaging now works as expected
– Fixed ambience sound affected by reverb zones
– Reworked reverb logic: when triggered onboard, the reverb is given by the exterior engine
– Reworked distance attenuations for enhanced experience (e.g. engine_int raised to 350 meters)
– Reworked wind curves: now the wind volume is related to the air pressure (i.e. player car will hear turbulence when in draft and AP value goes below 1.00)
– Reworked surfaces audio curves
– Reworked skids logic
– Fixed skids positional sound
– New exterior skids sound
– Set tyre skid entry point to 100 in audio.ini (set what you prefer in the audio options)
– Reworked code management for traction control and limiter events
– Tweaked wind and limiter sound emitter position in dashboard camera
– Audio compressor on engine_ext event now works as expected when many cars are involved
– Surfaces, crashes and skids are now properly audible in chase and track cameras
– Opponents volume now honours F1 cameras. For track/free cameras it is set to max (optimum for replays, broadcasting etc.)
– Fixed load/coast smooth for AIs and multiplayer
– Fixed transmission smooth and pitch for multiplayer opponents
– Engine volume setting is now related to the player/focused car
– When driving, some opponents events are now audible (e.g. skids, surfaces and gear shifts if available)
– Surfaces events are now properly cached. This fixes stuttering when a surface event is triggered for the first time and should limit "digital clicks"
– Fixed multiplayer opponent surfaces sound when it leaves instantly (e.g acs proces kill/crash) while driving on sand/kerb/etc…
– New dirt sound effects
– New brake squeal for some "old" cars
– Added audio fade when track camera changes
– Added [VERSION] section in audio.ini
– Removed [LATENCY] section in audio.ini (managed by FMod itself now) and from the GUI
– Slightly modified gear grind sound
– Fixed wrong listener position for track and car cameras in some situations
– added DRL on LaFerrari, Mclaren P1, Nissan 370Z Nismo, Nissan GTR and Ford Mustang
– added templates for Porche Vol. 1 cars
– fixed excessive brake light brightness on Ford Mustang
– minor graphics fixes on Triple Pack cars
– [Modding] added harvest series function in digital_instruments [KERS_RECHARGE_SERIE]
– [Modding] added 918 Spyder-style full power usage series function in digital_instruments [POWER_918]
– Added PACKER_RANGE_HF and PACKER_RANGE_HR for heave springs packer settings in setup.ini
– Packers now use bump stop rates
More Posts On...
The original comments for this post are no longer available.