It's nearly here. GT Sport launches this week, starting as soon as tomorrow. It signals the biggest change to the franchise since its inception two decades ago.
We can't overstate that last part. Unlike the other big racing games this year, GT Sport is not just an evolution of what's come before. Out goes the gigantic car lists of yore for a curated, class-based system. In comes a driver rating system, with the aim of pitting you against similarly-skilled drivers more often. It's a whole new world.
With such a big change on the horizon, the team has gathered together a short list of the things we're most looking forward to. As is the norm, we present this list in no particular order.
Photo Mode and Scapes
The Gran Turismo series has long been a source of automotive eye candy. If the last two years of teasing has been any indication, GT Sport will surely continue this tradition. Despite still having one of the most thorough photo modes in gaming in GT6, Polyphony has added even more features in Sport.
Players can modify more parameters, including light warmth, bloom, and noise. There are now filters that can be added — to the whole image, or just the cars — and you can tweak these further, right down to the value curves. It makes us wonder if there'll even be a need for Photoshop (the answer is always yes, for the truly dedicated).
Then there's Scapes. With hundreds of locations around the globe, totalling over 1000 individual photos, it'll be easier than ever to globetrot with your digital rides.
Scapes provide players with the best option yet to fool others into thinking their photos are real, and that's because they are. The car may be an in-game model, but it's sitting on a photograph. All of the lighting info is stored within the shot, allowing the car to more naturally fit with its surroundings.
You can check our our overview on photo mode and Scapes right here.
Driver Rating System
Online racing can be, to put it generously, a bit of a crap-shoot. Polyphony is aiming to fix that with its Driver Rating system. The system uses two scores to help place drivers against similar opponents.
The Driver Rating score represents a player's overall speed, while the Sportsmanship Rating shows how rough-and-tumble (or clean) they are. Players that partook in the beta or last week's demo will be familiar with the setup.
Of course, the Driver Rating system will be integral to the FIA Championship (which kicks off its pre-season testing next month). Who knows — impress the right people, and you could have Lewis Hamilton coaching you.
Esports All of the Things
We already mentioned it above, but the FIA Championship is going to be a major aspect of GT Sport. With two distinct series — the Nations Cup and the Manufacturers Cup — players will face off for a chance to head to the big end-of-year FIA gala. There, they'll stand alongside pro drivers in a trophy presentation ceremony.
Despite their inherent competitive aspects, racing games have yet to truly break into the esport prime time. With the might of Sony behind it, could GT Sport be the title to really buck that trend? It has the in-built social/media network of its parent company, not to mention a lot of in-game billboards that look very advertiser-friendly…
Porsche, Porsche, Porsche
What was once the forbidden fruit will now, after 16 years, be available directly in-game in GT Sport. Kazunori Yamauchi's very own 996-generation 911 GT3 may have been hidden away in, er, GT3, but Porsche is right in the open here.
It's been a great year for the video game fans of the Stuttgart automaker. We broke the news of the EA exclusivity coming to an end late last year, and the availability has spread like wild fire. Sure, GT Sport won't feature as many Porsches as Forza 7, Project CARS 2, or Assetto Corsa, but the four it does feature is a fine starting point.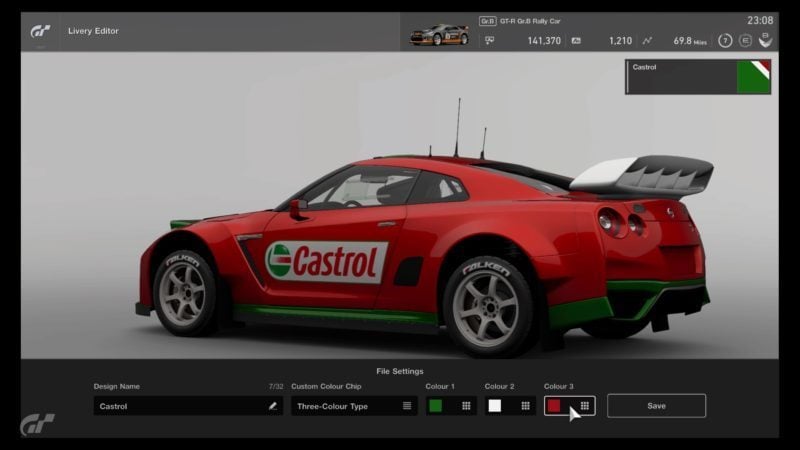 Livery Editor
This was unanimous across the team. As the original CARPG (side note: we're settling on that formatting), Gran Turismo has always had a strong sense of digital car ownership. Even in the first game, players had to wash their car, and an oil change showed up soon afterwards.
But in the age of online gaming, nothing beats a personal livery. The possibilities are endless: user-created championships will be able to run with common logos. A real-world team could debut a new livery, and an enterprising GT Sport designer could have the digital equivalent ready to go hours later.
As this is Gran Turismo, Polyphony has of course taken a different approach to the feature than other developers. An image import tool could make light work of the job, depending on how it functions (it didn't, in the demo). There's also a novel projection option — think of those forced-perspective sidewalk drawings that pop up from time to time.
It remains to be seen if PD's first swing at a livery editor can hang with the established customization suites of Forza and Need for Speed. But even if it can't match them, the age of identi-car grids in Gran Turismo is over. And we're excited to see what the community cooks up!
Agree with our list? Think it's all wrong? Sound off in the comments section!
More Posts On...