Exactly one year ago, Playground Games unleashed Forza Horizon 4. The third iteration of the franchise this generation, FH4 took players to a Greatest Hits version of Britain, complete with four seasons.
It started off strong, amassing over two million players in its first week of release. Since then it's added a one to that figure — in front — bringing the tally up to a massive 12 million. That's no doubt possible thanks to Horizon 4 being on Xbox Game Pass, Microsoft's Netflix-style subscription service. Nonetheless, it makes FH4 one of the biggest racing games of this console generation.
With the game still evolving, we're looking back at the last year to see what's changed, what FH4 nails, and what it still needs to improve on.
What's Changed Since Release
Well, it's certainly still in the UK!
Things got started pretty quickly, with a big feature dropping in the first month of release. Adding onto the Blueprint feature, which allows players to customize any event in game in terms of eligible cars, performance level, and laps, a Route Creator arrived in October. A month later Playground introduced more visual customization options, with enhanced wheel and body painting plus new wheel options. 2018 wrapped up with photo mode and multiplayer improvements.
Forza players rang in the new year with the return of a franchise stalwart. No, not Toyota — that's seemingly remaining a GT Sport exclusive — but Mitsubishi. Licensing issues had kept the Japanese company out of the UK festivities at launch, but thankfully the usual suspects returned for free.
Alongside the Diamond Star cars, other models showed up at a regular rate free of charge. These ranged from returning models like the TVR Tuscan S to brand new vehicles in the shape of the BMW Z4, or a variety of Porsches. In addition, there was the usual paid DLC. Instead of monthly car packs however, this was a weekly affair, with 42 models arriving in the first half of the game's life.
There were also two expansions, both adding separate island experiences to the vanilla game. The first, touching down in December, was Fortune Island. This introduced twisty roads, dramatic weather changes, and sure enough, treasure to find. The next expansion was something altogether stranger, and proved to be divisive: LEGO. Yes, the Danish bricks got their own experience in June, out-weirding FH3's Hot Wheels expansion but showing how wide the audience of the Horizon titles had become.
Achievement hunters also gained new targets twice, first in February's update and then just last month.
What It Got Right
Horizon 4's strength lies in its relative simplicity. While there's a lot of sub-menus and different levelling systems for the truly dedicated to max out, the basic premise is easy to grasp: drive cars, earn credits, buy more cars. The car roster itself is incredibly eclectic — another Forza strong point — with everything from a Reliant to a Mercedes Unimog, a Morgan 3-wheeler to Volvo's 2400hp race truck, and bits of British history like the original Transit. Don't trust someone who says they can't find anything interesting to drive here.
There's also an immense level of freedom, which makes sense given this is an open-world racer. Players can complete races at their own pace, sure, but they can also decide how those races are set up thanks to Blueprint. With the Route Creator, the only real sticking point is, er, the starting point.
Perhaps most importantly, there's a baked-in love for the genre. One of the game's story-based series of events pay homage to Daytona USA and OutRun. It reminds us of possibly the best aspect of FM6: this awesome commercial.
To this day it maintains "the puppy-like sense of enthusiasm to get out there and have fun" we said it had in our original Forza Horizon 4 review. It isn't perfect, however.
What It (Still) Gets Wrong
We're not going to take FH4 to task for not having the most realistic physics. To do so would be to miss the point of the game completely.
What is frustrating to some players is the way new content is introduced to the game. The Festival Playlist feature showed up this past spring, bringing with it percentage completion goals. Usually, Playground tied new-to-series items to this. This forced players to dedicate certain amounts of time to the game every week to gain access to these new cars, or risk missing out until whenever they might show up again. What's worse, some of the requirements demanded an online multiplayer win, meaning you were at the mercy of the matchmaking.
We weren't fans at launch, calling it "a step backwards". Playground heard the community's demands and eased off on the requirements, knocking the top rung down to 80%. But that still requires an Xbox Live Gold account to achieve, which surely locks out a fair amount of players. Cars that are only ever available at certain times are never a great thing, especially once dev support dries up.
Online racing is still a mixed bag. There are anti-griefing measures in place now — and in some ways they're oddly better than its track-focused sibling FM7 — but it skews too heavily into ultra high-speed cars. The other big drawback with online is the lack of reliable broadcast and spectating options. The team-based dynamic is a good one — it's what we've chosen for our very own GTPlanet esport league — but there's no easy way to actually watch the racing. Or playground games, which can genuinely be pretty fun.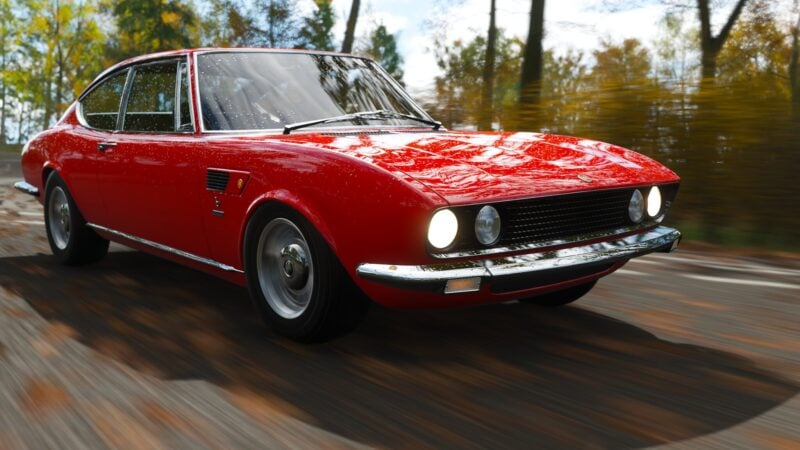 What's Next?
It's not clear at this point, if we're honest. There's likely another year of support left in the tank. Turn 10 only just wrapped up support for FM7 after two years, and FH4 has a larger, more active player base.
We're also in that strange no-man's land between console generations. We know Scarlett is coming in just over a year, but that's all. With the Motorsport crew getting a reprieve from the gruelling two-year development schedule it's operated on since release, Playground is undoubtedly getting a similar extension.
Paid content looks unlikely at this point, unless it's another expansion. The team seems to have found its groove with quad-week Series updates, continuing a steady injection of new cars alongside the seasonal changeovers.
Featured image courtesy of turk1993.
More Posts On...