Turn 10 has released a set of 4K resolution images to show off the technical advancement of Forza Motorsport 7.
The game has been officially confirmed to be released later this year during the recent 2017 E3 Xbox Briefing.
These still shots, taken from actual gameplay, are quite stunning. The game is expected to support dynamic weather and changeable surface conditions, enhancing realism.
A new lighting model is in evidence too. Affected by cloud type and cover, this plays a huge role in the immersion and feel of the weather conditions.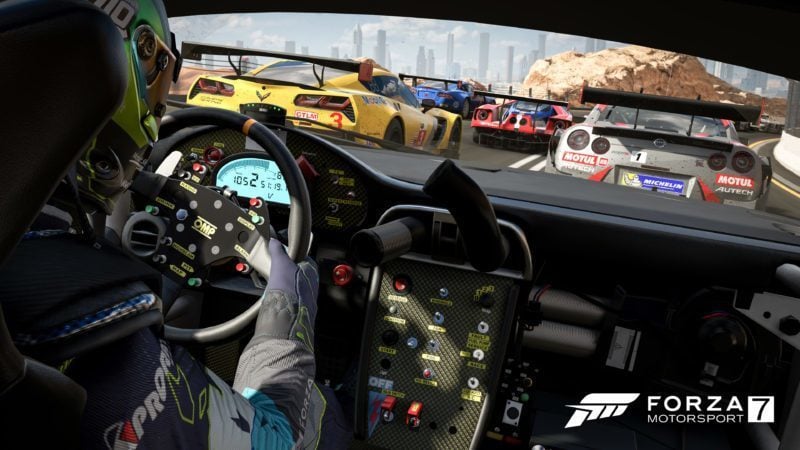 Players will have over 700 cars on offer, and the images show off some of the highlights. Some shots hint at multi-class racing action, with GT3 cars mixing it with GTE machinery, and even Mazda's LMP2.
Alongside the Porsche 911 GT2 RS, unveiled at the E3 event, there's the marque's Le Mans-winning 919 Hybrid LMP1. After the recent expiry of EA's rights contract with Porsche, we can look forward to a few more of Stuttgart's finest in racing games. Turn 10 itself agreed a six-year partnership with the brand. Other highlights include Sir Stirling Moss's Mercedes-Benz 300 SLR.
The presentation reported that more than 200 circuit layouts will be available in the game. Along with the Jebel Hafeet mountain road and Nurburgring we saw in the trailer, the images reveal Indianapolis Motor Speedway and what appears to be the Dubai International circuit too.
In-depth character customization has been confirmed for the game, the first of its kind in the recent driving genre. We see some evidence of this in the image dump too, with the driver of Moss's Mercedes sporting a fetching cloth face mask and driving goggles. It's a far cry from the modern helmet and HANS safety gear!
Remember to mark your calendars for October 3, as that's when Forza Motorsport 7 officially hits the stores.
The game will be available on both PC and the Xbox One consoles. In addition, the game will be a launch title for the upcoming Xbox One X when it launches on November 7.
See more articles on 4K Resolution, Dan Greenawalt, E3 2017, and Turn 10.