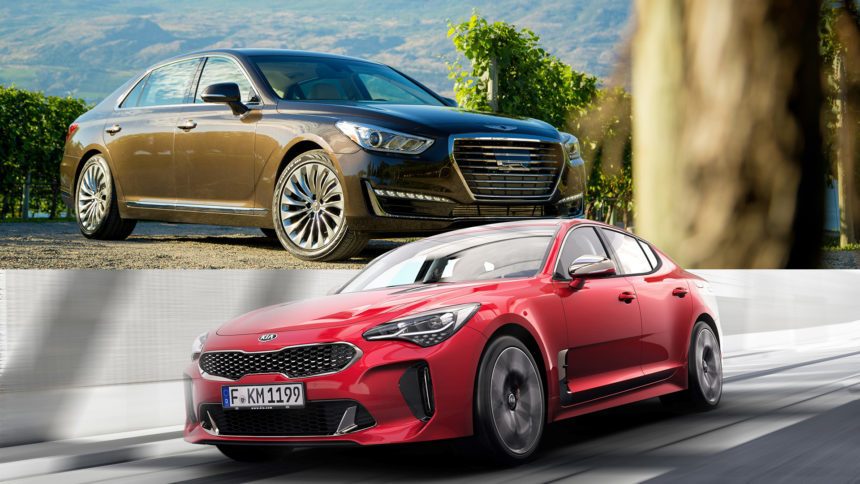 It seems like more Korean cars will be arriving in Forza Motorsport 7 in the future. The clues for two sports sedans from Kia and Genesis recently cropped up in the game's audio files.
The find comes from GTPlanet member TheAdmiester. With the latest update dropping alongside the January Car Pack, he's found the following two entries in the game's code:
GEN_G90_17
KIA_Stinger_18
This isn't the first time Kia's new sports sedan has shown up in the Forza world. It featured — very briefly — in some of the game's pre-release footage. That's all gone off YouTube now of course, but those clips accurately foreshadowed other additions, like the Giulia QV and Fiat 124 Spider.
The Genesis is a different beast. The big sedan is Hyundai's — sorry, Genesis' — answer to the Merc S-Class or BMW 7 Series. It's a bit of a left-field choice in comparison to the brand's G70, which shares its platform with the Stinger. Not since the original Forza Horizon's Mercedes S65 has such a large sedan been a part of the franchise lineup (not counting the "Presidential" limo).
The Stinger and G90 would join parent company Hyundai's pair of second-gen Velosters. The Turbo and N variants recently landed in Forza 7 alongside their debut in Detroit this week.
Last month, TheAdmiester also uncovered over a dozen vehicles hidden within the game's code. None of those models have shown up in-game yet, so stay tuned for more news on them and the Korean sedans as we get it.
More Posts On...