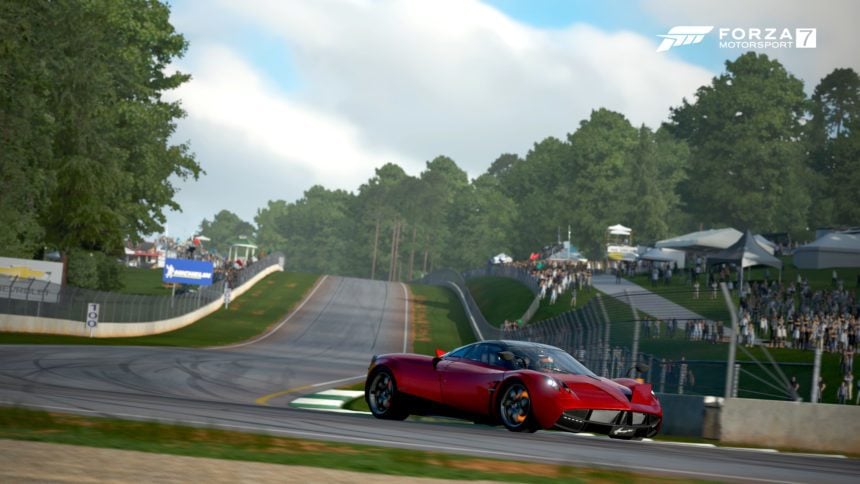 You know what time it is: Forza Motorsport 7's Specialty Dealer has refreshed its stock. Long-term players will recognize it as a mid-November lineup, but there's something different about this week.
What do we mean? Up until now the Specialty Dealer has only featured three cars per week. This week there's a fourth, and in case you were wondering, yes, it's new. With that out of the way, let's have a look at what this week brings to the showroom floor — the most expensive week by far.
First up is the Ferrari 458 Italia. Replacing the outgoing F430, the 458 debuted at the Frankfurt Motor Show in 2009. Designed by Pininfarina, the car's styling is heavily influenced by aerodynamics.
Its name is derived from the 4.5-liter V8 sitting amidship, putting down 570hp to the rear wheels. As you'd expect from a Ferrari, the 458 is no slouch, getting to 60 in under four seconds and on to a top speed of 201. Forza players are no stranger to the 458's charm and it could be an instant buy for those missing its first showing.
Next up is the fourth generation Subaru Legacy B4. The 2.0 GT model may not look the part, but it packs a punch. The B4 sends 280hp to all four wheels, making it a powerful companion in a dull suit. It may lack the polish of the 458 but it will more than make up for it on the track.
Following that is the TVR Sagaris. Debuted at the MPH03 Auto Show in 2003, the Sagaris is the very definition of insane. Its name comes from an Iranian battle-axe — fitting for a car as sharp on the track as the Sagaris. Power comes from a 4.0-liter inline-six sending over 400hp to the rear wheels.
Rounding out this week's lineup is the fourth car up for grabs, the Pagani Huayra. Pagani's successor to the Zonda had quite a reputation to live up to, and the Huayra delivered on all fronts. Following in its predecessor's footsteps, its name comes from a Quechua wind god.
Powered by a 6.0-liter, twin-turbocharged Mercedes-AMG V12, the Huayra means business when brought to life. With 720hp it will make short work of anything that dares to stand between it and the destination. The Huayra's pedestrian 238mph top speed (in comparison to modern Koenigseggs) should give a good workout to the active aerodynamics.
As usual, players will have one week to purchase one example each of the Specialty Dealer lineup. You'll need over two million credits to do it, so don't drag your feet.
Specialty Dealer Lineup: January 30
2009 Ferrari 458 Italia (Super Rare +605; 350,750cr)
2012 Pagani Huayra (Legendary +2,750; 1,610,000cr)
2005 Subaru Legacy B4 2.0 GT (Common +55; 32,775cr)
2005 TVR Sagaris (Rare +418; 241,500cr)
More Posts On...