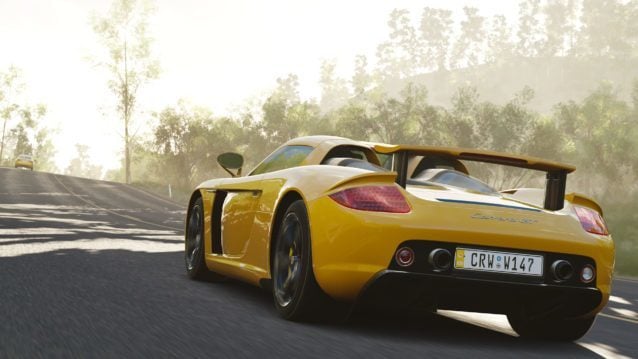 The Porsche party seems to be never-ending. After Porsche basically became the mascot for April's Forzathon events, May looks like it will be continuing the trend. That's not to say receiving these German beauties for free is a bad thing, though. Let's take a peek at what Forza Horizon 3 players can look forward to in the upcoming weeks.
For the first Forzathon of the month, a 60-year-old car comes in the form of a Barn Find rumor. Now, just because it's six decades old, it does not mean this is a car to skim over. Why? Because the 1957 Porsche 356A Speedster is the machine in question. The 356 was the first automobile to wear the Porsche name, and featured the distinctive rear-engine rear-wheel-drive layout. As made obvious with six-digit auction listings, the 356A Speedster is highly desirable and is a piece of history.
The 620 hp 2012 Porsche 911 GT2 RS is next in line. In 2010, the German manufacturer revealed its twin-turbo 3.6-liter boxer powered sports car. Along with gaining 90 hp, the 911 GT2 RS shed 154 lbs over the older 911 GT2, giving it a weight-to-power ratio of 4.9 lb/hp. With an MSRP of $245,000, the 911 GT2 RS' production was limited to 500 units.
Midway through May, the 2003 Porsche Carrera GT will be up for grabs. Commonly viewed as one of the greatest sports cars of its decade, the beast included a 5.7-liter V10 pushing out 612 hp. Even with its modern technologies such as active aero and a carbon fiber monocoque, the Carrera GT remained slightly old-school due to its traditional six-speed manual. Still, this is one car not to underestimate.
Surprisingly, the following vehicle does not come from the stables of Germany, but rather, Italy. Lamborghini's Huracan will be avalilable in Horizon Edition spec, a version that hasn't been easily available to players for quite a while.
The final car players can win at the end of May is the newest Porsche for this month: the 2014 911 Turbo S. In the rear sits a 3.8-liter flat-six helped out by two turbochargers. As usual for Porsches, this is another 911 that produces excellent figures, like a zero-to-60 time of 2.6 seconds and a top speed of 198 mph.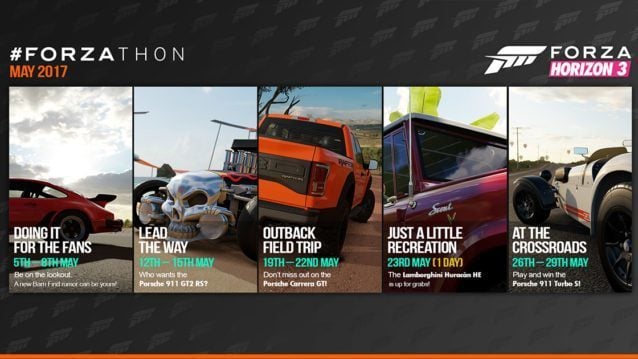 Below is when you can obtain these German (and Italian)-built machines:
Doing It For The Fans

(Available May 5 – 8)

– Win the Porsche 356A Speedster.

Lead The Way

(Available May 12 – 15)

– Win the Porsche 911 GT2 RS.

Outback Field Trip

(Available May 19 – 22)

– Win the Porsche Carrera GT.

Just A Little Recreation

(Available May 23)

– Win the Lamborghini Huracan HE.

At The Crossroads

(Available May 26 – 29)

– Win the Porsche 911 Turbo S.
Free cars (especially Porsches) are certainly nothing to overlook, so you may want to mark your calendar to not miss these opportunities.
More Posts On...