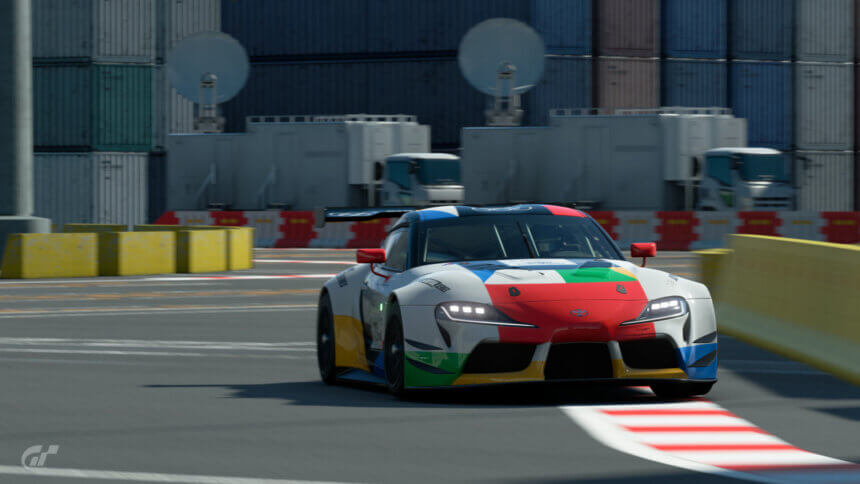 Italy's Valerio Gallo has set the fastest time of all in the closely contested Olympic Virtual Series qualifier in Gran Turismo Sport.
Gallo's 1:55.046 lap was quickest by a mere 0.052 seconds — about three-quarters of a car length of the Toyota GR Supra Racing Concept — from Canada's Andrew Brooks, with Frenchman Baptiste Beauvois only four thousandths of a second further back.
Indeed just 0.2 seconds covered the top 20 times in the leaderboard, in what was one of the tighest qualifiers for a major Gran Turismo event we've ever seen. Close to 40,000 players entered the special Time Trial event, with 280 players within a second of the top time.
Of course the event served as a stepping stone to a much more significant event which will take place next month. The top 16 eligible qualifiers, limited to one per nation and with a maximum number within each region, will head into the Olympic Virtual Series final in June.
This nationality cap means that some big names look to have missed out on qualification. Giorgio Mangano and Coque Lopez, both regulars in GT World Tour events, could only place second in their respective nations, as did Nico Rubilar and Lucas Bonelli, although all were inside the top 16. We're getting to see some new players in the mix though, like Greece's Kostas Konstantinou and Nathiyas Sirigiya of Thailand.
There are still plenty of familiar faces too, with all three GT Sport world champions — Igor Fraga, Mikail Hizal, and Takuma Miyazono — qualifying.
As things stand, the provisional qualifier list is as follows:
Europe
1 – Valerio Gallo (Italy) – 1:55.046
2 – Baptiste Beauvois (France) – 1:55.098
3 – Jose Serrano (Spain) – 1:55.118
4 – Mikail Hizal (Germany) – 1:55.131
5 – Patrick Blazsan (Hungary) – 1:55.170
6 – Nikita Moysov (Czech Republic) – 1:55.181
7 – Kostas Konstantinou (Greece) – 1:55.192
Asia
1 – Takuma Miyazono (Japan) – 1:55.109
2 – Stanford Chau (Hong Kong) – 1:55.347
3 – Nathayos Sirigiya (Thailand) – 1:55.419
4 – Taj Aiman (Malaysia) – 1:55.437
North America
1 – Andrew Brooks (Canada) – 1:55.098
2 – Daniel Solis (USA) – 1:55.327
Central/South America
1 – Angel Inostroza (Chile) – 1:55.117
2 – Igor Fraga (Brazil) – 1:55.132
Oceania
1 – Adam Wilk (Australia) – 1:55.249
The final itself takes place on June 6, with the 16 finalists running in three online races to determine the first Olympic champion in Gran Turismo. While we've not yet seen the full schedule, we do know that the third race will carry double points — so is likely a longer race — and that the combinations are as follows:
Race 1 – Toyota 86 Gr.4 – Tokyo Expressway East Outer Loop
Race 2 – Toyota GR Yaris – Sardegna Road Track B
Race 3 – Toyota GR Supra Racing Concept Gr.3 – Dragon Trail Seaside
More Posts On...