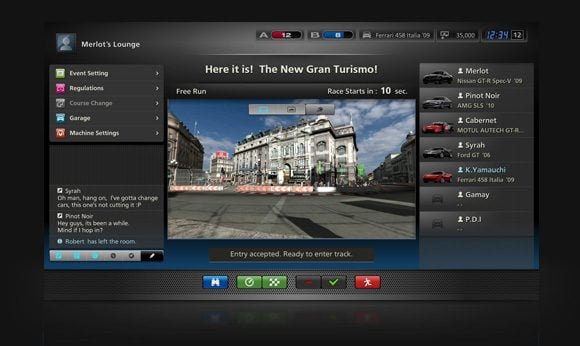 At 9am on August 18th, Andreas Nie, Venari and myself (representing InsideSimRacing and GTPlanet) along with other members of the American press were ushered in to the first breakout session of GT5. Penrose Tackie and Alex Armour (Sony) were on hand and passed on the first vital piece of information – all material and information from this session was under a strict press embargo until 9am GMT on Thursday 19th August. So we had to keep all this to ourselves… The floor was then given over to Kazunori Yamauchi and Translator-san.
Kazunori told us that the 140-strong PD team were still hard at work, refining the game, and that the version he would demonstrate to us had been downloaded from Sony's servers that very morning. It was, he said, a continuation of the presentation he'd given at E3.
Exclusively revealed at GamesCom the previous day was one new track – Autodromo Nazionale Monza – and a series of new vehicles. Monza, said Yamauchi, is an interesting track for both beginners and advanced drivers as the corners are typically very fast and the track can get quite narrow. The cars were of particular importance – the Pagani Zonda R '09, which he credited with recently lowering the production series vehicle 'Ring lap time record, the Impreza WRX Sedan '10 which had just gone on sale and the DTM-based Lexus IS-F Racing Concept '08. The remaining four cars were special to him. First is the Ferrari 330 P4 '67, which locked out the podium in the 1967 Daytona 24hr and is one of Kazunori's personal all-time favourite cars. Second was the Ford Mark IV Race '67 which, at the end of that season, finally beat the P4 at the Le Mans 24hr. Third was the Jaguar XJ13 Race '67, which was conceived and developed as a Ferrari-beater but never made it to track – Kazunori's inclusion of this car is to allow drivers to recreate "what if" scenarios. Last was the Lamborghini Miura Bertone Prototype P400 '67, modelled on the only existing surviving car and distinguished from its production counterpart by a 1″ lower ride height.
Kazunori then moved on to what he termed "The Red & Blue of Gran Turismo". He explained that, in 2001, when GT3: A-Spec was released, he'd intended to almost immediately release GT3: B-Spec – many of us are now familiar with the concept of B-Spec through the affectionately dubbed "B-Spec Bob" from GT4. B-Spec was intended as a racing-driver management simulator – akin to Football Manager – or, as the PD team term it, the Car Racing  Simulation RPG. However, at the time of GT3, it proved impossible to implement adequately and it has taken 10 years to reach the point where the Blue (B-Spec) is at an equal level to the Red (A-Spec).
Indeed in the GT Home section, B-Spec and A-Spec are centrally-placed with equally-sized icons. Your B-Spec counterpart this time round is not one driver, but a whole squad of them. You can train only one to start with, but eventually you can have a stable of up to 6 B-Spec drivers at once – with four of them required to run a 24 hour race. Each driver has their own personality, from the ultra-calm to the hot-head and how they drive can be affected by current emotional state and mental and physical exhaustion.
The new B-Spec mode was demonstrated to us. GT4 players will be familiar with the strategy screen showing lap/split times, track position, vehicle place and gap and the instructions, but in GT5 this can be mixed with live footage of the race, rather than switching from one to the other and tyre wear and damage status are also included. The driver can be given instructions to speed up, maintain pace, slow down, pit or not pit as before, however there is a side-effect of the personalities – a particularly tired, agitated or aggressive driver may not necessarily follow your instructions!
A-Spec mode, of course, remai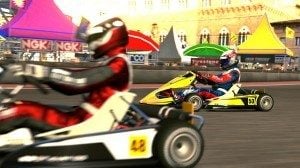 ns as it ever was, though with additional refinement of vehicle physics and dynamics. Kazunori was keen to point out that the tyre and suspension geometry physics have evolved yet further and our impressions of the show floor demo certainly agree with that assessment. In particular, Kazunori was proud of how Gran Turismo has improved to the point where he felt he could introduce karting mode – a feature accidentally scooped and originally planned for GT6, but brought forward – due to the unique nature of kart handling. The demo of karting mode on the Sony stand was spectacular fun.
The remainder of GT Mode retains all the old favourites – licences, dealerships, tuning shop, used cars and five different levels of series (Beginner, Intermediate, Advanced, Professional and Extreme) with the five different types of cars (Kart, Production, Rally, Race and Formula).
The next big piece of news was, as first mooted by amar212 on GTP back at the start of 2009, the Course Maker. Kazunori pointed out that they didn't call it a "Course Editor" simply because one is not able to edit an existing course, but create wholly new ones from scratch with an intuitive interface. The player selects from one of four themes (three – Toscana Sunset, Springtime Germany and Belgian High Fens – were named), adjusts the parameters of the course and the track is randomly generated from scratch. The parameters available include switching between a loop/circuit and a rally-style point-to-point track, selecting the weather, the time of day, the frequency of corners, the sharpness of corners and the bank angle. The track can be divided into up to four sectors and each sector given a different set of corner characteristics – so you can generate a long straight in one sector and a tight, complex series of corners in the next. Kazunori demonstrated all of these features and the track generation time was incredibly short. The track is limited to 6.5 miles/10km, but since that's nearly twice the length of an average F1 track, even the most ardent future-Tilke should be happy!
Though some might prefer a full-scale track editor to recreate their own Road Atlanta, Spa-Francorchamps or Bathurst – Kazunori included – at the present time the level of customisability combined with the scope and detail of Gran Turismo means it would require a huge editor program and, of course, the resulting track may not be accessible to everyone, whereas GT5 Course Maker tracks will be available to race online.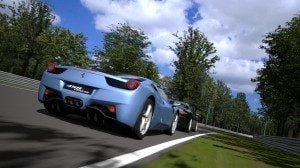 Lastly, Kazunori presented GT5's Photo Mode, which supports 3D and was, in his opinion, the best implementation of 3D (though having seen the XJ13's cockpit in 3D during a race, we'd disagree). Photo Mode should be quite familiar to GT4 players, but this time round it features almost all the image treatment features of dedicated photography software, infinitely variable camera angles and, as always, the time, space and backgrounds to crack out the perfect shot. Amongst the new locations is the Red Bull Racing hangar in Austria, where Kazunori briefly demonstrated photomode using a Viper SRT-10 ACR.
As we were the first session and had a slight overrun, Kazunori couldn't take many questions. However, he was able to confirm that the number of unique courses available in the game is "more than 70" – with the added scope of online Course Maker circuits – and that despite their best efforts to respond to criticism about standard car interiors, they were not able to implement cockpit camera (even one similar to GTPSP's) in GT5 – a source of some disappointment to Kazunori, who is never happy to let down his fans and is probably his own biggest critic.
See more articles on 3D, Course Maker, Gamescom 2010, GT5 B-Spec, and Photomode.