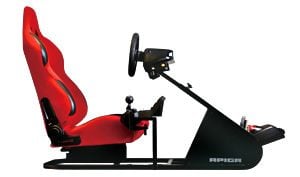 Sony Hong Kong is launching an interesting new "online tournament", starting September 1st, open to players from Hong Kong, Korea, Taiwan, Singapore, Malaysia, Thailand and Indonesia. The tournament consists of three regional and cross-regional rounds of competition, with some hefty prizes up for grabs, including a
GT5-Edition Tissot watch
, an
Apiga AP1 racing seat
, a
Thrustmaster T500RS steering wheel
, and over HK$10,000 in PSN vouchers.
The most curious thing about this competition is the second and third rounds – their outcomes are based on real, live online races between the regional semi-finalists. The contest's terms and conditions offer a bit more insight into the logistics:
The 14 semi-finalists will be divided into two groups with seven participants in one semi-final. Each semi-finalist will be competing against semi-finalists from other six regions. PSN team will send an "Add Friend" invitation to all semi-finalists before the day of the semi-finals. On the day of the semi-final and before the match, PSN team will send a "Game invitation" inviting semi-finalists to join the match. By accepting the invitation, semi-finalists can then join the match. Semi-finalist who fail to accept the invitation in time will be disqualified.
This is the first time any Sony-sanctioned competition has played out through live Internet races instead of leaderboard-based time trials. What's even more interesting is the vehicle restrictions (or lack thereof) for these races:
Participants must use the designated car model Nissan GT-R Spec V (GT Academy Special) in [Round 1] regional tournaments. However, there is no limitation on car models, brake system (AT/MT), car lanes, traction control system, anti-skid brake system, ASM and ABS used in semi-finals and final matches. These are part of the competition. Participants shall be responsible for their own choices.
In other words, if you show up in anything less than a Red Bull X2010, you probably won't stand much of a chance. This seems like a missed marketing opportunity for an automotive sponsor (such as Nissan or Mercedes-Benz), but will surely make for some frantic and frenetic races with so much at stake.
All the official rules and entry details are available here – good luck to all GTPlanet participants! Thanks to shem for the tip.
More Posts On...
The original comments for this post are no longer available.