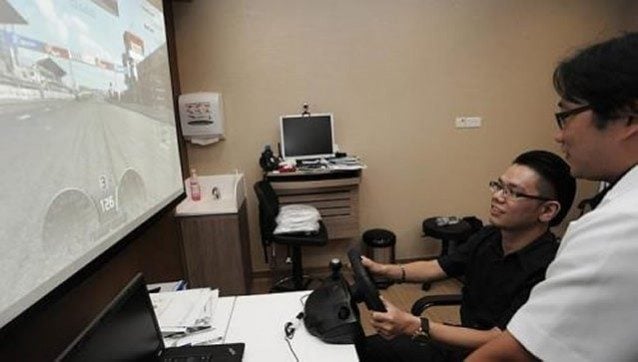 An occupational therapist at Tan Tock Seng Hospital in Singapore is using a new tool to help him rehabilitate patients who suffer from spinal injuries: Gran Turismo 5.
Ernest Thia started using the game when his patient, Winfield Lim, needed to re-qualify for his drivers license after he became semi-paralyzed below the chest due to falling in his home earlier this year.
In addition to traditional therapy methods, Mr. Lim drives the game for about half an hour during the session, while his therapist monitors coordination and reaction time with a Logitech Driving Force GT steering wheel and pedals.
Mr. Thia concedes the "game is actually meant for racing, so I have to put in some restrictions," such as challenging the patient to obey a speed limit as his foot movements are tested.
Winfield Lim is now well on his way to recovery. "I was really down," he said. "But the game brightened up my days. Because when you are playing, you are having fun. There is laughter all around, even from patients who are just watching me."
The original comments for this post are no longer available.