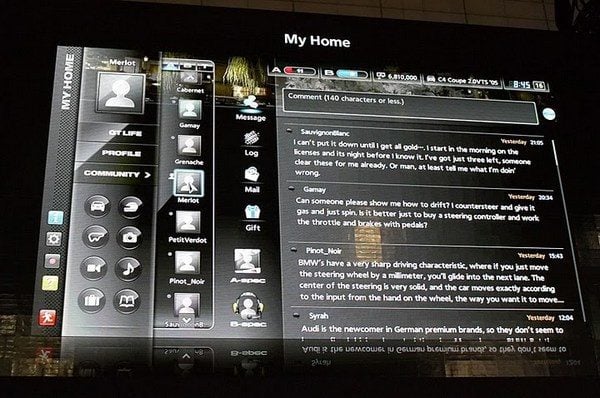 At the Sony TGS 2010 press conference, Yamauchi gave a brief overview of some of the new online functionality in GT5 – including web-based account management known as "Gran Turismo Anywhere". Here's a quick overview of what he said, via 1UP's live blog. I'll provide more specific details when they're available.
UPDATE: New pictures, thanks to CoolColJ!
overview of Community Functionality: He says they haven't talked much about these features before. But from the My Home section of the game, you'll be able to access Messages, Logs, Mail, Profile, A personal lounge, photo album, course album, gifts and a friends list.

Messages can be 140 characters. Man Twitter has really taken off in Japan. It's even influencing GT5.

You'll be able to access the my home from the My Home section.
I mean you'll be able to access the My Home section from the web.

There's going to be a live timing monitor, something called PS3-B-Spec accesible from your browser.

Project "X1 Prototype"
He says that there are rules and regulations in all forms of racing. What would a car that didn't have to worry about those rules look like?
Showing a movie of the X1. It looks kinda like a Batmobile.

So the X1 will be in GT5, and that's it for the game.
See more articles on Gran Turismo Anywhere, Online Features, and Tokyo Game Show 2010.