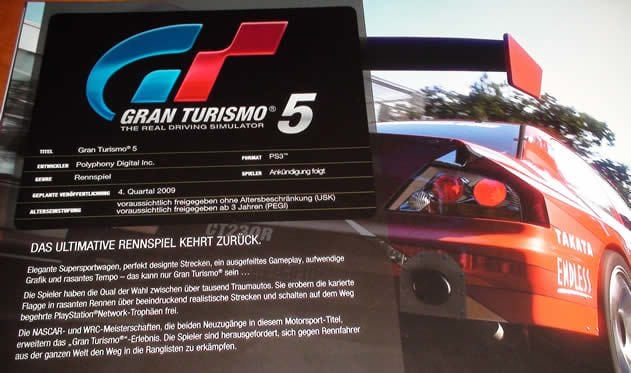 For those of you out there who still aren't convinced of Gran Turismo 5's pending 2009 release date, take a look at the game's official brochure handed out at last week's GamesCom convention. Snapped by RiseOfGames, the brochure was quickly translated by forum users – but you don't have to be fluent in German to figure out what "4. Quartel 2009" means.  Via user G.T.Ace:
Developer: Polyphony – Platform: PS3
Genre: Racing – Number of players: T.B.A.

Release: 4th Quarter of 2009

THE ULTIMATE RACING GAME RETURNS

(lots of stupid PR blah blah, really nothing important)
The player can choose between over
1000 cars to race on incredible detailed racetracks and unlock PlayStation Trophies (blah).
The new NASCAR and WRC championships improve the
Gran Turismo experience. Players are challenged to fight their way up the online leaderboards against other racedrivers from all over the
world.
See more articles on Gamescom 2009.