Remember Gran Turismo 5's "data logger visualization" tech demo?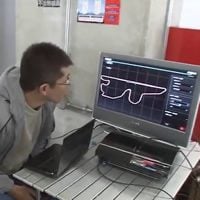 There hasn't been much said about the interesting technology since it was first announced at the Tokyo Auto Salon in January of 2010, until now. A new video out of Japan shows the system in action with a camouflaged Toyota GT-86 (formerly known as the FT-86) around Fuji Speedway. You'll get to see how the data is collected, how its downloaded, and then watch as Kazunori Yamauchi himself takes on the real-world "ghost" car in the game.
The "GPS Track Day Unit" was developed by Polyphony Digital in collaboration with Toyota and auto technology company, Denso. It collects a variety of GPS coordinates and other telemetry data, which can then be re-produced in Gran Turismo 5. Outside of these tech-demos, the system was also employed during one of Kazunori's Nurburgring VLN races in 2009, though video of that data in action has never been released.
There is, of course, still no information regarding the data logger's release to the public in future GT5 updates, but it's good to know it is still around.
Thanks to RocZX for helping me track down the above video after the original was removed.
See more articles on Data Logger Visualization, Fuji Speedway, GPS Track Day Unit, and Toyota.