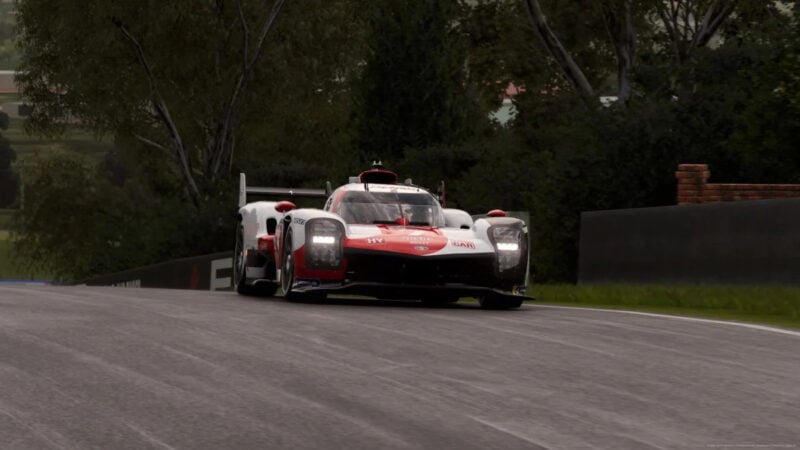 The latest update for Gran Turismo 7 has arrived, bringing with it a number of minor changes to address bugs and issues and restoring force feedback strength for certain steering wheel controllers.
Previously, Polyphony Digital had dramatically reduced the FFB strength on some wheels, including the official GT7 Fanatec GT DD Pro wheel and the official GT Sport Thrustmaster T-GT wheel. That was, according to the initial announcement, to prevent injury from sudden wheel movements in certain cases.
The issue causing that now appears to have been fixed in 1.16, with force feedback for Fanatec GT DD Pro, CSL Elite, and Podium wheels and Thrustmaster T300, T500, and T-GT wheels now adjusted to a new profile.
That applies only when using the SRT Tomahawk X and GTS-R, and Jaguar VGT SV cars, with the 1.13 FFB effects restored in all other cases. It's not clear what the precise issue was, but the Tomahawk X was a very popular car for earning money quickly.
Another recent issue addressed in the update regards certain start types in online multiplayer. The v1.15 update introduced a bug with the "false start check" grid start, which would cause players to start the race at different times. This has now been fixed.
The update also deals with a number of other, smaller issues. This covers some problems with custom races using certain cars — the new Toyota GR010 is specifically mentioned — pit lane timing issues at Deep Forest, and vehicle thumbnail mismatches in some instances.
You can read a full list of changes in the update in our forums, along with other, unannounced changes our users are discovering over the next few days.
See more articles on Gran Turismo 7 Game Update.