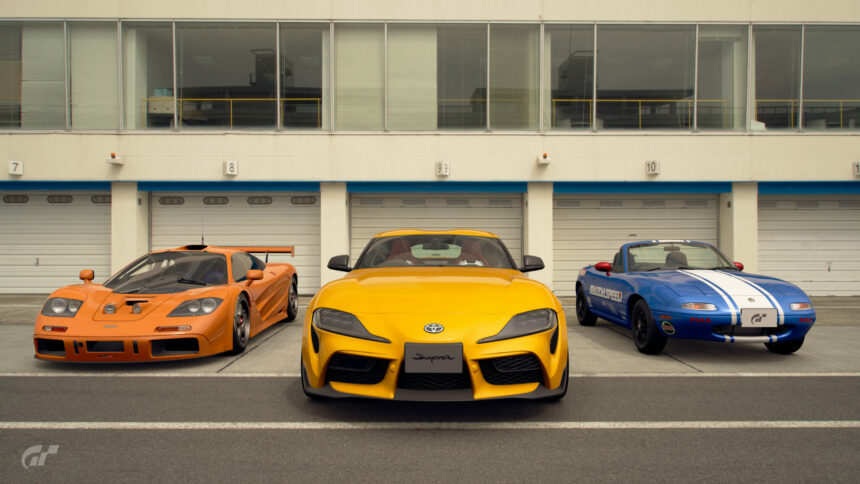 The latest version of Gran Turismo Sport just dropped onto PS4 hard drives across the globe.
Weighing in at 3GB, the newest update for Polyphony Digital's 2017 sim racer is the second major content addition of this year. It once again introduces a handful of cars and a new circuit to the fold. It's a new circuit indeed too, unlike January's returning Special Stage Route X mega-oval. Say hello to Autopolis.
Autopolis Circuit Arrives
A pleasant surprise, this one. With no real pre-release hints outside of Kazunori Yamauchi's usual silhouette teaser, v1.34 holds an entirely new circuit for players to master.
Autopolis is a relatively new course in Japan, with construction completed in 1990. Yoshitoshi Sakurai, the project lead of Honda's F1 team during the '60s, designed the 2.9-mile, 19-corner layout. As if the flat map didn't look challenging enough, Autopolis packs in over 160ft of elevation changes too.
Both the main layout as well as the 1.88-mile "shortcut course" are available in GT Sport.
While it may be a very modern circuit, it doesn't host many major international races in the real world. It hosts Super GT, sure, but there's another series that will be very relevant to GT Sport in the near future. That's right: the just-revealed Dallara SF19, the new chassis for Japan's Super Formula series, visits Autopolis as part of the series calendar.
Long-time GTPlanet readers will also remember this isn't the first we've heard of Autopolis. Way back in the final days of 2015, we saw original GT Academy driver Lucas Ordonez putting the track through its paces at a holiday party. We thought it was a preview of things to come back then, and sure enough — with enough time — it was.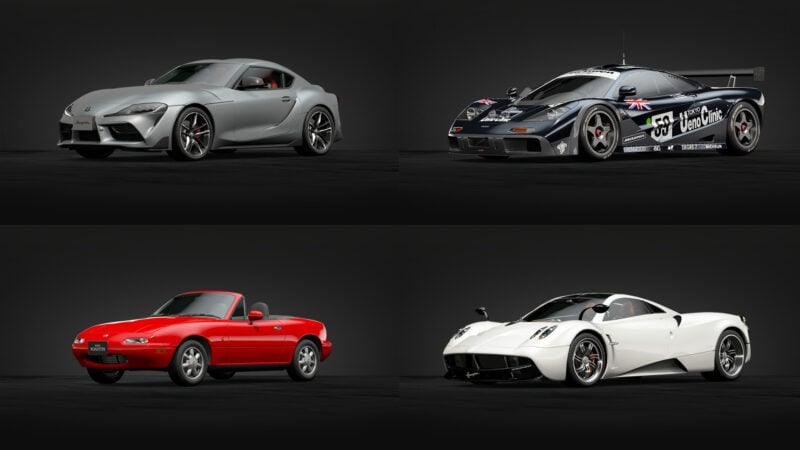 Five Cars Join the GT Sport Roster
A new track needs new cars, and v1.34 adds both. It's a smaller lineup, with only five cars — and four will be familiar to those that played GT6:
1989 Mazda Eunos Roadster (NA Special Package)
1995 McLaren F1 GTR – BMW (Kokusai Kaihatsu UK Racing)
2009 Mercedes-Benz SLR McLaren
2013 Pagani Huayra
2019 Toyota GR Supra RZ
The lone new-to-franchise ride is the one that is arguably the least surprising of the bunch: the new-age, A90-generation Toyota GR Supra. With Toyota seemingly choosing a sort of exclusive deal with PD, it was only a matter of time before the new sports car showed up in-game. It's the latest car to be available to drive in the virtual world before the real one.
The remaining cars, as we previously mentioned, come to us as updated versions of GT6 cars. One of the series' most enduring icons, the original NA-generation Mazda MX-5 (er, Eunos Roadster) returns, and we can already imagine the Tsukuba Roadster endurance starting. Two McLarens will provide very different experiences for players: there's the powerful, front-engined road car (Mercedes SLR McLaren), and the legendary F1 in short-tail racing form. Most surprisingly, the latter lands in the Gr.3 category.
Lastly, the Pagani Huayra and its moveable body flaps check off the modern hypercar box.
New GT League Events
Following tradition, the new update continues to expand the GT League single player campaign.
All of the additions land in the Amateur League. There's one new series in "Supra Legend", undoubtedly thanks to the new car's arrival. Meanwhile, four series get two additional rounds (Mazda Roadsters Cup, Mazda Roadsters Cup +, Premium Sports Lounge, and All Japan GT Car Championship), while the Gr.3 Endurance Series gets one additional round.
Autopolis Gets the Scapes Treatment
If you're a developer heading to a circuit to capture thousands of images for the modelling team, what's a few snaps for your Photo Mode?
Yes, GT Sport's trick game-car-on-real-image mode gains 16 photo ops from the Oita, Japan race circuit.
As always, keep an eye on our GT Sport sub-forum for any additional, undocumented changes v1.34 may have brought with it.
More Posts On...