Every year, Polyphony Digital hosts an annual Christmas party at their offices in Japan with a wide variety of motorsports and gaming industry celebrities in attendance. This year, however, they spiced things up a bit, using the opportunity to show off what appears to be new concept artwork likely related to next year's Gran Turismo Sport.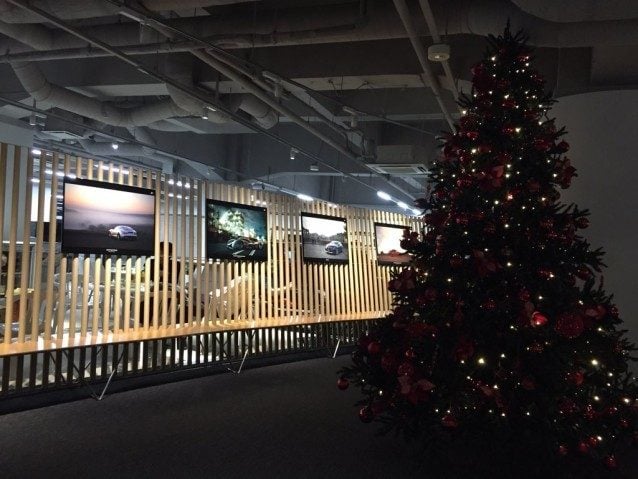 The new images, which hung on the walls around the office Christmas tree, made their way to social media via Super GT drivers Kohei Hirate and Satoshi Motoyama, and Toyota's Masashi Honda, who indicated his "expectations for the AI is increasing" on Facebook.
The images' remarkable fidelity and seemingly too-good-to-be-true quality has caused a flurry of debate since they were posted to our forums yesterday, so we can't declare these to be new GT Sport "screenshots" just yet.
However, the "GT" logo is displayed in the top right corner of the prints, and the images appear to be entirely new and unique, indicating they are Polyphony's own creations. Some speculate they may be composite images, which combine 3D car models with photographs. Regardless, they are striking images which may offer a good indication of what's to come in GT Sport.
In addition to the artwork, one of the images shows GT Academy star Lucas Ordoñez driving on the Autopolis circuit in what appears to be a debug version of GT6. Although the track is lacking environmental details, Polyphony's team has certainly been giving the track some attention.
Autopolis is a 2.9-mile circuit in southern Japan, near Polyphony's new headquarters in Fukuoka. It is owned and operated by Kawasaki, and regularly hosts Super GT, Super Formula, MFJ Superbike and Super Taikyu races.
Thanks to Twitter user @Rest_rk_02 and our own Dionisiy for the tips!
See more articles on Christmas, Lucas Ordonez, Polyphony Digital, and Super GT.