The latest version of Gran Turismo Sport is now available on PlayStation 4. Like the updates that have come before, it introduces a handful of cars to the 2017 sim racer, plus other goodies.
We first got word of the April Update last week, courtesy of Porsche. Shortly after, series head Kazunori Yamauchi confirmed it was on its way via his usual silhouette teaser.
Version 1.38 weighs in at 1.75GB. Read on for all the details, starting with the new cars available.
Five New Cars
Polyphony Digital has injected more rides into GT Sport nearly every month, and April is no exception. Fans got a good idea of what to expect last month, thanks to a leak on the official GT website. This is a smaller batch than other months, but despite numbering only five, it covers a fairly diverse spread for players to get their hands on:
Audi TT Coupé 3.2 quattro '03 (N200)
Honda Fit Hybrid '14 (N100)
Porsche 962 C '88 (Gr.1)
Renault R8 Gordini '66 (Gr.X)
Toyota Sprinter Trueno 3door 1600GT APEX (AE86) '83 (N100)
We start with the biggest addition, at least in terms of performance. Porsche's 962 was a goliath in prototype racing during the '80s and '90s. It took over 20 series titles, plus two overall Le Mans victories — three if you count the loophole-exploiting Dauer 962 of 1994. It lands, like other real-world Group C cars, in Sport's Gr.1 class. It also comes with an instantly recognizable livery — though we imagine the community will soon provide all manner of replicas for it in short order.
The 962C isn't the only classic car this month. Renault's boxy R8 Gordini and Toyota's tofu-delivering Sprinter AE86 are both from the last millennium as well. Franchise fans will be familiar with both from GT6, though it's worth noting the Sprinter gets a thorough remodel here, as it was only ever a "Standard" PS2-era model in that game.
Another returning car from the PS3 era is the first-generation TT, here in rare V6 form. The first road-going Audi to make use of the firm's dual-clutch transmission, it remains a style icon.
Lastly, there's a car that gives the existing Mazda Atenza a run for its money as the most everyday-style car in GT Sport. The 2014 Honda Fit Hybrid is an unlikely track weapon, but hey, that's long been the base appeal of games like Gran Turismo. It should make for close one-make races…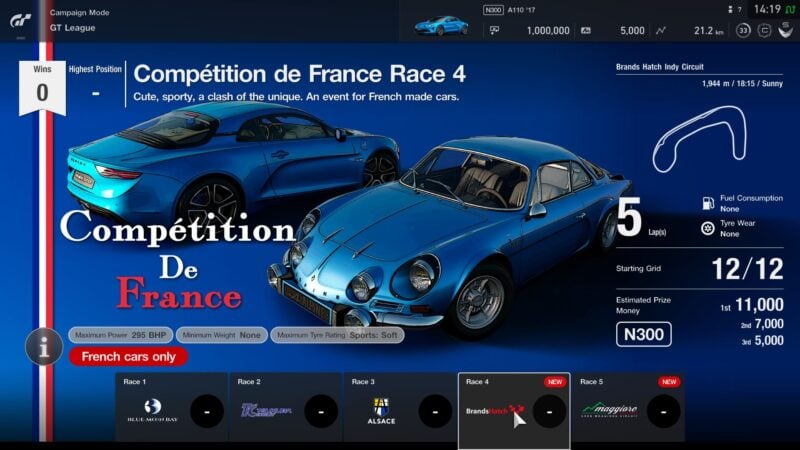 Six Additional GT League Events
Also traditional with these regular updates is the expansion of the single-player campaign mode. The new races are spread evenly across three leagues, with two new rounds each for three of the existing series:
Beginner League: 2 new rounds added to the 'Compétition de France'.
Amateur League: 2 new rounds added to the 'Tourist Trophy'.
Professional League: 2 new rounds added to the 'Group 1 Cup'.
More Scapes and Sport Mode Tweaks
Two other notable additions land with v1.38. A new featured selection of Scapes touches down, focusing on New Zealand. The collection provides players with numerous real-world photographs to drop their digital pride-and-joys on.
For the more competitively-minded, there's now the ability to check your Global Manufacturer Ranking in the FIA-certified Manufacturers Series. With seats for each squad being as limited as they are, this should provide racers with a better idea of where they stand on a global level.
As ever with these things, make sure to keep an eye on our GT Sport sub-forum for any undocumented changes.
More Posts On...