Right on time, Gran Turismo Sport's latest content update is here.
Polyphony only announced this update, weighing in at 4.1GB, on Monday. Yesterday saw the surprise reveal that it wouldn't just be a small patch, but would contain a new track, new cars, and more. We've got a brief recap down below.
New Cars, With a Focus on Classics
The August Update adds eight cars to GT Sport's corral. It's a collection that largely highlights the past, with the average age hovering around 40 years:
Ford Mark IV Race Car '67
Shelby Cobra Daytona Coupé '64
Amuse S2000 GT1 Turbo
Abarth 500 '09
Abarth 1500 Biposto Bertone B.A.T 1 '52
Volkswagen 1200 '66
Mini-Cooper 'S' '65
Lancia DELTA HF Integrale Evoluzione '91
The headlining Ford will likely cost players the same 20 million credits it has since it arrived in the franchise in GT5. It's unclear if the other cars will carry over their price tags too.
The enigma, however, is the Mini: the original swingin' '60s model has never been in the franchise before.
If your bank account's looking a little skint, may we suggest our handy GT Sport easy money guide?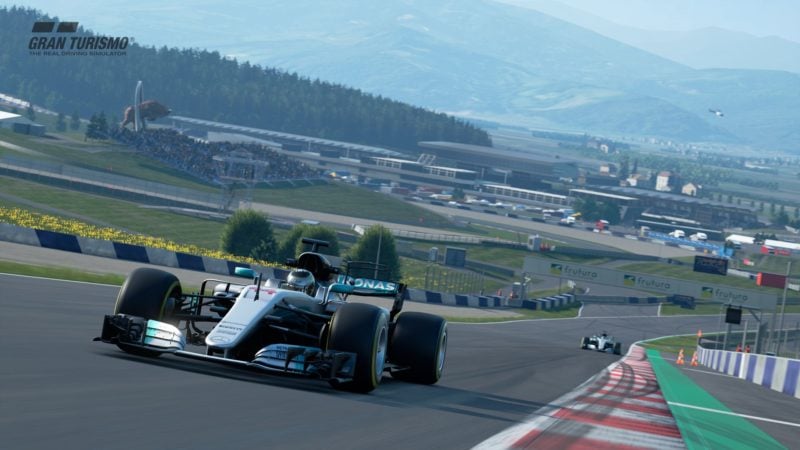 Tame The (Red) Bull (Ring)
The latest track to join the lineup is also a returning star from GT6. The Red Bull Ring arrives with its full and short layouts, both of which are deceptively challenging. This is the first Austrian track in the game, and brings the total number of current F1 circuits to four.
How late will you wait until braking for that final corner?
Additional GT League Events
Like clockwork, Polyphony has added another trio of events to GT League. Here are all the details, straight from the official site:
Beetle & Samba Bus Fest (Beginner League)
This event features two vehicles from the good ol' days, the Volkswagen "Beetle" and the Samba Bus, characterized by unique designs and air-cooled flat-4 engines.

Group 3 Cup (Amateur League)
Stay focused and aim grab the checkered flag in this intense Group 3 battle.

Nostalgic 1979 (Professional League)
This race consisting of notable historic cars will bring back the emotion and excitement of yesteryear.
New Sport Mode Tools
Sport Mode gains two useful tools for the more serious racers. A connection test is most welcome, while there's now an archive to view all of your previous results. That should be handy as the final season of the FIA Championship rumbles on…
More Updates to Museum, Scapes, and Circuit Experience
A handful of smaller items make the cut too. Zagato joins the Museum lineup, with nearly 100 years of the famous coachbuilder's history now in game in condensed form.
Photo buffs will get to take a trip to Cuba, as the island nation joins the 1000+ images in the Scapes section.
Lastly, last month's new track, Circuit de Saint-Croix, is available in the Circuit Experience section.
Spot any additional updates or changes? Keep an eye on the Undocumented Changes thread in our GT Sport forums.
See more articles on GT Sport Game Updates.