If you're anything like us, you'll currently be sitting at level 32 in GT Sport, with a couple of million credits. That silver PSN Trophy for hitting level 50 looks a long old way off, especially when you find out that you're not even 5% of the way there yet.
With only a few hundred XP available for each Sport Mode race, you could be forgiven for thinking it's a thankless task. Fortunately there's a couple of ways to score a some bigger XP rewards.
We've covered the game's "Achievement" micro-reward system already. However, the payouts there are one-time only. There are some XP farm events in the game though to help you level up quicker.
Custom Race, Nordschleife
This race has been in GT Sport since the beginning. You'll need to select an N100 car for the best results, but ideally you should use a car from a higher category tuned down to suit. Something like the Toyota 86 GT, limited to slightly under 150hp will do the trick—just enough that it registers as an N100 vehicle.
Once you have a car, head into the Custom Race portion of Arcade Mode and pick the N24 layout of the Nurburgring. Select your car from your garage, and then set the race conditions as follows:
Race Type: Endurance
Starting Grid: 20
Boost: Off
Fuel Depletion: 10x
Opponent Category: Gr.1
Opponent Difficulty: Professional
This creates a 10-minute timed endurance race at the 'Ring, against LMP and Vision GT opponents. Sounds tricky in your N100 car, but fear not as your opponents will run out of fuel less than halfway around the circuit.
Winning this race is good for 1,500XP in under eleven minutes, rising to 2,250XP, and 210,000cr, with a clean race bonus. Don't forget to fit racing super soft tires and reduce your car's weight as much as you can for the best outcome.
There are one or two flies in the ointment. The Audi R18, introduced in v1.06, is quite thrifty and, if he is not sufficiently hemmed in by his thirstier rivals, can be tricky to beat. The rolling pack of spent LMP1s can also prove difficult to negotiate if you want to preserve that clean race bonus.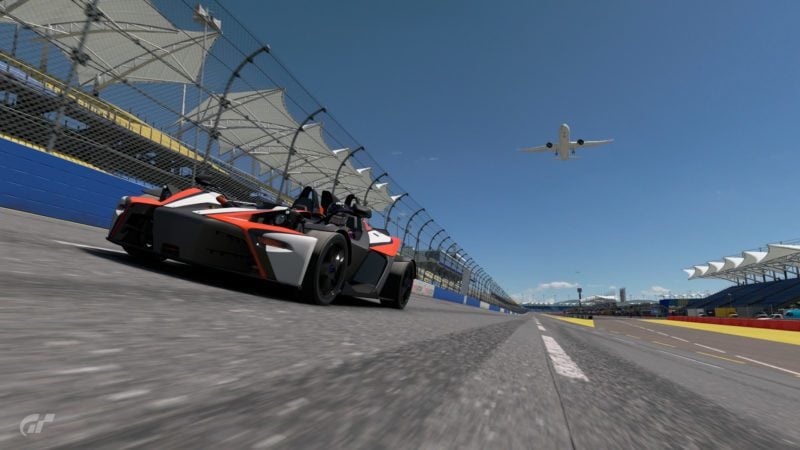 GT League, Premium Sports Lounge
The Christmas v1.10 update added a slew of new offline events. It turns out that the biggest money spinner—at least in terms of XP—is among them.
You'll get around 2,200XP for 12 minutes' work if you enter Race 1 of this series, at Blue Moon Bay, with a car in the maximum N1000 class like the Bugatti Veyron. That's comparable to the slightly loaded Nurburgring Custom Race above. However GT League also gives out bonuses for winning in lower tier cars, so you can earn much, much more.
Essentially any N500 class car with racing super soft tires can win this race. We've successfully used a slightly tweaked Porsche 911 GT3, to win with ease for 4,620XP and 210,000cr. That rises to almost 7,000XP with the clean race bonus. In terms of XP and credits per minute, there's no faster way to earn than this race.
In fact you can get even higher rewards in the Premium Sports Lounge events. You can use the KTM X-Bow, which also arrived in the v1.10 update, to win the races. As an N300 car it pushes the handicap rewards even higher, but its short wheelbase makes it tricky around Blue Moon Bay. If you can make it work—some of the driving aids will help—you can score 8,250XP and 375,000cr each time.
GT League, Porsche Cup
If plodding around an oval, or beating a fuel-starved field over a single lap, isn't your thing, look at the Endurance events in GT League. You'll need to be level 30 just to access them though, so this is suited to higher level players.
The Porsche Cup is a simple, 30-lap race around Suzuka in the roadgoing 911. Despite 20 seemingly identical opponents, a standard car is more than enough to win. Even on hard tires and with a lean fuel map, you should win comfortably in a little over an hour after a single pit stop.
The base payout is 7,500XP and 420,000 credits—the highest in the game—but you can detune the car to N400 for more. If you can hit the 50% clean race bonus too, this earns you around 200XP per minute of proper racing. Don't count on it though, as the AI cars here are quite aggressive…
More Posts On...