Teased earlier last month, the veil has been removed from Italian developer Milestone's all-new IP at this year's Games Developer Conference in San Francisco, revealing Gravel — an off-road racer due to be released on the PlayStation 4, Xbox One, and PC platforms this summer.
With such titles as Sebastien Loeb Rally, Moto GP and MXGP under its belt, Gravel looks to play toward the team's specialty: off-road. The physics will be grounded in reality, though the primary focus will be driven toward being fun and accessible. With "wild drifting on the different terrains, crazy jumps and impossible maneuvers," and a variety of licensed vehicles ranging from trophy trucks to rally legends, there looks to be something for everyone.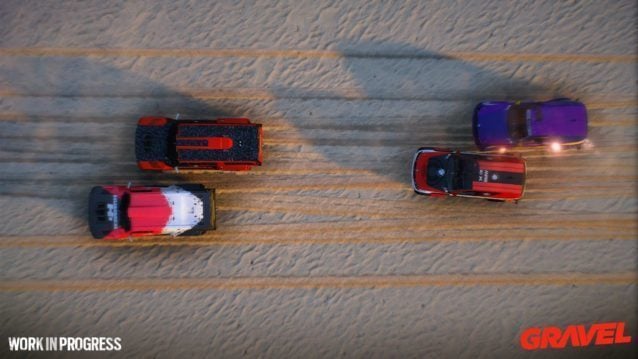 Powered by Unreal Engine 4, Gravel will feature dynamic time of day and weather, and a variety of environments, including forests, snowy mountains, dunes, and deserts. Players will be able to explore exotic locations throughout the world, drive through extreme weather conditions, and master four disciplines to participate in the Offroad Masters competition.
An overview of the game modes reveals the following:
Wild Rush – The wildest locations around the world make for a perfect theater to host the Offroad Masters show. Tracks made to show yourself and crush your opponents, without holding anything back.
Cross Country – Wide, open maps perfect to race with opponents in checkpoint competitions or to explore freely. Drive without boundaries, and steal the show.
Speed Cross – Take the fight into real tracks, and show your true skills as an offroad driver.
Stadium Circuit – Arenas filled with spectacular jumps: feel the roar of the crowd and launch your vehicle in extreme acrobatics!
Gravel Channel – Everything you do in Gravel is for the show: Offroad Masters, hosted by Gravel Channel, is the wildest offroad show on earth, and you are entitled to beat the Masters and take the top spot in the competition. Will you be up to the task?
As mentioned previously, Gravel is currently scheduled for release on the PlayStation 4, Xbox One, and PC this summer. For more information be sure to head on over to the official Gravel page, and stay tuned to GTPlanet for more as it becomes available.
See more articles on Milestone.