A new week in GT Sport means a new set of Daily Races, and this week's selection is a strange old bunch.
Speed fiends this week will be looking to Race B. That's a four-lap sprint in your pick of Gr.3 race car. However you'll need to be aware of the fact it's the reverse version of the Lago Maggiore GP circuit, with the unusually cambered long right-hander to start the lap and the tight complex to finish it.
Unusually, Race C brings us a one-make event, and event more unusual still is that it uses a low-power road car. You'll be racing eight laps of the Autopolis circuit — the full loop this time, rather than last week's shortcut version — in the newest model of the Toyota 86 GT. There's further oddness to come in that the fuel multiplier is 1x, or completely normal, while the tire wear runs at a massive 15x. Even so, eight laps shouldn't harm the hard tires enough to have to negotiate that awkward pit entry.
Over in Race A meanwhile, we get some electric propulsion. A five-lap race of the short Sardegna Road Track C beckons, using the Tesla Model S Performance. In the words of Jeff Gordon, you'll need to remember the car is heavy — almost two tons — so while it gets up to speed alarmingly quickly you'll need to account for big braking distances and a lot of heft to hustle through the bends. You'll also need to remember that the car only has one forward gear, and any car you use after this will default back to auto transmission…
These three races will run through to Monday, March 23, when another new set of three will replace them.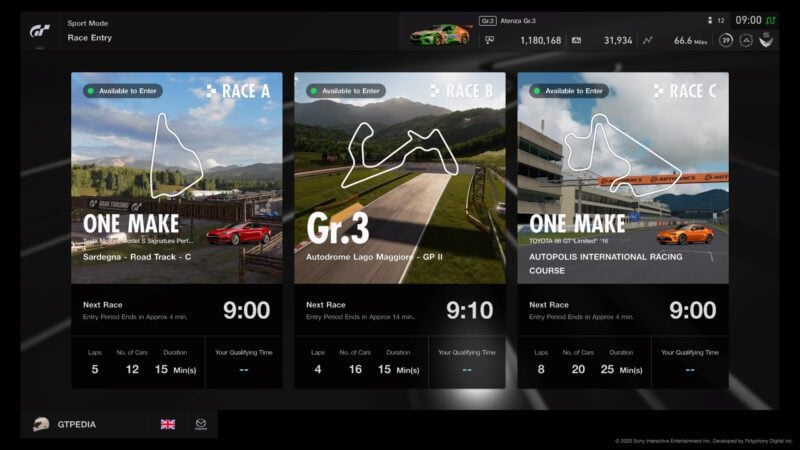 Race A
Track: Sardegna – Road Track C, 5 laps
Car: Tesla Model S Signature Performance '12 – Provided Car
Tires: Sports Hard
Start Type: Grid Start
Fuel use: Off
Tire use: Off
Race B
Track: Autodrome Lago Maggiore – GP II, 4 laps
Car: Gr.3 – Garage Car
Tires: Racing Hard
Start Type: Rolling Start
Fuel use: Off
Tire use: Off
Race C
Track: Autopolis International Racing Course, 8 laps
Car: Toyota 86 GT Limited '16 – Garage Car
Tires: Sports Hard
Start Type: Grid Start with False Start Check
Fuel use: 1x
Tire use: 15x
More Posts On...