There's no taking things slowly in this week's GT Sport Daily Races, as all three events put you in race cars.
Race A sees a return of the front-wheel drive pick and mix. You're given the choice of which of the four Gr.4 FFs you wish to drive — Audi TT Cup, Peugeot RCZ, Renault Sport Megane, and Volkswagen Scirocco — and sent out on your way. For this week you'll head to the "temple of speed" at Monza, the track at which Lewis Hamilton set the fastest average speed ever recorded on an F1 circuit at the weekend.
The four-lap race will be over in a flash then, but watch out for that grid start. We'd recommend a click or two of traction control until you're up into second gear, rather than spinning your power away into nothing but tire smoke.
This week's middle race turns the pace up in vehicle terms. It's another four-lap race, this time around F1's chief test venue: Circuit de Barcelona-Catalunya. That was also the scene of a 24h endurance race at the weekend in iRacing. The competitors there used GTE cars; you'll be driving any Gr.3 of your choice, though that does actually include the GTE-class Porsche 911 RSR.
It all gets quicker still in Race C, as the cars move up into the fastest of the GT cars, Gr.2. This covers the six Super GT cars — three from 2008, and three from 2016 — in GT Sport, and you can choose whichever you wish for the 13-lap race.
The course isn't exactly ideal for these machines though. You're taking to Tokyo Expressway, and the South Outer Loop layout. That's the version of the track brought in by update back in December 2018, and specifically this is the layout that avoids the triple-right cargo container section. The tight hairpin around the odd pit lane will be tricky, and we foresee much SR loss involving the final chicane…
These three races will run through to Monday, September 14, when another new set of three will replace them.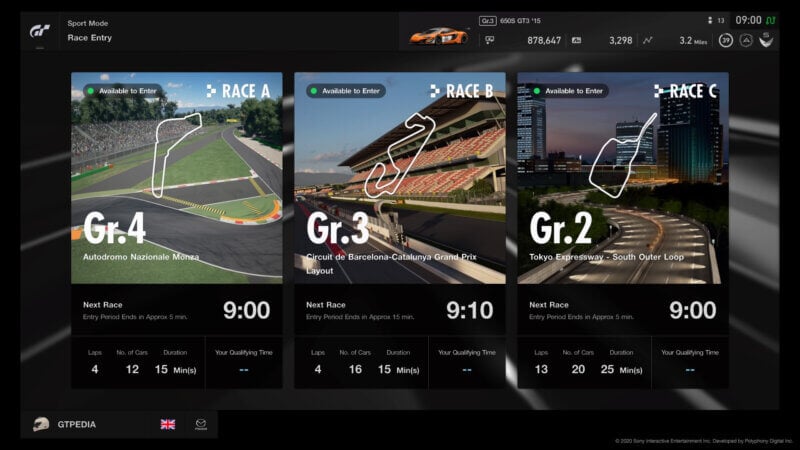 Race A
Track: Autodromo Nazionale di Monza, 4 laps
Car: Gr.4 – Provided Car
Tires: Racing Hard
Start Type: Grid Start
Fuel use: Off
Tire use: Off
Race B
Track: Circuit de Barcelona-Catalunya, 4 laps
Car: Gr.3 – Garage Car
Tires: Racing Hard
Start Type: Rolling Start
Fuel use: Off
Tire use: Off
Race C
Track: Tokyo Expressway – South Outer Loop, 13 laps
Car: Gr.2 – Garage Car
Tires: Racing Hard
Start Type: Rolling Start
Fuel use: 2x
Tire use: 8x
More Posts On...