GT Sport fans have a new set of Daily Races to occupy them over the next seven days, with a couple of old favorites and combinations we've not seen in a little while. It's a bit of a mixture this week, with fictional and real circuits, road cars and race cars, so there's bound to be something to entice.
Race A takes us to Blue Moon Bay Speedway, a fictional circuit set somewhere in the USA. While the track originally made its debut as a tri-oval, post-launch updates brought along two "Infield" variants, and it's the more complex Infield A that hosts this week's event.
The choice of vehicle though takes us to the opposite end of the alphabet. This week you'll have the choice of one of three Zs, specifically Nissan Zs, as provided by the game. You can choose from the Nissan Fairlady Z in Z33 (also known as 350Z) or 300ZX guises, or the tuner special Greddy Fugu Z — the personal car of Fast and Furious actor Sung Kang and SEMA award winner.
If you fancy things a little quicker, there's Race B. This will take you to Spain's current Formula One circuit, Barcelona-Catalunya, for a four-lap race in the Gr.3 vehicles. These are race cars broadly based on road cars but with significant alteration that commonly sees little of the original remaining; they share an engine configuration and general body shape but usually not much else.
You can choose from any of the Gr.3 cars in your garage, and while the balance of performance (BOP) means the cars are largely well matched it's fairly likely that one or two vehicles will emerge as the weapons of choice as the week progresses.
Race C gets quicker still, with the Gr.2 cars starring this week. These six cars are Super GT machines from 2008 and 2016, with one for each season from Honda, Lexus, and Nissan. They're pretty fierce machines, and best suited to fast, open tracks. Naturally then, this week's race takes place at Dragon Trail Seaside, with its infamous Chicane of Death.
Pit strategy has a role to play this week, with two different tire grades available and both mandatory. That means you'll need to use both at some point in the race, or face a one-minute post-race penalty. As it stands, neither tire is likely to survive the full 13-lap event at 7x tire wear, so this should be little issue for most.
These three races will run through to Monday, January 18, when another new set of three will replace them.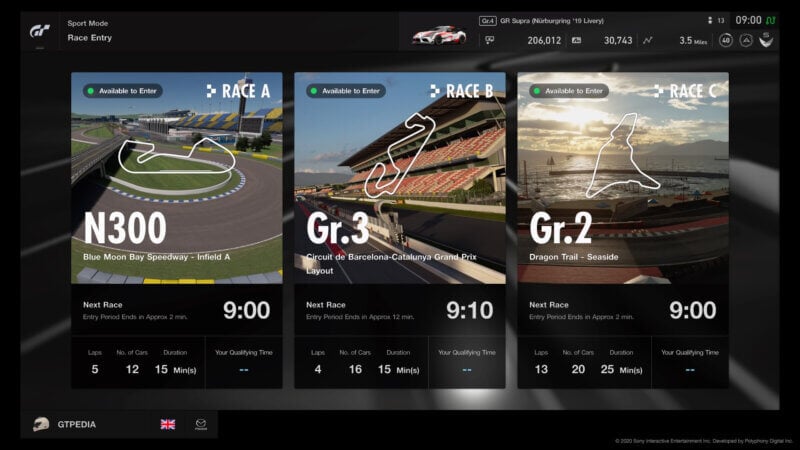 Race A
Track: Blue Moon Bay – Infield A, 5 laps
Car: Gran Turismo Greddy Fugu Z, Nissan Fairlady Z 300ZX '89, Nissan Fairlady Z (Z33) '07 – Provided Car
Tires: Sports Hard
Start Type: Grid Start
Fuel use: Off
Tire use: Off
Race B
Track: Circuit de Barcelona-Catalunya, 4 laps
Car: Gr.3 – Garage Car
Tires: Racing Hard
Start Type: Rolling Start
Fuel use: Off
Tire use: Off
Race C
Track: Dragon Trail – Seaside, 13 laps
Car: Gr.2 – Garage Car
Tires: Racing Hard*, Racing Medium*
Start Type: Rolling Start
Fuel use: 2x
Tire use: 7x
* denotes mandatory tire requirement.
More Posts On...