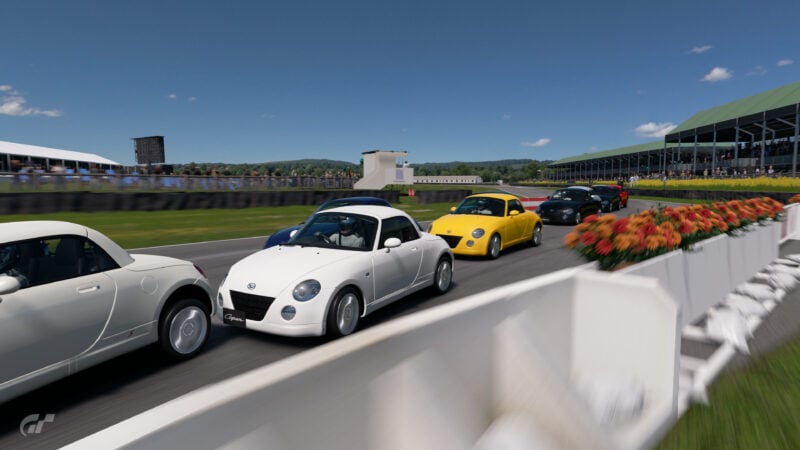 A fresh set of Gran Turismo Sport Daily Races is with us for the new week, featuring a mix of cars and events that should have a little something for everyone.
Race A, brings players to the famous Goodwood Motor Circuit, which this time each year hosts the Goodwood Revival — a look back into the history of motorsport when the circuit hosted F1.
You won't be driving a similarly historic machine however, as the car for the first race is in fact the Daihatsu Copen Kei car. A funky, two-seat, hard-top convertible, the Copen has a rather modest 63hp from its 660cc engine (per Kei car regulations), though it has been tweaked somewhat — as have the vehicle settings — for this four-lap race.
The circuit in Race B is also something a little unusual, in the form of the least-short short circuit in the game. Fuji International's "short" track simply misses out the tight Dunlop chicane at the very lowest point on the track, shortening the track by just 140 feet.
You'll be driving your choice of Gr.4 car in the event, and you'll want something with sufficient horsepower to take advantage of that huge, 0.9-mile long main straight.
This week's final race will take players to the fictional Lago Maggiore circuit, in full GP layout, for a ten-lap dash in Gr.3 cars. The race sees the revival of the mandatory tire requirement after a couple of weeks without it; essentially you will need to use each of the two required grades — Racing Medium and Racing Soft — for at least a lap, or face a post-race penalty of one minute added to your race time.
It'll be a ten-lap race, and with 6x tire wear that'll feel like 60 laps for your rubber, so you'll need to plan your pit stops carefully.
These three races will run through to Monday September 13, when another set will replace them.
Race A
Track: Goodwood Motor Circuit, 4 laps
Car: Daihatsu Copen '02 – Provided Car
Tires: Sports Medium
Start Type: Grid Start
Fuel use: Off
Tire use: Off
Race B
Track: Fuji International Speedway – Short, 4 laps
Car: Gr.4 – Garage Car
Tires: Racing Medium
Start Type: Rolling Start
Fuel use: Off
Tire use: Off
Race C
Track: Autodrome Lago Maggiore – GP, 10 laps
Car: Gr.3 – Garage Car
Tires: Racing Medium*, Racing Soft*
Start Type: Rolling Start
Fuel use: 2x
Tire use: 6x
*denotes mandatory tire requirement
See more articles on Daily Races.