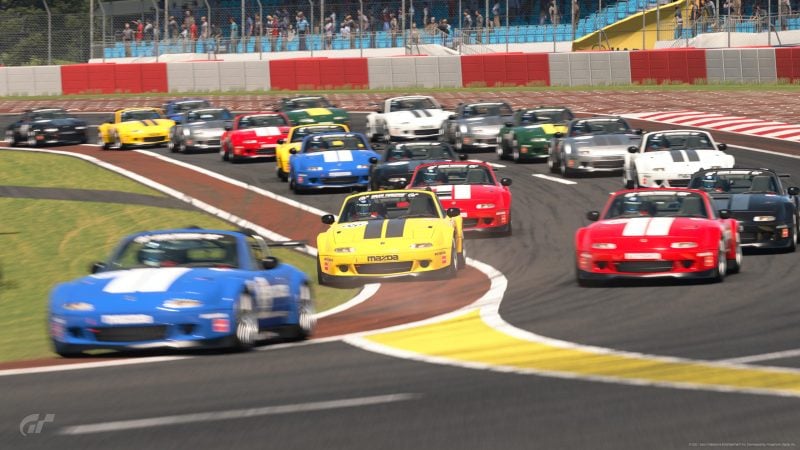 Despite being superseded by Gran Turismo 7, GT Sport's Daily Races seem to be continuing on their weekly cycle — for the time being at least.
This week's new set of three races take in two of the most challenging race tracks in the world, along with something far quicker and simpler from the digital universe of Gran Turismo.
It's this "original" track that pops up in the first of the three races, with Race A taking drivers to the fictional Kyoto Driving Park for an eight-lap sprint around the short Miyabi circuit.
This tiny track resembles the Driving Park Beginner Course from older GT games. It's an egg-shaped track with a tight radius turn at one end and a longer corner at the other, and both a fast and slow chicane on the opposite straights.
You'll be racing a provided Mazda Roadster Touring car, a strange vehicle which was classed as a racing car in previous GT titles, but a road car in Sport — and a "Professionally Tuned" machine in GT7. That means you'll be on road tires, specifically Sport Medium, for the race, but all you need to do is pick a color from the range available and go racing.
Race B is actually an event offered in both games this week. As with GT7, it's a three-lap race around the Nurburgring GP circuit using the GT4-like Gr.4 cars. The only differences are you'll be driving on Racing Medium and with Gr.4 BOP turned on in Sport.
However you only need to pick your preferred car from your garage — and it's likely the AWD cars will be running at the sharp end this week — and go racing.
There's another familiar race popping up in Race C this week, for Gr.3 cars at Mount Panorama. These cars are pretty close to real-world GT3 and GTE cars (and in some cases they are real-world GT3 and GTE cars), so it's effectively a nine-lap long Bathurst endurance race.
It won't feel like nine laps to your tires however, with the 7x multiplier producing 63 laps of wear. You will need to stop at least once, and not only because your tire choices are Racing Soft and Racing Medium.
That's because there's a mandatory tire requirement this week. You must use both sets of tires for at least one lap of the race each — so you can't run nine laps and pit at the end, or before you reach the start if you're far enough back. Failing to do so adds a minute of penalties to your race time.
These three races look set to run through to Monday March 21. It seems likely that another set will replace them, but we don't have any further information at this time.
Race A
Track: Kyoto Driving Park – Miyabi, 8 laps
Car: Mazda Roadster Touring Car – Provided Car
Tires: Sports Medium
Start Type: Grid Start
Fuel use: Off
Tire use: Off
Race B
Track: Nurburgring – GP, 3 laps
Car: Gr.4 – Garage Car
Tires: Racing Medium
Start Type: Rolling Start
Fuel use: Off
Tire use: Off
Race C
Track: Mount Panorama, 9 laps
Car: Gr.3 – Garage Car
Tires: Racing Medium*, Racing Soft*
Start Type: Rolling Start
Fuel use: 2x
Tire use: 7x
*denotes mandatory tire
See more articles on Daily Races.