This week's GT Sport Daily Races are taking a trip right back to their roots. For the next seven days we'll be enjoying some car/track combinations that could have appeared back at the game's launch — or even in the Beta.
Race A takes us to the Tokyo Expressway, and the squared-off Central track in Outer Loop configuration. You'll take one of the Subaru/Toyota twins — BRZ or 86 GT — on a five-lap sprint race. These are specially provided cars, so you won't get a chance to show off your liveries, but you will need to practice your grid starts…
It's a trip over to Suzuka for Race B. This is a four-lap race for Gr.4 cars, and you'll have free rein to pick from anything in your garage (and in any livery). With no fuel or tire use to worry about, it's a straightforward sprint.
For our endurance option this week, you'll need to pick out your preferred Gr.3 car and survive 12 laps of Interlagos. There's two tire choices here — medium and hard — but with the wear multiplier down in single figures you'll need to pick carefully.
All three races will run through to Monday, September 2.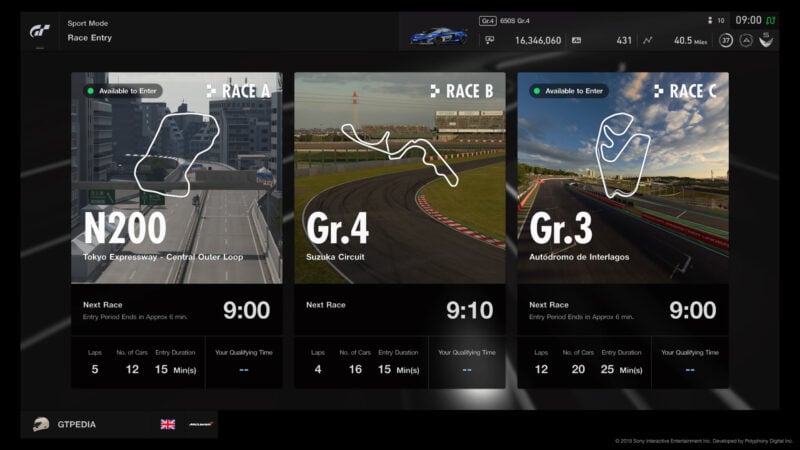 Race A
Track: Tokyo Expressway – Central Outer Loop, 5 laps
Car: Subaru BRZ S '15, Toyota 86 GT '15 – Provided Car
Tires: Sport Hard
Fuel use: Off
Tire use: Off
Race B
Track: Suzuka Circuit, 4 laps
Car: Gr.4 – Garage Car
Tires: Racing Hard
Fuel use: Off
Tire use: Off
Race C
Track: Autodromo de Interlagos, 12 laps
Car: Gr.3 – Garage Car
Tires: Racing Hard, Racing Medium
Fuel use: 5x
Tire use: 7x
Featured image courtesy of AudiMan2011.
More Posts On...