Another week, another set of GT Sport Daily Races — and this week the central theme is chicanes.
Race A brings back the pick and mix format, with a choice of two specially provided cars — which, from the fact that there's two, probably means you can guess it's the Toyota 86GT and Subaru BRZ. They're heading out to a damp Tokyo Expressway, in East Outer Loop layout, which features a tricky chicane in sector two. That'll be made trickier still by the wet road surface, and 12 identical cars trying to squeeze through it. It's a three-lap race, and all you need to do to place well is… survive.
The chicane in Race B is one of the most famous, and infamous, in the game. You'll be taking your pick of Gr.3 race car to Dragon Trail Seaside, GT Sport's tricorn original circuit, and the dreaded Chicane of Death. It's a five-lap race, with no complicating factors like tire wear to get in the way, so just get out there and race.
Your third daily race ratchets the speed up considerably. It brings out some of the fastest cars in the game, in the shape of the Gr.1 race cars. These are real-world prototype race cars from across the Group C to LMP1H eras, as well as some made-to-fit Vision GT models, and of course they're visiting their most famous race venue: Circuit de la Sarthe.
The track features two chicanes, which the ACO installed on the famous Ligne Droite des Hunaudieres in 1990 to slow the prototypes down — the WM P88 hit 253mph in 1988. As well as these heavy braking zones, you'll have tire and fuel consumption to contend with, set at 11x and 5x respectively. Few of the cars will last through five laps on one tank without adjusting your driving style.
These three races will run through to Monday, April 13, when another new set of three will replace them.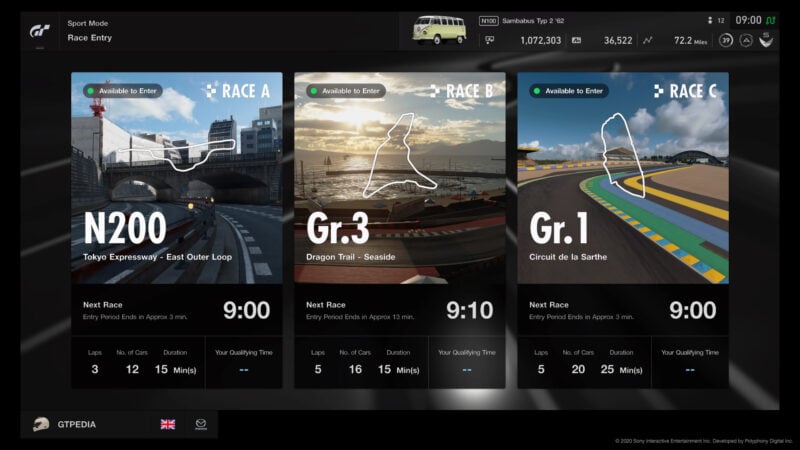 Race A
Track: Tokyo Expressway – East Outer Loop (Wet), 3 laps
Car: Subaru BRZ S '15, Toyota 86GT '15 – Provided Car
Tires: Sports Hard
Start Type: Grid Start
Fuel use: Off
Tire use: Off
Race B
Track: Dragon Trail – Seaside, 5 laps
Car: Gr.3 – Garage Car
Tires: Racing Hard
Start Type: Rolling Start
Fuel use: Off
Tire use: Off
Race C
Track: Circuit de la Sarthe, 5 laps
Car: Gr.1 – Garage Car
Tires: Racing Hard
Start Type: Rolling Start
Fuel use: 5x
Tire use: 11x
Featured image courtesy of 05XR8.
More Posts On...