Back in 2016, Kazunori Yamauchi promised that GT Sport players wouldn't have to wait long for new content to come to the game:
"Naturally we're planning DLC and updates after launch, but I can't go into specifics at this point in time. What I can tell you is that you won't be kept waiting for a year like with GT5. I think a certain period of time after release we'll start putting it out fairly quickly."
His words look to have come true today with the announcement of new content for the game due next week, just over a month after the game's launch.
The next patch, dubbed v1.06, is set to bring not only new content, but also preparation for new offline game modes. This comes as particularly good news for those who rapidly got through the title's launch content. Although this too was promised post-launch, few of us expected to see it so soon!
Play Offline
One controversial aspect of GT Sport is the need to be connected to the servers in order to access just about anything. Polyphony Digital has modified this requirement and, as of v1.06, you will no longer need to be online to use the Livery Editor, Scapes or Campaign Mode.
Players will still need to be online in order to save any progress, both through the Campaign Mode and any Achievements, but participation is no longer server-dependent.
In addition to the new cars, when the patch drops on November 27 you can also look forward to the Livery Editor, Scapes and Campaign modes becoming available to play offline (you will still require internet access to save your progress). There will also be various tweaks and adjustments to balance the gameplay.
Extra Campaign Races
Although these won't be available in v1.06, Sony has chosen to announce the expansion of the Campaign Mode due in the following update in December.
This additional mode is called "GT League", and is based on the GT Mode of previous games. It contains a number of very familiar race series and events, such as the Sunday Cup and Clubman Cup. They're broken up into Beginner, Amateur, Professional and Endurance Leagues, each of which seems to require a different player ranking. While you're waiting for December, be sure to level up!
More information on this will become available in the next couple of weeks, and PD plans further additions and expansions to this mode.
New Cars
When v1.06 arrives on November 27, it will bring three free new vehicles. We already know about the first, the Zagato IsoRivolta Vision GT, but the other two are a bit of a surprise.
The Shelby Cobra will join the line-up, expanding the presently limited historic vehicle selection. As only the second car from before the 21st Century in the game, it harks back to Yamauchi's comment about adding older vehicles following the Gr.3/Gr.4 class vehicles that were the priority for launch.
Third on the list is the 2016 Audi R18 LMP1 car. This completes the line-up of big three Le Mans racers that competed in the chaotic and memorable 2016 race.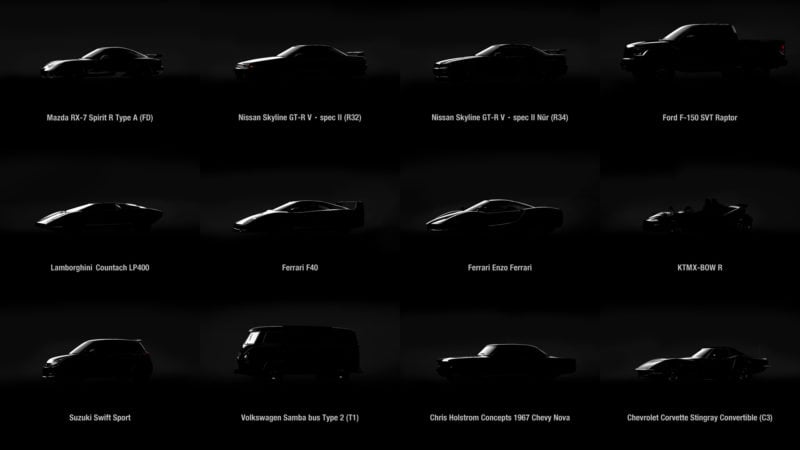 Following these three, the December update will contain 12 more cars. These are:
Chevrolet Corvette (C3) Stingray Convertible (C3)
Ferrari Enzo Ferrari
Ferrari F40
Ford F-150 SVT Raptor
Lamborghini Countach LP400
KTM X-BOW R
Mazda RX-7 (FD) Spirit R Type A
Nissan Skyline (R32) GT-R V-spec II
Nissan Skyline (R34) GT-R V-spec II Nür
Suzuki Swift Sport
Volkswagen Samba Bus Type 2 (T1)
Chris Holstrom Concepts 1967 Chevy Nova (2013 SEMA GT Award winner)
Future DLC
Along with specific content revealed for next week's v1.06 update, and a further update in December, Sony has detailed a strategy for continued DLC.
Between now and March 2018, Polyphony Digital plans to add around 50 more cars. It's also looking at updates beyond March, although there's no word on what type of content these may contain. However, more tracks are also in the works.
See more articles on GT Sport DLC and GT Sport Game Updates.