The first new GT Sport Time Trials of the year are with us, and there's something a little different to try for the next couple of weeks.
Though "Gr.3 Super Lap" doesn't sound like it's too unusual, it's the location that makes it an interesting challenge this week. You'll be racing around the Blue Moon Bay tri-oval course.
With essentially one braking zone — for turn one — the time trial essentially becomes a test of who can use the throttle the longest during the lap. That should make for a pretty tight leaderboard, and in fact at the time of writing the top 25 are separated by 0.207 seconds.
Although you can use any Gr.3 car from your garage, it's usually the case that one car will inevitably emerge as the obvious choice — more so on an event like this one. That seems to be pretty clearly the Mitsubishi Lancer Gr.3, even though the event is only a couple of hours old.
Filed under the more ordinary category is the tuning event. This will see you try to set the fastest time you can around the Red Bull Ring, in full GP configuration, using either of the "Toyobaru" twins. That's the Subaru BRZ S '15, and the Toyota 86GT '15; the more recently added 86GT Limited isn't eligible.
As usual, you'll be able to tweak the cars here as much as you like, although power and weight are stock, and you're stuck with sports hard tires. There's plenty of alterations you can make within those limits though.
GT Sport's Time Trial mode is a global competition, ranking your best time against all players worldwide, rather than just those in your region as with other Sport Mode events. These two time trials will run through to January 28, when two further events will replace them.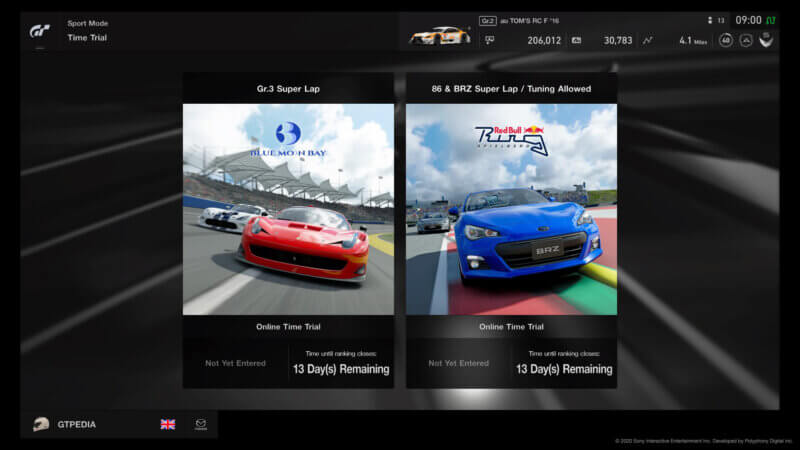 Gr.3 Super Lap
Track: Blue Moon Bay Speedway
Car: Gr.3 – Garage Car
Tires: Racing Hard
BOP: On
Power/Weight Limit: N/A
Settings: Fixed
86 & BRZ Super Lap/Tuning Allowed
Track: Red Bull Ring
Car: Subaru BRZ S '15, Toyota 86GT '15 – Garage Car
Tires: Sports Hard
BOP: Off
Power/Weight Limit: 198hp/1230kg
Settings: Adjustable
More Posts On...