For those of you in Europe waiting to pick up a PlayStation 3 until you can actually play Gran Turismo 5, you may want to take notice of the new PS3 (320GB)/GT5:CE bundle that's hitting web retailers in Europe. You can grab it for £284.99 at Amazon in the UK, which represents a savings of £44.99 – considerably less than what you'd pay if you purchased the console (£269.99) and the game (£59.99) separately.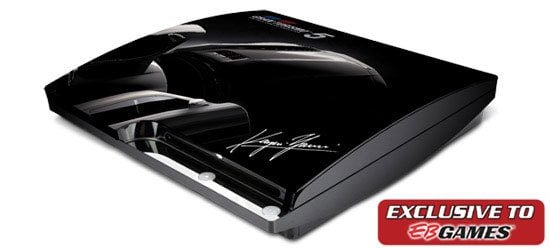 Our friends down under also have a neat and apparently official accessory available to them via EBGames.com.au – a handsome Gran Turismo 5 "face plate" for your PS3 Slim console, featuring the logo, artwork, and Kazunori Yamauchi's signature. No word on when or if this will be available to those of us above the equator. Thanks to all who sent this in!
UPDATE: The PS3 face plate may be available in the United States via GameStop, though it's appearance is unconfirmed (thanks, SuperShouden).
See more articles on GT5 Bundle and GT5 Collector's Edition.