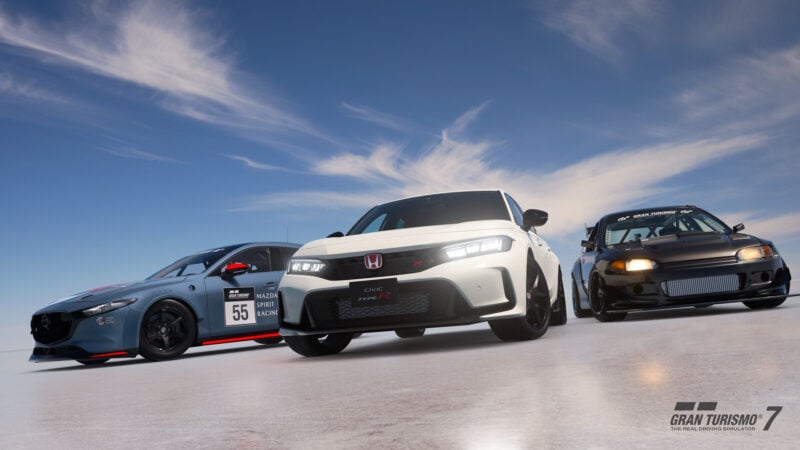 With the scheduled maintenance period now complete, Gran Turismo 7's 1.38 update is now available to players worldwide.
It's a surprisingly weighty update, coming in at a hefty 3.8GB on PlayStation 5 and 3.2GB on PlayStation 4. That's usually indicative of significant changes, or new features or track content, but this doesn't seem to be the case this month.
Of course we already knew what to expect in terms of content from the update, courtesy of the regularly scheduled, pre-update releases, but it's only now that the update is available alongside its patch notes that we have a full picture — so let's dig into it.
Gran Turismo 7 Update 1.38: New Cars
The three new cars were already revealed, but now that the update has landed we can confirm their pricings and availability:
Garage RCR Civic – Brand Central – 300,000cr
Honda Civic Type R (FL5) '22 – Brand Central – 50,000cr
Mazda Mazda3 Gr.4 – Brand Central – 350,000cr
As expected, all three of these hot front-wheel drive cars appear in Brand Central, making them permanent additions with no hoops to jump through this month.
Naturally the 2017 GT Award-winning machine, the Garage RCR Civic by Phil Robles, slots into the existing price structure for the SEMA cars and is priced at 300,000cr. The same thing goes for the Mazda 3 Gr.4, which joins other Gr.4 cars in being available for 350,000cr.
Only the Honda Civic Type R's price was more of a mystery, and it comes in at an inexpensive 50,000cr — cheaper than the FK8 model it replaces…
However, these aren't the only cars newly available in Brand Central with this update. Following a long "early access" period which required specific actions to be taken, the Toyota GR Corolla and Toyota Himedic Ambulance are now finally available for players to buy:
Toyota GR Corolla Morizo Edition '22 – Brand Central – 71,500cr
Toyota Himedic Ambulance '21 – Brand Central – 0cr
Although "buy" isn't necessarily the operative word as the Ambulance is, remarkably, free. It's actually the first time in Gran Turismo history that a car can be bought without spending something (even Mileage Points, in GT Sport) although as the car is merely "sent" to your garage rather than bought it's not eligible for the Firm Favorite and No Car, No Life Trophies.
The GR Corolla will cost you something though, but it's a pretty reasonable 71,500cr.
Gran Turismo 7 Update 1.38 – New Events & Extra Menus
There's some new races in the World Circuits area, and some additional Extra Menu Books in GT Cafe too, although there's a good chance you may already have completed at least one especially if you were diligent with your Toyota Gazoo Racing GT Cup races.
Extra Menu 30 is the GR Collection, requiring you to own the Toyota GR Corolla, Toyota GR Yaris, and Toyota GR010 — two of which were participation awards for the esports series. There's a Six-Star (Engine) Roulette Ticket as a reward.
You'll need to be lucky with manufacturer Invitations and timing for the other book, Extra Menu 29, which is a Porsche Supercars Collection. Although you can buy the Porsche 918 Spyder at any time, the 959 is a Legends Cars vehicle (and not currently available), while the Carrera GT is Invitation-only. This also awards a Six-Star (Engine) Roulette Ticket.
Extra Menu Book 29 – GR – Six-Star (Engine) Roulette Ticket
Extra Menu Book 30 – Porsche Supercars – Six-Star Roulette (Engine) Ticket
Three new standalone races appear in World Circuits, with no new GT Cafe Menu Book events added in this update:
Dragon Trail – Seaside (5 laps) – Race of Turbo Sportscars – 85,000cr
Grand Valley – Highway 1 (5 laps) – Race of Turbo Sportscars – 90,000cr
Mount Panorama (7 laps) – World Touring Car 700 – 165,000cr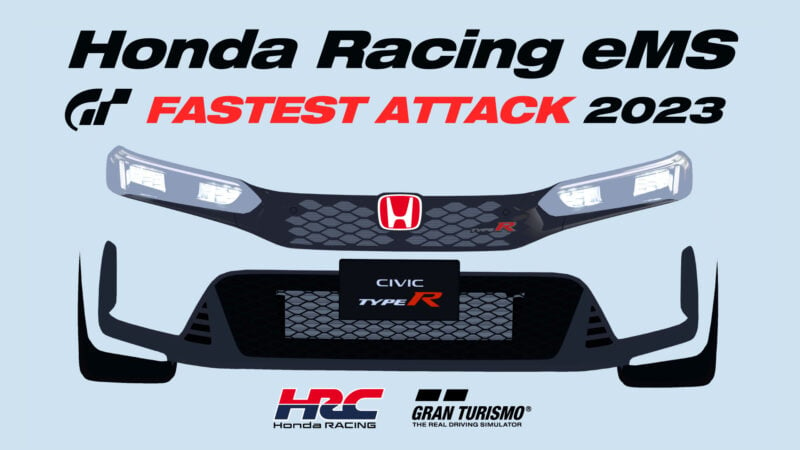 Additionally there's two new Time Trial events available in Sport Mode — although you won't need a PS Plus subscription to take part — for the new Honda Civic Type R as part of Honda's first ever esports event.
These consist of time attacks at the Nurburgring Nordschleife and Suzuka, and although there's technically an age barrier you can in fact enter both — if you don't tell the truth on the entry form (which is something we cannot encourage!).
Each takes the usual format of a GT7 Time Trial event, with up to two million credits available if you set a fast enough time when the event closes at the end of October. However this is a moving target, set at no more than 3% slower than the current world record — with lesser prizes for being within 5% or 10%.
Should you beat the real-world time set by the Honda Civic Type R at the circuit, you'll also receive a certificate from Sony Interactive Entertainment.
Gran Turismo 7 Update 1.38 – New Scapes and Other Changes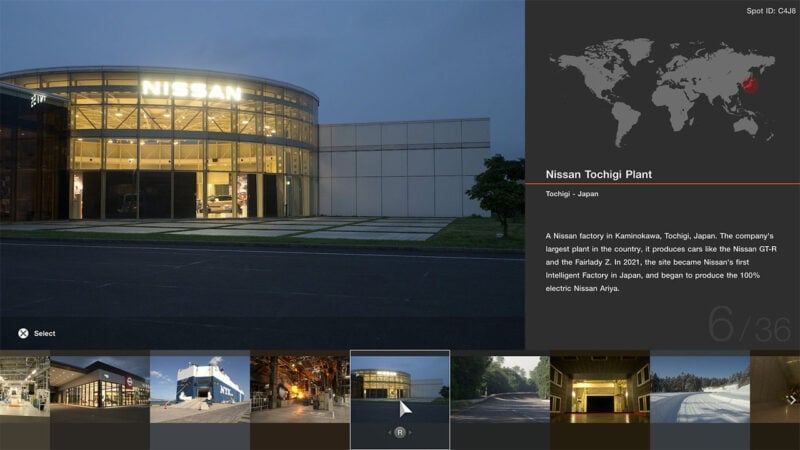 29 further Scapes locations have been added to the selection you'll find in the Nissan section of Brand Central. These include locations around Japan used by Nissan, covering manufacturing and testing facilities (notably the Tochigi test track, which has Polyphony Digital logos on it) and two exhibition areas at the NISMO Omori factory and the Nissan Crossing at Ginza.
New engine swaps are also available, centered on Porsche. There's swaps for five vehicles in total, comprising the 356 '56 hardtop, 1973 and 1992 911 Carrera RS, 997 GT3, and the Cayman GT4.
The Cayman might have the maddest swap, receiving the Greening Maverick's V8, although the 997 getting its sibling RSR's engine is up there too. All of the other three vehicles can take the Porsche 959's expensive turbo unit. Swaps are available to buy if you've reached Collector Level 50, and you can receive them for free — although at random from all those available — through roulette tickets.
Elsewhere we see changes to the race screens. You can now see weather history and current conditions in any pre-race screen — vital for knowing what tires to start on! – and cars that are about to be reset due to going off-track will display a countdown to alert players of any imminent teleportation.
New liveries are available for the Mazda MX-5 NR-A, Atenza Gr.4, and RX-Vision GT3, adding the basic white Mazda Spirit Racing design also seen on the new Mazda 3 Gr.4 — though with red flashes instead of the green "Bio Concept" highlights.
Vehicle prices in Legends Cars have also been adjusted according to the Hagerty Valuation Tool. This is the first such adjustment in quite a while, with the next scheduled for January 2024 — which technically qualifies it as the only item on the game's update roadmap…
Quite what else is buried in the more than 3GB of the update is a mystery for now, but players will be searching for any unannounced changes. You'll find these in the appropriate forum thread as they are discovered — although for now they don't include the teased Suzuka Circuit environmental update.
See more articles on Gran Turismo 7 Game Update.