It's true, it's true… the Tournament has come and gone. In its place, our community is taking advantage of the biggest overhaul to GT5 since its release, with the Spec 2.0 update adding some features, and the DLC packages this week (and next for North Americans) bringing even more content. What better way to show off your new rides?
PMC Podium: Soloracer3, 725, Jason_B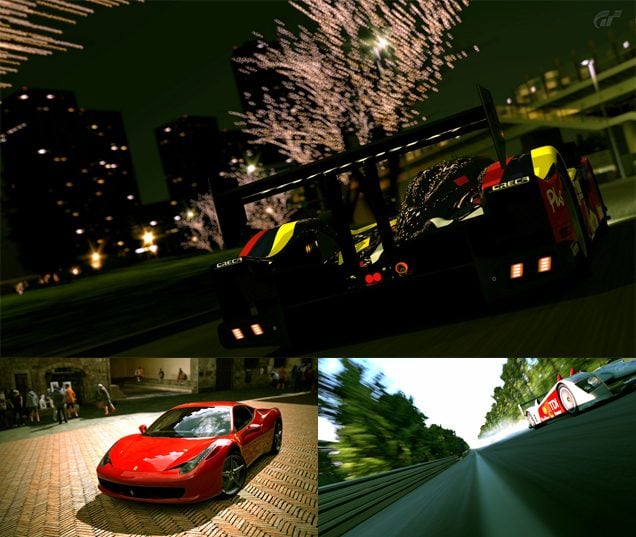 __________________________________
And the 2.0 winners…
2.0 Podium: Revolution., Moglet, SlipZtrEm
There they are, folks, the winners of their respective divisions, Soloracer3 and Revolution.! Providing stunning images round after round, this is a deserved victory for both of them, and they'll be receiving some in-game prizes from Tournament host Nicknamealguem. In addition, Revolution wins a year's subscription to GTPremium, a hush-hush prize I put up before the Tournament started. The next one probably won't be until 2011, but you can expect similar prizes then, so make sure you enter when it comes around again!
Want full-size images of the finalists? Well, click here for both divisions' 1st and 2nd place users, and click here for the 3rd place images.

Last Week's Winner: Boabdulrahman
This Week's Theme:
 It's time for a break! No, really… it's
Racers Day Off
 this week. Bo would like you to take a race car and place it outside of the confines of the world's race circuits, resting during the down time. Maybe you'll even meet Jared outside of Subway…
Jump to the thread now!
This Week's Polls: So many X2010's this week in the polls, which is probably for the best since it's bound to be overshadowed by it's shiny new X2011 brother. In Speed Demon, our users were asked to pay attention to that free car we all were given access to after Vettel locked away his second world championship. Now, you've gotta do it, you've gotta… vote! Jump to the thread now!

Last Week's Winner: LACOSTER
This Week's Theme: You are The Driver, and no, you won't be astrally projecting yourself into other cars or anything like that. It's all about Spec 2.0's new feature allowing us to utilize our Avatars in Photo Travel. Don't let your Avatar's silly posing fool you though; it's harder than it looks! Jump to the thread now!
This Week's Poll: We're actually at an odd point this week, since we have a tie-breaker for the Day portion of the H2H Day vs Night theme. So, vote now on the thread, and then tomorrow, you'll get to vote on the final H2H poll, with the winner of this tie-breaker facing off against the winner of the Night portion. Jump to the thread now!
Last Week's Winner: StoneyNUFC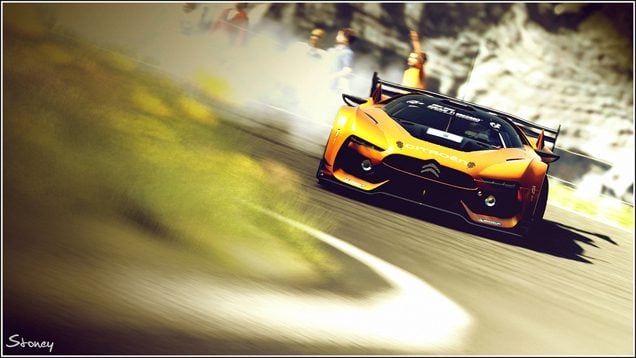 This Week's Theme: How do four rings sound? Get ready for a whole bunch of them with Vorsprung Durch Technik this week! Stoney drives an A6 in real life, and would love to see the fire-breathing RS6 variant tackling Trial Mountain. There's your car/track combo, so you know the next step: Jump to the thread now!
This Week's Poll: It was another AWD missile last week, so the poll for Evomania does have that in common with this week's theme. However, the Mitsubishis all drove around Special Stage Route 5, and it's now up to you to vote, deciding which one best showcases this combination. Jump to the thread now!

Last Week's Winner: CCShaft7
This Week's Theme: Remember snail mail? More specifically, remembering sending out postcards during your vacations to the less-fortunate friends and family stuck back home? Good, then you're ready for this week's theme of, obviously enough, Postcards! Using your image editing program of choice, take GT5 images as bases for your postcards, and submit them in the thread. Speaking of: Jump to the thread now!
This Week's Poll: This being the month of Halloween, Mean Mean Machines seemed almost required. To make things a bit easier for you, the voter, there's only 4 options in this week's poll, so narrowing down your selection might be a bit easier! Jump to the thread now!

Last Week's Winner: chromatic9
This Week's Theme: Do you like large posteriors? Are you incapable of being dishonest? Well, take a picture of your favourite automobile behind and submit it anonymously to Nato_777 for this week's Rear View theme. Jump to the thread now!
This Week's Poll: Secret Santa has an H2H special this week, so there's two polls you'll need to vote in for Good vs Evil. First, vote here to help decide the winner of light, and then, vote over here to determine the opponent. A new thread with both finalists duking it out will be coming later today!
…
All sound a bit complicated? Read this thread for an explanation on how to get your images off your PS3 and onto a computer, and read over the individual rules in each competition's thread. If you're further stuck, feel free to Private Message me (click here). Start snapping those digital shutters!
See more articles on Photomode.