Welcome to a new recurring series, the GTPlanet Member Motorsports Spotlight. Most of us are here for a common reason, our love of sim racing. Sim racing is an accessible and economic way to get on the track and compete against others in a safe environment.
But did you know that many of our members race in real life? I'm not talking about guys like Brian Heitkotter, Jann Mardenborough or Lucas Ordonez. Many of us have closely followed their winning real life race careers. I'm talking about everyday people, who have day jobs. They are here as site members, but also have a passion for real life motorsports and are racing in entry level or grassroots series all over the US and Canada.
I will be hosting this as a periodic interview series. This project and my passion for it stems from my personal involvement in grassroots motorsports. I started racing in real life back in 2011, and have thoroughly enjoyed the competition and community. This first installment is presented in an interview format, but I am asking the questions of myself!
You race on sims, and in real life. Which came first?
Sim racing came first for me. I started sim racing in 2004, with Gran Turismo 3 on the Playstation 2 using the DS2 controller. Then I bought GT4 and a Logitech DFP Force Feedback wheel in 2005, and joined GTPlanet in 2007.
So you sim raced first, how did you get into real life racing?
I grew up in Portland, Oregon. A good friend of mine who I continue to stay in touch with worked at Freightliner as an engineer, and a bunch of the guys he was working with at that time built cars to race in ChumpCar, a grassroots motorsports series originally dubbed as a series for $500 race cars.
They were looking for drivers, and my friend knew I was into sim racing and had talked about getting on the track in real life. He connected me with one of the guys who had built a car, and I met up during a trip to Portland for a test drive and subsequently arranged to run in my first race.
Tell us about your experience on sims. How did you get into sims, what games have you played, which do you play now? Do you race in a specific league or series? Any particular results you'd like to highlight?
Well, as I mentioned, my first sim racing experience was on GT3, with the controller. I had always been into cars growing up. My father is an auto mechanic by trade; I grew up around cars and they have always been a passion of mine.
I was into general gaming as well — I played games like Madden and Grand Theft Auto. I bought a used copy of GT3 on a whim, and ended up really enjoying the real life car aspect of the game. Ultimately, I completed the game 100%. When GT4 released, I decided to upgrade from controller to the Logitech DFP Wheel.
I came across GTPlanet when searching for some particular details about the game: I was trying to win the Formula car. While on the site, I also discovered the Weekly Race Series (WRS). I joined the site and the WRS back in May of 2007, and have been here ever since!
Along with a team of several admins, I now help to organize the WRS Time Trials and Online Races. We're the longest continuously running race series on the Gran Turismo platform.
Probably my proudest achievements in the WRS are being promoted to our top division back in February of last year, achieving my first overall podium on one of our time trials back in August, and then finally taking my first overall win in April of this year.
Here's a cool comparison video that shows my lap from that first podium and the other two podiums together. I was actually tied to the thousandth with MadMax for 2nd place overall!
Now I'd like you to talk about your real life racing experience. Which series do you drive in, what is the race format?
My first race was in October of 2011, at Portland International Raceway (PIR). ChumpCar ran that race, along with most of the races that I've run. We've recently begun racing with Lucky Dog, a similar series that's more focused on the Pacific Northwest and West Coast.
The series format is low cost endurance racing, with an important focus on safety. Most events are spread across two or more days and total at least 15 hours of race track time. Driver changes are required every two hours or less, and most teams use three or four drivers. The car with the most laps completed wins the race. Attrition rates are high, and breakdowns are common. So it's as much about car prep and taking care of your equipment as it is being the fastest out there.
Can you talk about the tracks have you driven on? Which are your favorites? How many races have you run in total? Any successful results you'd like to talk about?
In total, I've run 30 races at 10 different tracks. From most races to least: Laguna Seca (11); Portland (5); The Ridge (4); Oregon Raceway Park (2); along with Sonoma, Pacific Raceways, Spokane, Daytona, Road America, and Thunderhill (all once each).
It's great to have experienced so many tracks, and there are unique things to take away from all of them. If you couldn't tell, I really like Laguna Seca! I also really enjoyed Sonoma and Road America. Those iconic American road courses with so much history are incredible. Daytona is a spectacle; you can't imagine how immense it is. As a matter of fact, all 15 of Florida's major sports stadiums would fit inside of it. In the car I drove there, we were getting up to 155 mph on the high banks — that was exhilarating!
Our early results really spoiled me a bit. We won the second race I drove in, at Laguna Seca! It was the first ChumpCar race at that track, and we were also the first MR2 to win a ChumpCar or Lemons event. We also took 2nd at a 24 hour race at Oregon Raceway Park back in 2015. And I was on the podium in a different car at Laguna Seca on consecutive days in 2016, 3rd and 2nd, respectively.
What car(s) you have raced in real life? Do you own a race car, or do you rent from someone? Did you help with the build, do you perform any of the maintenance?
The car I've driven the most is a first generation Toyota MR2. It's the first car I raced in, and is the car I raced in 21 of the 30 events. Right now, we use a normally aspirated 4-AGE "Smallport" engine, which is most commonly out of Toyota Corolla GT-S cars from the early 90's. It's the same basic engine configuration as the stock MR2 motor, with a bit more compression and a faster flowing head. I started racing with the team after the car was built and had run a few races. I'm strictly a rental driver, I don't own all or part of any race cars.
I've helped with some of the maintenance, mostly at track side on the weekend of the race. That's mainly been things like brake work, tire rotation, setting pressures – basic stuff. I've also helped with an engine swap during a race weekend, and various other in race repairs. The car owner does almost all of the maintenance and knows literally every bolt on that car. We just follow his direction and do what we can to help.
Other cars I've driven are a BMW E30 (twice), BMW E36, first generation Mazda RX-7, Datsun 280Z, '95 Mustang (3 times), and a '97 Camaro. Those were all rental situations, mostly to be able to drive on tracks I might not otherwise make it to. A few of them were Laguna Seca on weekends the MR2 would not be running, while I lived in Northern California.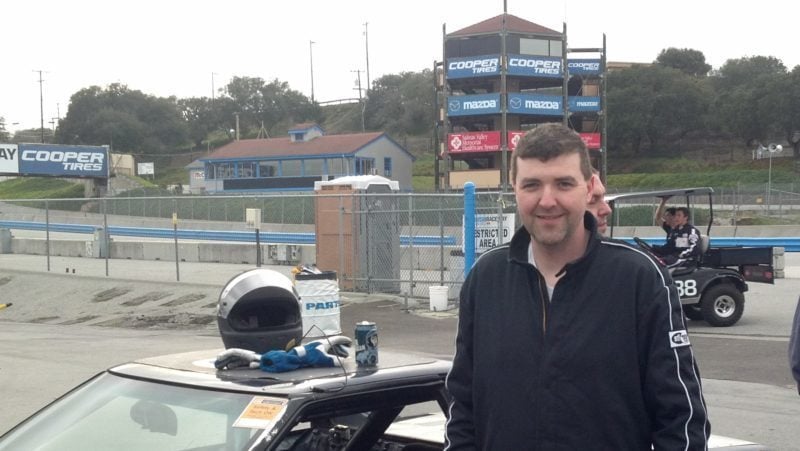 Talk about the connection between real life and sim racing. What aspects of sim racing translate to real life racing, and vice versa? What aspects do you find different between the two?
From my first time on track, I found that sim racing prepared me for many aspects of real life racing. Basic racing line theory, knowing about braking points, turn in points, how to manage throttle delivery. Those basics translate really well into real life.
The biggest difference I find is that you can feel the car beneath you in real life, which gives you some advance warning and feedback that you don't get on sims. You also have a much wider field of vision, since your periphery enters into it, and the general sensation is that the track feels much, much wider than it does on a sim.
In general, it takes time to learn how to push the car in real life, finding the limit is a lot different than it is on a sim. This is partly due to there being real consequences and no reset button, so to speak. But it's also just a matter of learning how the tires feel and how the car reacts when you are approaching the limit.
Overtaking maneuvers are generally easier to execute in real life than on sims. This is in part because we are much closer to the limit at all times on sims as compared to real life racing, and normally driving similarly equipped cars. I find there are larger variances in car performance and driver ability in real life. It's pretty rare to come upon a car and driver that are equally matched to you. You normally either have an advantage and get past quickly, or have a disadvantage and get passed quickly.
How about some on board video or pictures of your driving? Or any pics you have of the car build, maintenance, podium celebrations. Whatever you might have.
Here's some footage from a race in January of this year at Laguna Seca, battling with some front wheel drive cars in damp conditions:
And here's perspective on a different track in the dry, from a few years ago.  This is a fast lap at The Ridge Motorsports Park, a relatively new track in Shelton, Washington:
Here's a podium pic from my January race at Laguna Seca.
To wrap up, let's focus more on the community here. When did you join GTPlanet, and what brought you here? How does GTPlanet help you connect to real life racing, and sim racing? What keeps you coming here?
As mentioned earlier, I joined GTPlanet back in May of 2007, 10 years ago. I've actually raced on track against another GTPlanet member, but I am going to keep him anonymous for now — I'd like to feature him in an upcoming episode of this! I also know a few others here in the community who have raced in similar series to those I run in. It's always cool to learn of their connection to real life racing.
Certainly for me, the community within the WRS and being able to compete throughout the year is a big plus that comes with GTPlanet and sim racing in general. I run 3-5 races per year: that means there are at least 47 weekends that I am not racing!
Our online events help train me for the focus needed in real life racing, and keeping up with my skills has me sharper when I first get in the car on a real life weekend. I can't imagine going into one of those events rusty, I need to have been racing.
OK, so one final question. When's your next race, and how do we keep up with your real life racing?
I will be racing in the MR2 at Portland International Raceway on July 22-23.
I still occasionally post about my real life racing in this thread.
And my YouTube channel is GTPEDK.
Are you a GTPlanet Forum member who participates in real life motorsports? If so, and you would like to be featured in a future installment of the Member Motorsports Spotlight, please drop me a message on the forums. 
See more articles on GTPlanet Member Motorsports Spotlight.