Since the GT6 "Track Path Editor" finally launched last week, GTPlanet users have been sharing thousands of their custom creations in our forums. It's been difficult, though, to see who's making the best tracks and how to download them for yourself – until now!
Today, I'm excited to launch GTPlanet's GT6 Track Database – a new way to share, download, and organize all the custom tracks created by our users.
Click here to start adding your own tracks to the database.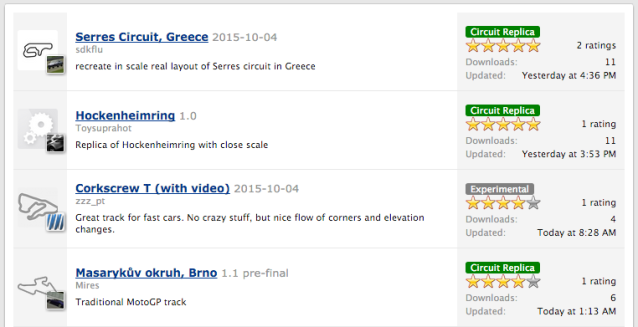 Track Ratings & Reviews: Every track in our database can be reviewed with a five-star rating system, to help you find the best tracks and to share feedback with track makers. Every track also gets its own dedicated forum thread for more in-depth discussion.
Download Counts: See how many people have downloaded your tracks, or use the download counts to see which custom tracks are the most popular.
Post Updates: Users can "follow" or watch each track in the database. Authors can post updates to their tracks, and everyone watching it will be notified of the new changes.
Categories & Organization: Looking for a real-life track replica? Rally or point-to-point roads? Ovals? We've got you covered with specialized categories and filters.
GTPlanet Profile Integration: The track database is fully integrated with GTPlanet's forums and profiles, so you can follow your friends and quickly see all of the tracks they've created.
Keyword Search: The Track Database is fully integrated with GTPlanet's search engine, so you can look for tracks by keyword, type, author, and other parameters.
We have also re-arranged our GT6 Course Maker forum, which has been exploding with activity over the past few days. The new organization makes it easier to find the discussions about using the Track Path Editor apps and track-building techniques.
Remember, just about anyone can get in on the track-building fun, thanks to this handy guide from our own Kyle P. that will show you how to get the Track Path Editor app running on just about any PC with Android emulators.
GT6 Photomode image by ac1.
See more articles on GT6 Course Maker and gtplanet.