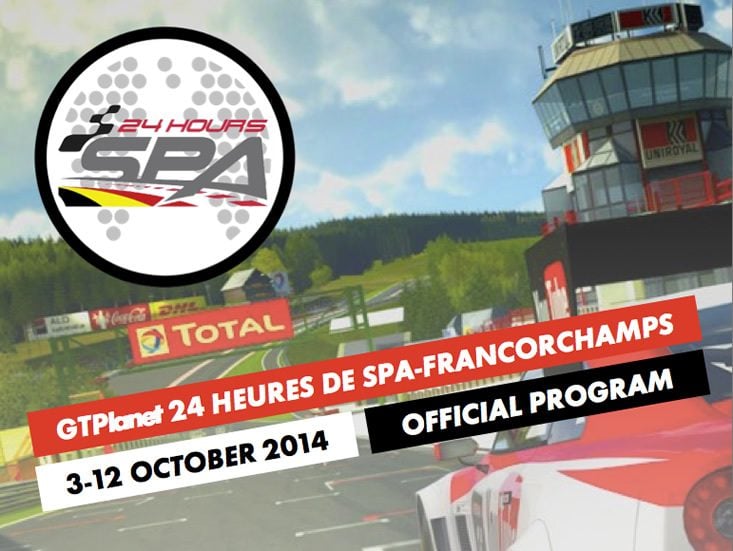 It's time for another online endurance race in Gran Turismo 6, and this time, we're going to Belgium's Ardennes forest for a 24-hour race at Spa Francorchamps!
The race will be live-streamed in its entirety, featuring 10 teams and more than 30 drivers. The race begins on Saturday, October 11 at 13:00 GMT/UTC (convert this to your local time) and will be broadcast here on GTPlanet's news blog and YouTube channel.
Last weekend saw 33 drivers in both GT3 and GT Cup classes take to the track to prove their pace over 4 sessions held in varied conditions.
Times fell over the course of each session as teams strategically opted for low fuel runs with fresh tyres towards the end of each 2 hour period.
Made 4 Racing's @P1K3Y_M1k3Y set the early pace in QP1 with a time of 02:16.214 after 33 laps, with @J Daniels topping the time sheet for Lotus Club Rebellion, half a second quicker than the rest in GT Cup.
QP2, was the only session to be held in daylight, and again the Mercedes-Benz of Made 4 Racing proved the fastest, this time at the hands of @gtpcaine with a 02:16.130.
After QP3 most drivers had set times, and it was clear that no one team, nor car, was emerging as a favourite, despite the presence of many NISMO GT Academy Alumni. The GT-R of @rcb929 for Black Rose Racing Team, was first to break under the 2:16.000 mark.
In the final session, @andp132 (Old Rosie Racing) and @TNR_5zigen (Top Notch Racing) also set sub 2:16.000 times, in their SLS & Z4 respectively, with the latter recording the quickest time over all, a 02:15.876, just +0.091 faster than 2nd place.
The Lotus and Toyota drivers were evenly split after 8 hours of qualifying, with @J Daniels 's 02:25.537 enough to stay fastest in the GT Cup class.
For full results from Qualifying Practice, the Event Program, and all the latest news, visit the official forum topic.
There is still time to join the grid, but hurry, as time and space is limited. We are also looking for help with the live broadcast – if you would like to join Commentary or Broadcast Teams, please contact Race Director @AJ for more information.
More Posts On...
The original comments for this post are no longer available.