New Registration Process for the WRS
Gran Turismo's 1.09 update introduced physics changes that significantly affected lap times on the original GT6 WRS Qualifier.  As a result, the race admin staff has been hard at work establishing a replacement registration system.
We've made it easier than ever to begin participating in our events right away.  The only requirement for new members is to upload a replay to a conversation with our WRS FetchBot, which is used to verify their PSN account.  Once that step has been completed, they can begin participating in events right away, and will receive a permanent division placement once they have successfully completed 3 of our Time Trial events.  Complete details on the new process can be found in this thread.
WRS Online Special Event V
On August 2nd, WRS online will host its fifth special event on the GT6 platform.  Titled "Moff's Triple Mix Part Deux", the event will feature 3 races of 34 laps each, at the short layout of the  brand new to the series Red Bull Ring circuit.  But wait, there's more!  The catch is that participants will use a different car in each race, with each car having a different drivetrain layout.  Cars featured are all GT300 Base Models.  Specifically, the Lexus IS350 (MR), Subaru BRZ (FR) and Subaru Impreza (AWD).  The cars will carry stock configurations, and tuning is prohibited for this event.
Only current members of the GTP_Registry are eligible to participate.  Interested members should visit the race thread to register for the event.  If you're not yet in our registry, but interested in participating in this or any of our online events, visit the Registration Thread and follow the instructions.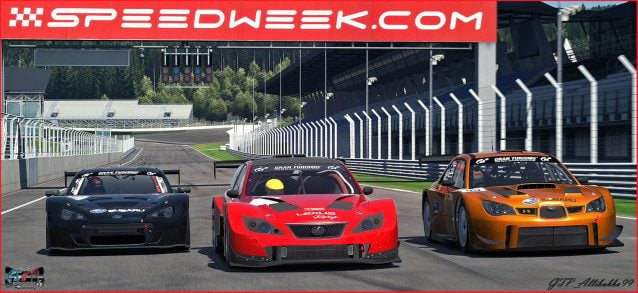 WRS Time Trials
Week 27 of the GT6 WRS Time Trials is live and ready for your to post some splits.  We're visiting a favorite World Circuit this week, Suzuka.  Titled 'All Hail Hans Hugenholtz', the combo uses a car we've never featured in any WRS event, the Spyker C8 Laviolette '01. The leaderboard is already lighting up, with 9 drivers having times and the top 4 drivers separated by less than 1 second, as of this posting.
While Week 27 is up and running, Week 26 is not finished yet.  The event deadline is tomorrow at 11:59 PM GMT, don't forget to submit if you've been running.  There's some very close action on our leaderboard, with 50 drivers in total, and the top 11 separated by about 5 tenths.
Week 25 Results are not yet official, but the times have all been verified.  We had a great turnout for the Civic Motul Mugen race car at Madrid, with 42 drivers submitting a time.  Congrats to the event podiums.  GTP_Mamba took his second overall win of GT6, while GTP_Eternal and RS__96_oO rounded out the podium.
WRS Online Events

WRS Online will host the 26th weekly race of GT6 on this Wednesday, 'Mazda is as Mazda Does'.  It's once again based on the Weekly Time Trial, and will feature a First Gen Mazda MX-5 Miata at Mazda Raceway Laguna Seca.  The event will follow our traditional format, with a timed qualification, followed by a feature race of about 1 hour.
If you're interested in participating, be sure and visit the race thread and follow the instructions to register for the event in your time zone!  We continue host Wednesday races in 2 convenient time slots, and one (or more) of these should work for most members in most regions:
3:00 PM Eastern / 12:00 PM Pacific / 19:00 GMT / Check Local
10:00 PM Eastern / 7:00 PM Pacific / 2:00 AM GMT / Check Local
Can't make it on Wednesday nights?  We've begun to host Worldwide race events on the Saturday before the Time Trial Deadline.  The race time should be convenient for most members in most time zones.
5:00 PM Eastern / 2:00 PM Pacific / 21:00 GMT / 7:00 AM AEST
We had a great turnout of 15 drivers for yesterday's event in the Mazda, and a very competitive race, with less than 1 second separating the top 2 drivers and some great battles through the field.  Congrats to ItsAllAboutWins for the name appropriate overall win, and to GTP_Hasslemoff and GTP_crowhop for rounding out the podium.  Check out the full results here.
What's Next?

If you're interested in joining the GTP_Registry to take advantage of the events we are offering, here's what to do:
See more articles on Gran Turismo 6 and Weekly Race Series.