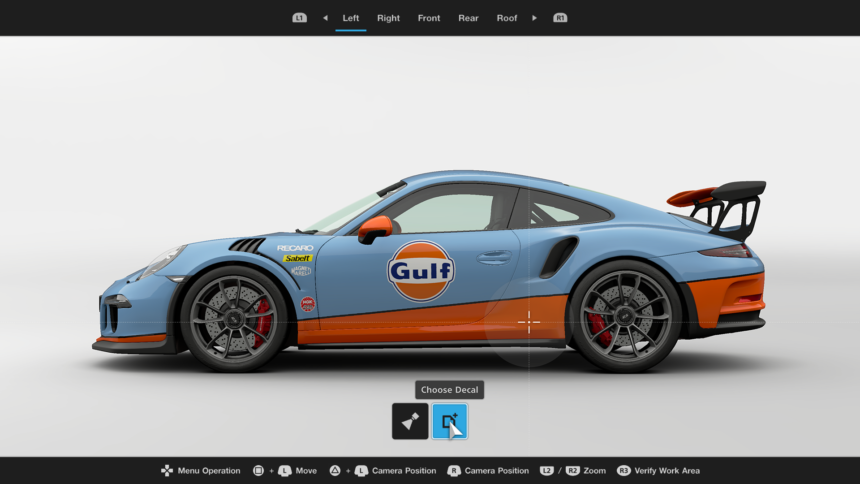 As morning broke yesterday in the UK, a new "Gran Turismo" experience fell into the hands of thousands. The GT Sport demo has been unleashed onto the public, bringing with it a preview of a "new era" for the franchise.
It's understandable that much of the discussion has been on the title's graphics and racing experience. However, one feature that has finally seen the light of day is an in-depth livery editor.
We've given it a go and want to share some key aspects that players can expect from the feature in GT Sport.
Cars, Helmets and Racing Suits Can All be Colored
Before we go into the nitty gritty of the car customisation, it's worth pointing out that racing suits and helmets can be painted. There doesn't seem to be too much customization here, but depending on the type of racing attire used, you can tweak the color scheme as required.
It's a small addition but will go a long way to making your fantasy racing team look the part. We can't imagine a worse racing fashion disaster than a perfectly designed car alongside a generic pit crew…
Each Section of The Car Can be Painted Individually
One of the most important aspects of a livery editor is also pretty simple. The ability to paint each part of the body a separate color ultimately makes the process more painless. Thankfully, Polyphony has understood this and everything from the rims to the rear spoiler can be individually painted.
It means that players won't have to manipulate decals to achieve the effect and opens up many design opportunities. The system is fast and works like you would expect.
Some Decals, Rims and Colours Are Locked Behind In-Game Progression
GT Sport includes a vast array of decals to place on your car. Many real-life (and fictional) companies have provided their likeliness for the game. It means that if you're trying to make replicas of existing race-cars, the job becomes a lot easier. However, even from the demo one thing is apparent – you're going to have to earn some of the selection.
According to the demo, some decals are locked behind the miles currency system. This is a specific type of credit used to buy some of the more special content in the game, including cars. The below screenshot shows the type of thing you'll have to 'buy' if you want to include it in your designs. This also goes for custom rims and special colors included in GT Sport.
Outside of the mileage currency, decals will also be earned through the track experience mode. For the full library of stickers in the game, it'll have to be unlocked through gameplay.
User Imported Decals Are Confirmed
After much speculation following media previews, the GT Sport demo finally confirms that, yes, players can import their own stickers. Initiated through a system to be hosted on the official Gran Turismo website, SVG files can be uploaded which can then be accessed in-game. This is a massive deal for the livery editor and adds a further level of complexity on top of what's already there.
Given what we've seen artists accomplish on editors with generic shapes, this is sure to take car design to another level. Further details are thin on the ground but confirmation is enough for now. When the full title releases, we'll have more information on how exactly importing will work.
Racing Items and Custom Color Chip Previews
After putting the final touches on the design of your car, there are still a few elements that can be added for that motorsport flair. Players can add a racing number, window sticker, headlight covers and driver name to the body of the vehicle.
It's worth noting that in the demo at least, window stickers are restricted to the official GT banner and headlight covers can only be added to certain cars.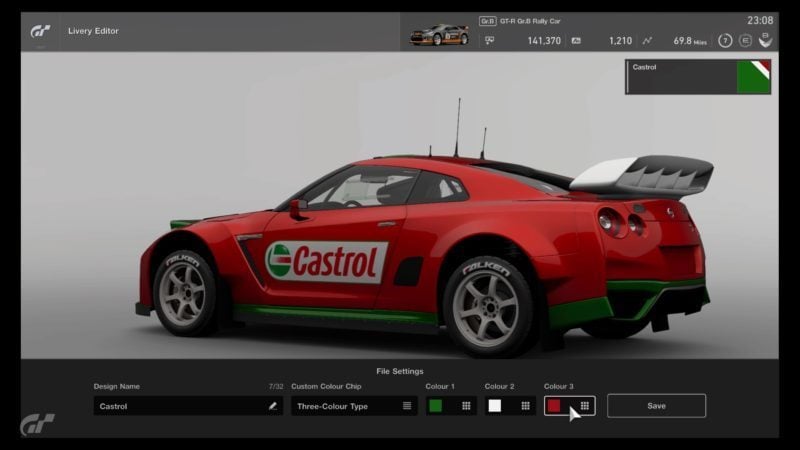 Another neat feature is the addition of custom color chips for your livery. These act as previews of the design from within the GT Sport menus. It's a subtle addition but means that you'll be able to tell what each livery in your collection is at a glance.
When you're hours deep into the game, there's bound to be a lot of liveries, so this is a useful addition.
The Whole System is Very Quick
Other racing games have offered similar tools but suffered some slowdown or quality issues. Polyphony has seemingly taken a lot of care developing their livery editor and it shows.
Through our tests, the feature was swift and didn't suffer any hold up. Bouncing between layers and parts of the car works as you would expect; expert and newbies alike should learn the tool with relative ease.
GT Sport's livery editor is shaping up to be a noble first attempt from Polyphony Digital. The feature is comprehensive and offers a lot of what you would expect with an added level of finesse. We can't wait to see the full experience when the game launches on October 17.
For more, visit GTPlanet's new dedicated GT Sport Livery Editor forum to get help or share your own tricks, tips, and discoveries!
More Posts On...