Having trouble getting all the trophies and/or achievements in F1 2019? Good news, then: you've come to the right place.
Back in June, Codemasters released F1 2019 earlier than any other installment this generation. We called it "better than the real thing" in the GTPlanet review, giving high marks to the in-depth career mode and surprisingly effective visual tweaks.
We took a look at the full trophy/achievement list around that time too. For veterans of the series, there were many predictable entries on the list, including pulling your best Kimi impression on a chatty engineer. There are some new ones this season though, including a handful relating to the new F2 feeder series, plus a renewed focus on multiplayer.
Itching to fill that trophy cabinet? Read on for our full guide.
Walkthrough
F1 takes a slightly different, almost RPG-like approach to its career mode. While certain choices don't exactly lock-out certain trophies/achievements, they will make them more time consuming.
Most of these trophies will pop up during regular play. There are a few challenges that require specific game settings; we'll cover each one, and the easiest ways to pull them off.
If 1000 Gamerscore or that shiny Platinum is your end goal, we've broken up the path into the following five categories:
Career Mode – Early Steps
Career Mode – Digging In
In-Race Feats
Solo Mode and Game Features
Multiplayer
Note that you'll probably unlock numerous in-race feats during your career mode. We'll offer some tips and tricks for some that can work in Solo mode as well.
You'll find all five in detail below, including all the trophies for each.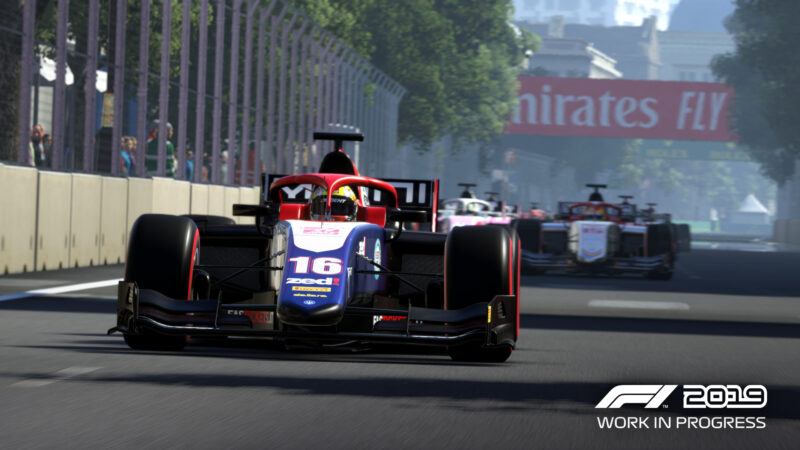 Career Mode – Early Steps
Experience – Complete your first race with an F2 car in career mode (Bronze / 15)
Dreams Become Reality – Complete the F2 feeder series and start to pursue a move to F1 (Silver / 30)
Something to Prove – Accept a contract with McLaren or Alfa Romeo (Bronze / 20)
Contender – Accept a contract with Williams, Racing Point, Renault, Toro Rosso or Haas (Bronze / 20)
Great Expectations – Accept a contract with Red Bull, Ferrari or Mercedes (Bronze / 20)
Assisting Development – Complete an F1 practice programme in Career Mode (Bronze / 15)
Early Beginnings – Complete the first weekend of an F1 season. (Bronze / 25)
Showing Your Intentions – Finish ahead of Lukas or Devon in an F1 race (Bronze / 20)
Much has been made of the Formula 2 feeder series in the F1 2019 career mode. Truth be told, it's quite short, with three race scenarios to set up your path in F1. Don't worry: a full F2 season is available elsewhere.
If you're like us, Experience will be your very first unlock, done after the first of the scenarios. Wrap up all three to unlock Dreams Become Reality.
It's here that you'll find your first major choice in the career: which F1 squad you'll represent. Don't worry: you can pick up all three trophies/achievements with a little bit of game option trickery.
Provided you've started the game with autosaving enabled, when your manager presents you with the choice of F1 squads, simply quit F1 2019. Load it back up, and make sure you turn autosaving off in the game options. Continue your career — double-check the settings at the loading screen — and pick any of the teams to pick up either Something to Prove, Contender, or Great Expectations. Then quit, and load the game up again.
We noticed autosaving would default back to on every time we did this, so if you're going to do it, make sure to turn it off every time. Save the third trophy for whichever team you want to actually start your career with to minimize reloading, and away you go!
Just like previous franchise career modes, practice programs are key to advancing your team in F1 2019. Resource points are readily available here, and we recommend running five programs every race weekend. Run your very first in Australia and you'll pick up Assisting Development. Wrap up the Australian Grand Prix on the Sunday and Early Beginnings will be yours too.
You'll find the narrative of the career will often pit you against your fellow F2 graduates, Lukas and Devon. Showing Your Intentions is a pretty easy one early on, since you'll only need to finish ahead of one of them.
Congrats, you've already picked up half the career-related trophies! Be warned though: the back half takes a decent chunk of time.
Career Mode – Digging In
Season Victory – Win the F1 Drivers' Championship (Silver / 30)
Constructors' Victory – Win the F1 Constuctors' Championship (Silver / 30)
Feeling Smug – Get promoted to first driver (Silver / 30)
Seeing it Through to the End – Apply all vehicle upgrades from one department (Bronze / 20)
First Amongst Rivals – Finish ahead of Devon and Lukas by the end of an F1 Season (Gold / 50)
Cool and Calm – Reach maximum sportsman rating (Bronze / 20)
You Big Show Off! – Reach maximum showman rating (Silver / 20)
Most of the remaining career achievements won't pop until near the end of your first season. Depending on your game settings and your grand prix performances, you might just snap up Feeling Smug first. For this you'll have to deal with contract negotiations, which happen every four races. Make sure to consistently out-perform your teammate and rake in all those Resource Points to improve your standing with the team. Say the right things to Claire, too — more on that in a bit.
You can win the F1 Drivers' Championship, and therefore Season Victory, quite a while before the final wave of the flag in Abu Dhabi. Unless your teammate is also sharing the podium with you a lot, Constructors' Victory isn't necessarily as sure a thing, though. For this, you'll want to be on one of the stronger teams, as Ferrari, Red Bull, and Mercedes AI drivers will get the lion's share of the points.
No matter how early you win either of the Championships, First Amongst Rivals won't pop until you've wrapped up the last race of the season. It's a straight-forward one.
Seeing it Through to the End requires a lot of R&D time. We'd recommend focusing on whichever area of development your team is weakest at (Engine, Aero, or Chassis), since the other departments can remain competitive for a while without updates. Hopefully your chosen department isn't hit with the year-to-year regulation changes, which requires you to spend 50% on all upgrades again before the new season starts.
Make sure to buy all the cost reductions and two or three of the failure reductions, too. This will shorten the time needed, but you'll still need around two or three seasons to max out any one department.
Cool and Calm and You Big Show Off! depend on your team choice. If you picked a team that prefers sportsmanship, good news: it's easier. Every media interview, pick the most diplomatic responses, especially when it comes to rivals (ex. "we both push each other to perform at our best"). Showmanship is, in our experience, a harder one to suss out, which is maybe why it's a Silver trophy on PS4…
In-Race Feats
Victory! – Get on the F1 podium for the first time (Silver / 25)
Second Chance – Activate a Flashback during a race (Bronze / 10)
Master Skills – Complete an F1 race with all driving assists turned off (Bronze / 20)
Not Again, Jeff! – Tell Jeff to be quiet (Bronze / 10)
Manual Master – Win a race whilst using manual transmission (Bronze / 15)
Perfect Start – Get pole position (20)
Look at Them Go! – Set the fastest time in all 3 practice sessions, take pole position and win the Grand Prix (Bronze / 30)
Ice Cool – Complete a clean race (Bronze / 20)
Monaco Victor – Win a 25% distance (or longer) F1 race at Monaco (any difficulty) (Bronze / 15)
Exclusive Club Member – Win a 25% distance (or longer) race against Ultimate AI opponents (Bronze / 15)
Perfectly Executed – Activate DRS perfectly on all zones of a track (Bronze / 15)
Good news! If you've been focusing on the F1 2019 career mode, you've probably already unlocked a good chunk of these. You can also grab any of these in other modes too.
First off, activating a Flashback is an easy in-race button press. Use it to rewind a few seconds, and confirm the time warp to pick up Second Chance.
Victory!, Master Skills, Manual Master and Monaco Victor are all pretty straight-forward to get. If you're finding them a struggle, drop the AI difficulty down — though it's worth noting you only need to finish a race for Master Skills, not win.
Ice Cool may prove very difficult depending on your AI settings as well. To make it easier, set up a three-lap Monza race in Solo with low-level AI: for bonus points, do it in the classic Ferrari F2004 to pick up Epic Drive (part of Solo Mode and Game Features) too.
Poor, poor Jeff: he's just trying to help. To tell the man in your ear to, well, stop being in your ear, you'll want to bring up you MFD (L1 or LB), cycle to the second page with O/B, and scroll down to the bottom. Hit the right arrow on your d-pad and Not Again, Jeff! is yours.
Perfect Start and Look at Them Go! go hand in hand. If you're aiming for it in career mode, remember that AI difficulty can only be adjusted between race weekends. You can set up a grand prix in Solo mode to accomplish these, but make sure all three practice sessions are turned on to do it. If you're setting those fast laps, plus doing the career practice programs, you'll likely pick up Perfectly Executed too.
Monza can also be useful for Exclusive Club Member. If you're understandably struggling against Ultimate AI, create a longer race at Monza and turn off all flag rules (and damage). Cut those chicanes at every opportunity and you should be able to hold off the pack.
Hey, we said we'd offer the methods to earn all of these. We didn't say anything about how honorable it'd be!
Solo Mode and Game Features
Around the World – Register a time trial entry on every track (Silver / 40)
F2 Racer – Complete the "2018 FORMULA 2 WORLD CHAMPIONSHIP" championship event (Bronze / 15)
Memories – Play a captured highlight (Bronze / 10)
Car Geek – Read information on a car in the showroom (Bronze / 15)
Personal Touch – Choose a player badge (Bronze / 10)
Raining Champion – Complete an F1 Time Trial in wet conditions. (Bronze / 15)
Photo Fiddler – Make an adjustment within photo mode (Bronze / 10)
Nice Threads – Change your driver's appearance (Bronze / 15)
I Like This One – Set a favourite trophy (Bronze / 20)
Epic Drive – Complete a race using the Ferrari F2004 at Monza (Bronze / 15)
A lot of this batch requires nothing more than exploring the different menus and features F1 2019 has to offer.
Case in point: you can pick up Car Geek pretty much as soon as you load up the game. Head to the showroom, pick a car, and press the button to view more info on it. Boom, done.
Personal Touch and Nice Threads aren't far behind. Tab over to the customization section and modify your avatar's suit, helmet, or gloves to earn the latter. Badges have their own, clearly marked section too.
You can pick up Memories and Photo Fiddler after a career mode race. Exit to the main menu and navigate to the theater tab. Watch any of the automatically-captured highlight reels to pick up Memories. As you're watching, enter photo mode and modify any of the settings for Photo Fiddler.
Of the racing-related achievements here, only F2 Racer will require a significant time investment, as you'll need to run the whole 12-race Formula 2 season in the Championships section. Raining Champion is simple: pick any time trial, and when the track is loading, bring up the options to set the weather. Epic Drive is self-explanatory. Remember, you don't have to win for any of these three, just complete the races/series.
 Multiplayer
Weekend Warrior – Complete a Weekly Grand Prix (Bronze / 15)
The Whole Event – Complete all events in a Weekly Grand Prix (Silver / 30)
Featured Racer – Complete a Featured Event (Bronze / 15)
Reach Level 5 – Reach Level 5 XP (Bronze / 15)
Reach Level 10 – Reach Level 10 XP (Bronze / 20)
Reach Level 25 – Reach Level 25 XP (Silver / 30)
Reach Level 50 – Reach Level 50 XP (Gold / 50)
Safe Mode – Achieve a safety rating of A in multiplayer mode (Bronze / 20)
Pure Gold – Achieve a Gold skill rating (Bronze / 20)
First Ten Down – Complete 10 races online (Bronze / 10)
League Joined – Join a league (Bronze / 10)
You Got One! – Win a league medal (10)
Sit Back and Relax – Spectate an online race (Bronze / 20)
Love the Look! – Obtain a livery for your multiplayer car (Bronze / 10)
If you're a completionist, this is where the majority of your time will go.
You'll be able to pick up Weekend Warrior and The Whole Event no matter your skill level. These involve taking part in the multiplayer grands prix, with practice (aka time trials) and qualifying taking place in the beginning of the week. The weekend switches over to races, where you'll face off against other players.
The weekly multiplayer event may not always be a grand prix setup. Sometimes it will be a simpler Featured Event. Complete that and, sure enough, you'll unlock Featured Racer.
Another simple one that you can grab in short order is Sit Back and Relax. Find any online race that's currently running and jump in to spectate it.
Completing multiplayer events will you Competition Points, new to F1 2019. Pick up enough of them — 2000 at the time of writing — and you can buy the cheapest of the liveries available for the spec multiplayer car. Doing so will get Love the Look! to pop. Race regularly during the weeks and you can qualify for a CP bonus as well.
Another new feature are the community-created Leagues. League Joined is a simple trophy to pick up, since you can literally create your own league and then exit it for the bronze/10GS. You Got One! may be harder: it isn't clear if you can conceivably run your own league with nothing but AI players and still pick this up.
Reach Level 50 and its lesser siblings are all time-based. F1 2019 rewards XP based on activity, so keep racing and you'll soon unlock them all. First Ten Down will pop early on this path, too.
It's Safe Mode and Pure Gold that will prove the hardest for most players. Consistently racing clean will help with the former: we imagine that's doable for most GTP readers. It's consistently winning enough to earn a gold skill rating that could prove difficult. For the Weekly Grand Prix, this really comes down to the luck of the matchmaking draw. And before you ask: no, you can't boost this one by running in a friend's League! That'll be "git gud", then.
Platinum
Racing Legend – Acquire every Trophy in F1 2019 (Platinum / NA)
All done? Congrats! On PlayStation 4, the Platinum will unlock after every other trophy. On Xbox, you've got all 1000 points.
More Posts On...