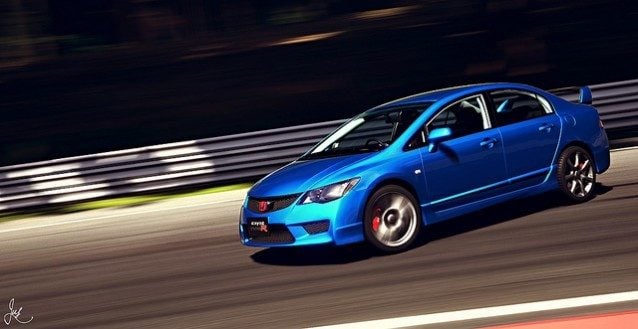 A new batch of A-Spec Seasonal Events are now available in Gran Turismo 5, featuring Honda's iconic Civic. Cars may have no more than 415pp and tires can be no better than Comfort/Soft.
Tsukuba Circuit /5 Laps
1st: Cr.193,300  2nd: Cr.106,315  3rd: Cr.77,320
Autumn Ring /7 Laps
1st: Cr.159,000  2nd: Cr.87,450  3rd: Cr.63,600
Trial Mountain Circuit /5 Laps
1st: Cr.213,100  2nd: Cr.117,205  3rd: Cr.85,240
Clubman Stage Route 5 Reverse /5 Laps
1st: Cr.179,800  2nd: Cr.98,890  3rd: Cr.71,920
Eifel (Kart) 108A /5 Laps
1st: Cr.254,300  2nd: Cr.139,865  3rd: Cr.101,720
Note that the game's Performance Difference Bonus is in effect, so cars with lower performance point values will offer players the opportunity to earn greater rewards. As always, stop by our GT5 Seasonal Events forum for more analysis and discussion.
GT5 Photomode image by jus1029.
More Posts On...
The original comments for this post are no longer available.