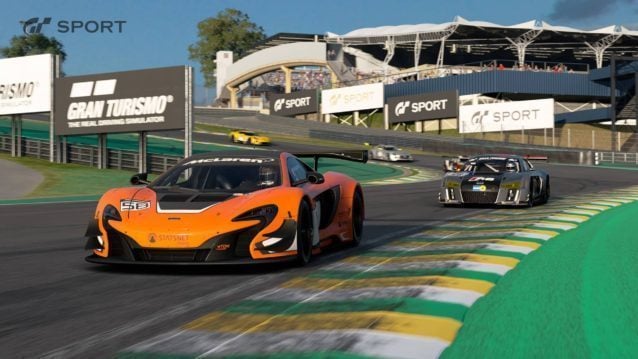 In an unexpected surprise only one week after a batch of new circuits were revealed, it appears that Autódromo José Carlos Pace (known by its former name of Interlagos) is coming to Gran Turismo Sport later this year.
The above image surfaced on Twitter earlier today, with a link to Spanish website Hobby Consolas' impressions on the current GT Sport closed beta. While the article itself doesn't contain the image, the familiar white/yellow/green rumble strips give away the track's identity.
Judging by the layout, the shot is taken from the exit of Senna's S. Years ago, GT series creator Kazunori Yamauchi commented on the importance of the track in the late Senna's life, making Interlagos a fitting inclusion for a game set to again feature the Brazilian driver in some form.
Interlagos is known for its challenging, undulating layout and unusual counter-clockwise layout. The track has played host to the Brazilian Grand Prix on and off since 1972, and consistently since 1990 in its current 15-corner form. If it is in fact coming to Gran Turismo Sport, it will mark the fourth real-world location for the game, after the Nordschleife, Brands Hatch, and Willow Springs.
Interlagos was recently in the news thanks to a different franchise, too. Back in February, Ian Bell stated the Project CARS 2 team was beginning work on the circuit as well, though there's no information on whether players should expect it on day one, or as post-release content.
Stay tuned for further updates on GT Sport and the status of Interlagos.
Thanks to bdj57 for the tip!
More Posts On...