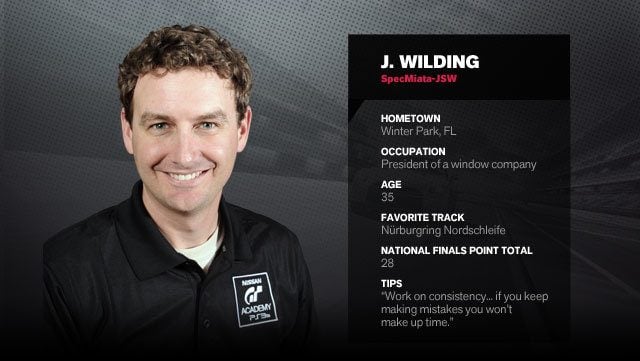 If you competed in GT Academy USA earlier this year, you know exactly how difficult it was to make the cut during the Round 3 time trials. Those who made it to the National Finals in Orlando are obviously very talented, and the final 16 going to Silverstone next week are the best in the country. What's it like to make it that far in the competition, and how can you do it, yourself?
To help me answer those questions, GT Academy finalist John Wilding (known as SpecMiata-JSW in our forums) took some time out of his preparations for Silverstone to talk about his experience thus far:
What's your background with the Gran Turismo series?
I've been playing GT since the first version came out in the late 90's. I was late to get involved with the franchise because I was never interested in video games, but I've loved cars for as long as I can remember. I remember my friends would be playing Gran Turismo and trying to talk me into giving it a try and stubbornly I would say that I didn't like video games and I wasn't interested…  Wow, how things have changed! When I went home from college for summer break I earned enough money to buy a Playstation and GT and the rest is history. In fact, to this date I only own 6 games, GT 1 through 5 plus GT5 Prologue. To this date I still say that I'm not a gamer, just a racer. I also have to give my wife Rebecca credit for purchasing my first Logitech wheel, so now I like to blame the obsession with this hobby on her.
Do you play other racing/driving games?
I gave iRacing a try, but didn't have the proper equipment to enjoy the software. Otherwise, I don't have any other games. When GT5 was released I was actually concerned that Prologue wouldn't eject since I had the game in the console for over two years and I never took it out!
What was your reaction when you first learned GT Academy was coming to America?
As a major GT fan I've been following the GT Academy since 2008, so when I learned that GT Academy was coming to America I was very excited. I truthfully didn't think I had a shot at making it to the boot camp, but I was excited nonetheless, simply to see where I stacked up to the competition. GT Academy didn't change the way I play the game, I always drive with the mind set of total realism, which ironically I think sometimes hurts me. There are certain corners on certain tracks that you can pull off certain maneuvers virtually that you could never duplicate in real life. I've always thought that the realism mindset has been a handicap for me.
How much time did you put into Round 1?  Did you find it difficult?
I invested almost no time in round 1, literally; in fact I have no idea where I finished that round. My initial goal was to make it to round 3; therefore I knew that I would need to invest time into round's 2 and 3 and not focus to heavily on Round 1. Round 1 wasn't difficult, I would monitor my position daily and if I saw myself slipping and getting closer to the cutoff point then I would hop on the rig and shave some more time off then continue watching the leaderboard.  I'm a slow southeast region guy….proudly. :D
Round 2 was very stressful for all participants.  What impact, if any, do you feel it may have had on the overall competition?
I was truly upset about Round 2 in the heat of the controversy. I thought the blatant cheating seriously compromised the integrity of the GT Academy, which was disappointing to me. I had the mindset of driving my best and not falling into the black hole of what the fastest guys were doing to make it to the top of the leaderboard, and by mid week I had written off the Academy, which was a disappointment. When Sony and PD publically announced they were going to cancel Round 2 I was both excited and relieved, it was the right decision. I don't necessarily think the cancellation of Round 2 made Round 3 more difficult, except for the fact that they allowed the replays to be downloadable mid week during round 3, which was a bit of a game changer.
What was the week of Round 3 like for you?  When did you feel comfortable that your times would be good enough to make it to the National Finals?
Round 3 is kind of a funny story. I had a vacation planned at the end of February, conveniently it didn't affect any round of the time trial for the GT Academy originally…then Sony cancelled Round 2 and Round 3 was postponed indefinitely, I had a funny feeling Round 3 was going to happen when I was on vacation – again, I had written off the GT Academy. Once the Round 3 dates were released I was fairly happy, but not confident about what the outcome would be for me, the reason being is that the final and most important day of the Time Trial would have me on a cruise ship heading for the Caribbean, therefore I knew I needed to post a time that was going to be unbeatable by most to secure me a spot in the top 8. Once the Round 3 TT was released for us to compete I hit it hard every night after work and after my son went to bed. I didn't have the opportunity to take off work to invest time into the Time Trial, so I had a 4 to 5 hour window every night to make it happen. When I realized that I may have a shot to make it to the finals was mid week when I started cutting laps at the Eifel Circuit and posted a time that put me 1st overall in the Southeast. I was blown away at the thought that I may have a chance to make it to the Finals. I remember posting the lap time that pushed me to the finals, it was roughly midnight on Friday night and when I completed the lap I think I danced around my house for 5 to 10 minutes….all the while wishing my wife was awake to share the excitement with me.
After learning you had made the cut, what did you do to prepare for the National Finals?
I raced more online! We had a tight knit group of us that hooked up and ran online races nightly almost every night leading up to the finals. We thought of every scenario that Sony and PD would throw at us, and made sure the cars were Nissans, stock, and on really crappy hard tires. This preparation I feel helped me to make it to Silverstone.
The National Finals obviously went well for you, but what was it really like?
The Finals were amazing – so amazing that I'm incredibly anxious to see what is in store for us at Silverstone. I was very nervous, yet confident going into the finals….much more confident than I had been with the Time Trial portion of the competition. Since racing online with GT I've been impressed with the level of skill of some players, there is some amazing talent out there, and I knew it would be no different at the finals. The most interesting twist is how the drivers dealt with driving while have someone film you and having a steward watching your every move as you raced. The pressure was intense! The race stewards were fair – thankfully I never spoke to them more than I needed to, but you knew when someone did something wrong as they would grab the driver and walk them back to the area where the rigs were to have a private meeting. Meeting the other competitors was amazing; it's unreal to put a face to a name after you've known them virtually for years. The guys are some of the most genuine and honest people you could ever meet. After competing in the Indy Time Trial, it was cool to meet a hero like GTP_CarlPKY and others….seriously, some of the nicest guys you'd ever meet.
The GT Academy Silverstone Finals are a brutal test of not just driving skills, but also physical and mental strength.  What have you done to prepare yourself?
I started training for Silverstone as soon as I got home from the Finals. I've been focusing on cardiovascular strength along with building muscle mass. I've been using the P90X program which is very intense, which is what I was looking for considering how physically intense the past GT Academy's have been. I hope all the hard work will pay off.
Now that you've made it through to the final stage of the competition, what is the reaction of your family and friends?  Has the competition affected your personal life or your job?
My family and friends have been incredibly supportive; they are star struck at how huge this opportunity really is. My goal is to win (of course), but that comes with complications as I have a wife, child, and business. As of now we've all agreed that I'm going to give the GT Academy 110% and if I win then we will deal with what the contract is and what needs to be done to follow my dream and capitalize on this opportunity. As of now we don't know exactly what is in store for the winner, but all 16 of us are 100% focused and hungry for the win!
GT Academy is rumored to return to North America in 2012.  If it does, what advice do you have for others who'd like to give it another shot next year?
The only advice I can give is to practice driving on GT, now….seriously. We had over 53,000 participants this year, and after the show airs on Speed this fall the GT Academy will have twice as many participants next year, so it will be doubly hard to make it to the finals. When you are driving and practicing your Time Trialing, make sure to be smooth, brake early, and don't over drive. Most importantly…smooth is fast!
Thanks to John for answering these questions – as you mentioned, at least 53,000 other people would love to be in your shoes right now. Best of luck to you and all of the GT Academy finalists!
More Posts On...
The original comments for this post are no longer available.