First revealed in the final Developer Diary entry discussing the 1.5 update alongside the future prospects of the title, the Japanese Car Pack introduces a number of vehicles from the Land of the Rising Sun as has been requested by the community.
The pack see the formal introduction of the rotary-wielding Mazda brand, and while the likes of the first-generation Miata and the Le-Mans-winning 787B – both of which are incredibly popular in the PC modding community – are going to be officially introduced later on this year for no additional cost, the Japanese Car Pack holds its own by introducing 7 (12 total with model variations) rides that are sure to please.
Mazda MX-5 2015
Mazda MX-5 CUP
Mazda RX-7 Spirit R  (Tuned variant also included)
Toyota Supra MK IV  (Time Attack and Drift variants included)
Toyota AE86 Trueno  (Tuned and Drift variants included)
Nissan 370Z NISMO
Nissan GT-R R34 Skyline V-Spec
The car pack is accompanied by a new update to the game, version 1.6. With it comes pre-alpha support for the Oculus Rift VR headset. The full details of the new update are revealed below.
– Oculus Rift SDK 1.3 (WIP Pre Alpha) – Fixed self shadowing on tyres
– Fixed wrong log output
– Dynamic controllers for turbo boost
– Added RPMS input to dynamic controllers – Implementation of Scalable Apps
– Fixed replay Interface
– Fixed setup info screen
– Fixed race non progression when player is not moving
– Improved MP collision system
– Improved AI fuel handling
– Fixed Hotlap Mode unlocking achievement through not valid laps – Fixed deltaT for renderAudio
– Bodywork and horn volumes uses engineVolume – Bodywork's smoothvalue use a different alpha
– Added analogic placeholder for car modellers
– Added option to draw driver's label on focused car (system\cfg\name_displayer.ini -> DRAW_FOCUSEDCAR)
– Fixed CameraCar bad nearplane when forcing camera mode change (see exiting from replay) – Implementation of Chat App (system\cfg\chat_app.ini)
– SharedMemory: Moved AirTemp/RoadTemp from Static to Physics, old values in static are deprecated
– Timing use also the hour/minutes format
– Fixed GoToPits Cheat to start from the pits.
– Added 4 Wheel Steer systems (Nissan Skyline , Mazda RX7)
– acServerManager : storing Driver data also save the current model/skin, so through drag&drop the saved skin can be used on a new slot)
– Added flags indications for completed session in leaderboards
– F9 overlay leaderboard is now avoiding red colours for better differentiation of opponent proximity indicators
– Added new [ASSETTO_CORSA] SIMULATION_VALUE parameter. Increase the number to increase simulation value. Defaults to 0 for obvious reasons
– Engine performance is now dependent on air density/temperature
– New AWD transmission code, still WIP (Nissan Skyline & Alfa 155)
– Fixed pitstop window not appearing when AI retired some car
– Experimental heating corrections on semislick tyres for Lotus 2-11, Exige Scura, Exige 240 and S3, Lotus Elise SC, KTM X-Bow, Mazda MX5 ND, Toyota AE86 Tuned and Drift
– BOP for GT3 cars
– Improved Mercedes AMG GT3 data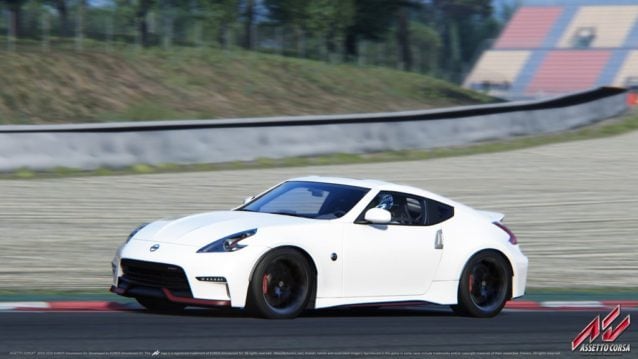 The Japanese Car Pack is now available on Steam for $4.99 USD if you haven't already made the dive, and if you've yet to play the game and you're currently on PC, Assetto Corsa and all three Dream Pack car expansions are currently available for 40% off for the next 45 hours.
While console-goers have to wait just a little while longer to experience the game for themselves, all of the additional content leading up to the release of the title on the PlayStation 4 and Xbox One should be included.
Remember to stop by our Assetto Corsa sub-forum for more discussion and in-depth analysis.
More Posts On...
The original comments for this post are no longer available.