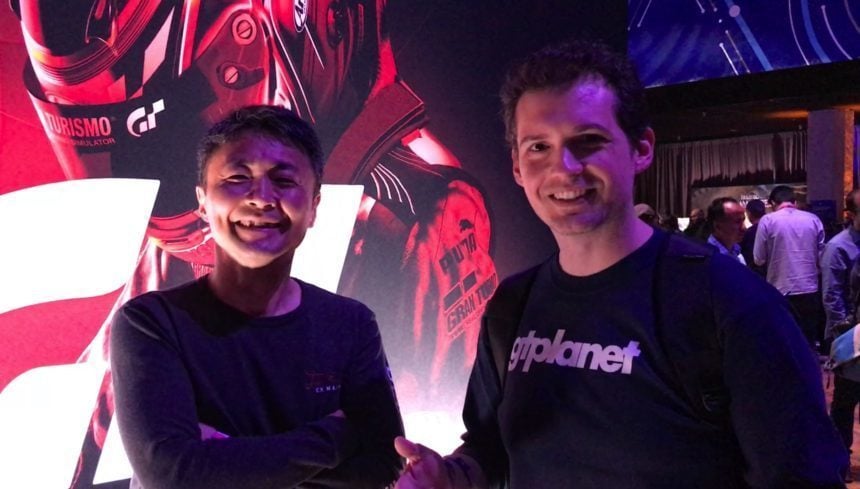 Yesterday was Sony's big pre-E3 media briefing. Not only was there a new trailer for GT Sport (and release window), Kazunori Yamauchi was also on hand to discuss the game with the media.
While we knew we had scheduled times during the show to have a chat with Yamauchi, we couldn't resist wrangling him into a short discussion as the latest build of GT Sport was demoed behind us.
GTPlanet: Why did you decide to create the beta and what has been the most surprising thing that you learned from it?
KAZUNORI YAMAUCHI: The beta test was actually something that really covered things we needed to review before we launch Gran Turismo Sport. It's things like figuring out the algorithms for the Sportsmanship Points, and figuring out the judgement criteria for collisions, crashes, and things like that.
We have to experiment and learn what the tendencies of people are in the game by actually watching them play it. But, at the same time, I knew from the beginning that it was going to be a stressful experience for the players. Basically, what the beta is doing is cutting out the Sports mode, so it was surprising to me that players are actually enjoying the experience in playing, because it wasn't really meant to be "fun"!
GTP: The competition aspect of Gran Turismo Sport is exciting, but many long-time fans of the series are worried about the more traditional, classic parts of the game. Can you reassure them that will still be part of GT Sport?
KY: Gran Turismo Sport is actually going to contain more features than any other game in the series to date. Nothing has been dropped, things have only been added. Whether it be the campaign mode, or the offline gameplay, or the open lobbies, everthing has been raised in quality and there is more of it, so there is nothing to worry about. Nothing has been dropped.
The closed beta is really just one snippet of the whole Gran Turismo Sport experience. It's just one part of it, and it's also the most stressful part of the experience, so it's important that we have the support of the community to help test it out.
GTP: Could you talk more about the challenges you have had in developing the Sportsmanship Rating? How is that process going?
KY: Even as we speak now, the algorithm for the Sportsmanship Points is something that is being worked on and improved. Those changes will be implemented in further updates, but it's going to be difficult to come up with a perfect algorithm for judgements or collision detection. But it's something that we are going to continue to improve and do everything we can to make it the best it can be.
GTP: A lot of fans have noticed that we've seen only new cars in GT Sport so far. Will we see any older, classic cars in the game?
KY: Three years ago, we basically reset all the car models in the game, to start building them from scratch. Now, the models have been created at a quality that will last for ten years from this point on. We intend to add more and more models in future updates, so you don't have to worry about that. We have a lot of plans to add content post-launch.​
E3 2017 properly kicks off today at the LA Convention Center. We'll be spending more time with Yamauchi and GT Sport today, so stay tuned for more from the show floor.
More Posts On...